Switzerland Bizet, Carmen: Soloists, Childrens' Chorus of Zurich Opera, Chorus of the Zurich Opera, Philharmonia Orchestra Zurich / Eun Sun Kim (conductor), Zurich Opera, Zurich. 1.7.2018. (JR)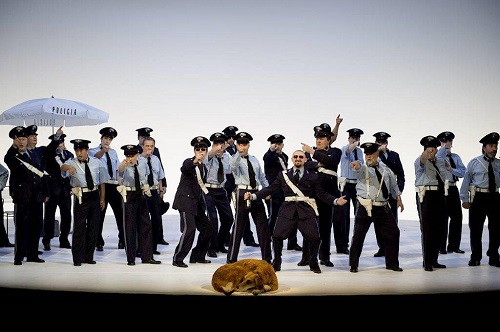 Cast:
Carmen – Varduhi Abrahamyan
Micaëla – Guanqun Yun
Mercédes – Irène Friedli
Frasquita – Rebeca Olvera
Don José – Dmytro Popov
Escamillo – Jean-Sébastian Bou
Le Dancaïre – Dmytro Kalmuchyn
Le Remendado – Jamez McCorkle
Moralès – Yuriy Tsiple
Zuniga – Cody Quattlebaum 
Production:
Producer – Matthias Hartmann
Assistant – Claudia Blersch
Sets – Volker Hintermeier
Costumes – Su Bühler
Lighting – Martin Gebhardt
Chorus-master – Janko Kastelic
Choreography – Teresa Rotemberg
Dramaturgy – Michael Küster
Despite the bevy of glorious tunes we all know and love, for a Carmen to truly succeed, it requires at least two extremely fine voices and more than the usual amount of sizzling passion on stage. This revival almost succeeded on the first count, but failed on the second.
This was a revival of a 2007 production starring Jonas Kaufmann and Vesselina Kasarova. That was always going to be a hard act to follow. There have been one or two revivals, with other singers in between (review). Franco-Armenian mezzo Varduhi Abrahamyan has sung the role of Carmen in Palermo, Oviedo and Paris and further performances are scheduled in Hong Kong and Atlanta. Whilst her intonation and diction are flawless, her husky tone appropriate, her many arias finely sung, there was occasionally a little too much vibrato for my liking, and both allure and sizzling passion are just not in her repertoire. Her flamenco was limited to one or two stamps of the foot, a pity Zurich Opera could not substitute one of their dancers (I have seen that effectively done for the 'Dance of the Seven Veils' in Salome). Ukrainian tenor Dmytro Popov has a strong voice but little in the way of beauty or expression; his acting, too, was unconvincing. The pair seemed hardly attracted to each other before the interval and only came to life when death was staring Carmen in the face.
Athletic, virile Jean-Sébastian Bou looked the part of Escamillo and had the volume but he had to struggle to his top notes.
Top of the vocal stakes, by quite a long chalk, was Guanqun Yun, who had charmed us as Liù in Turandot only a few weeks ago and now melted our hearts once again as the dumped Micaëla, especially in her Act III aria 'Je dis que rien ne m'épouvante'. She has a lovely, sparkly soprano and is a convincing actress. She deservedly garnered the most applause – by far.
The pair of gypsies Irène Friedli and Rebeca Olvera impressed, though Friedli always looked like the cleaning lady. Her warm mezzo melded beautifully with Olvera's crystal tones (some lovely top notes) and they acted well. They have sung these roles together for a while and it showed, especially in the Act II quintet, where they were very slick.
Among the minor roles, I liked Dymtro Kalmuchyn's resonant baritone and Cody Quattlebaum has found a role which suits his voice well. Yuri Tsiple was not quite loud enough for his role as Moralès.
The childrens' chorus sang well but their acting was too much like a poor primary school play.
I had not heard Korean conductor Eun Sun Kim before and she impressed. The overture was taken as fast as is humanly possible, but she was always sympathetic to her singers and the orchestra played well for her. The exquisite flute solo at the start of Act III stood out.
You cannot really speak of a set in this production, it's more of a collection of props. But they are excellent props. The prompter's box changes in each act, starting as a resting dog (which wags its tails when stroked), a few sherry cases for Lillas Pastia's bar, a rock for the mountain scene, and a bull's skull for the Seville bullfighting scene. The soldiers become smart Spanish policemen in Act I and amuse with their jaunty movements – though they sing lustily, the men especially are in need of some rejuvenation (too many paunches to be realistically raunchy enough with the cigarette girls). There is more humour when the Chief of Police thumbs through some magazines and finds a copy of Playboy, and the gypsies' contraband includes desirable products from the digital age. In Lillas Pastia's bar a small black and white TV screen showed football (Spain was actually playing Russia in the World Cup at the very time of the performance I saw), followed by a bullfight.
The end-of-season audience were entertained but this was not a Carmen for the musical cognoscenti.
John Rhodes