United Kingdom Britten, Paul Bunyan: Soloists, English National Opera Chorus and instrumentalists / Matthew Kofi Waldren (conductor), Wilton's Music Hall, London, 3.8.2018. (JB)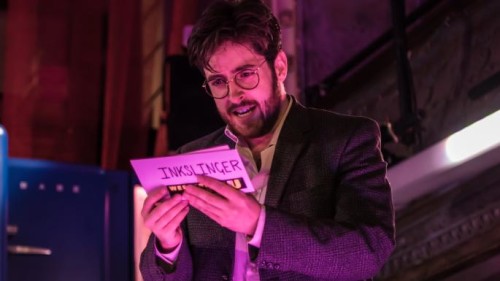 Cast included:
The voice of Paul Bunyan – Simon Russell Beale
Johnny Inkslinger – Elgan Llyr Thomas
Tiny – Rowan Pierce
Fido – Fflur Wyn
Hot Biscuit Slim – William Morgan
Sam Sharkey – Graeme Lauren
Ben Benny – Trevor Eliot Bowes
John Shears – Robert Winslade Anderson
Hel Helson – Matthew Durkan
Production:
Stage Director – Jamie Manton
Designer – Camilla Clarke
Associate costume designer – Laura Haley
Lighting designer – Marc Rosette
Choreographer – Jasmine Ricketts
Sound designer – Jorge Imperial
 W H Auden and Benjamin Britten – both pacifists – spent the years of the Second World War in America, for which they were alternatively cheered and jeered, depending on which of those two prejudices you subscribed. When several centuries earlier, the Pilgrim Fathers had sailed across the big pond, they did not rid the land of hope and glory of extreme Protestantism, but they imported it very successfully into American life and culture where it still reigns today, albeit under other names.
Benjamin Britten wrote sixteen operas – not counting the two stage works for children – all of them different – forward looking as well as backward looking – and all of them searching for a suitable form for opera of the twentieth century. And all of them dealing with the question of innocent suffering. This theme dominates all Britten's works – not just the stage music.
Ben remained in the homosexual closet all his life. It was no surprise when after his death, his lifetime partner, Peter Pears, came out of the closet in an unequivocal, passionate declaration. Wystan Auden was also in New York with his lifetime partner, Chester Kallman (much younger than Wystan) who also collaborated with writing opera libretti, including what would be Britten's first, Paul Bunyan. Auden was able to become a full American citizen in 1946. Britten, Pears, Auden and Kallman lived briefly under the same New York roof during the composition of Paul Bunyan. 
Britten went through so many rewrites of Paul Bunyan, that musical history has had trouble counting them. Ben was puzzled by Wystan's libretto. My own guess is that puzzlement was intentional on the poet's part, in the belief that it would stimulate Ben's musical imagination. And in a way, it did. What was coming out was Britten playing Sullivan to Auden's Gilbert. Auden knew that Britten had a natural gift for melodic invention – the kind of music which sounds as though it wrote itself – though such a talent was not high on the composer's scoreboard. This disagreement to agree worked well in the finished product however, with only a small concession to Britten that it should now be called an operetta.
For reasons I won't pause to enumerate, the opening night of Paul Bunyan at Brander Matthews Hall, Columbia University on 5 May 1941, was a flop. Britten significantly revised the oper(ett)a in 1974 -5, immediately following the death of Auden. This version with a much smaller orchestra was made for touring with Britten's newly founded English Music Theatre Company (EMTC) in 1976. It is with this instrumentation (string quintet, double wind, harp, timpani, percussion, piano/celeste, guitar) that we heard the piece performed by English National Opera (as part of ENO Studio Live).
The choice of Wilton's Music Hall was inspired. These venues were structured to be intimate, populist, not a little vulgar, risqué, and with a mischievous, open invitation to the nagging art of disapproval. How Auden would have loved them!
Moreover, with almost prophetic foresight, Auden's libretto makes frequent reference to make America Great. Philip Reed in a programme note on Britten's American Dream quotes Auden's words for the final moments sung as the concluding Litany:
Every day America's destroyed and re-created.
America is what you do,
America is I and you,
America is what you choose to make it.
Would some kind soul please drop this note to the present occupant of the White House?
The whole art of the Music Hall was artifice. But an artifice which was both self-indulgent and believed in itself. All this is wonderfully alive in the present staging by Jamie Manton.
Top of the class was choreographer, Jasmine Ricketts. Every movement was delightfully understated, often making its point through entry from a back-door. David Newman as the Western Union Boy stole the show, in the way that a cleverly-acted Oscar can in Un ballo in maschera. Newman is made of rubber and is like a jack-in-a-box during his two hilarious scenes. His musicality is not just in his movement, but in his very bloodstream. Dance, mime and a singular intelligence are the holy trinity of his appearances. All enhancing Ricketts's immaculately pointed choreography.
There was scaffolding everywhere, giving an admirable feel of work in progress to Manton's finely paced staging. The band –EMTC instrumentation – was suspended behind and above the main acting area with excellent theatrical lighting (Marc Rosette) bringing them in and out of the action with professional aplomb.  Matthew Kofi Waldren had perfect control between band and stage; unobtrusive, but most effectively judged. The strings were excellent, the two flutes much less so; they delivered feebly on Britten's charming lyrical demands. The oboes and bassoons made up for what the flutes missed. Some impressive harp cadenzas from Alison Martin and guitarist Dan Thomas.
Two singers stood out. Elgan Llyr Thomas is a ENO Harewood Artist and was perfect as Johnny Inkslinger, the bookkeeper.  Britten abruptly changes gear for this part, departing from operetta and lavishing out into grand opera: the voice of Peter Pears was clearly in his mind. Sir Peter would eventually perform the role at Aldeburgh, then on tour. But Llyr Thomas is a good deal more handsome than Pears and emphatically more athletic of both voice and movement, while still successfully reproducing the unsurpassed Pears musicality.
Rowan Pierce is also a ENO Harewood Artist and looks and sounds the perfect Tiny, daughter of Paul Bunyan. Let's not get into the absurdities of the presumed plot! Pierce's excellence benefits greatly from the choreography and her ideal partner –Llyr Thomas. You feel she was born into the role. I much look forward to seeing and hearing both these singers in other parts.
Graeme Lauren and Trevor Eliot Bowes were hilarious as the two bad cooks and William Morgan – yet another ENO Harewood Artist – had impressive sonority as Hot Biscuit Slim, the good cook, to whom Britten hands some charming music. Matthew Durkan was also stylistically perfect as Hel Helson, the foreman of the lumberjacks.
Auden requires that the voice of Paul Bunyan, narrator, be pre-recorded and his person never seen. Is this a bit of Auden self-parody? It peaks when the audience are uncertain whether or not they should be taking this narration seriously. And peak it certainly did in Simon Russell Beale's delivery: somewhat schoolmasterly, understated to the point of being almost threatening, an unexpected warmth, but was that warmth just put on for show? Russell Beale scores highly on all these points. Nuanced certainly.
Keep in mind that this was the period when Auden became religious. But he did this like everything else: on his own terms. And those terms only get defined in the making. The rest is over to you, the audience. You decide. That might not be easy. But it is unquestionably democratic. And like democracy, messy. Be not distressed if you leave the theatre with some loose ends.
I subscribe to W S Gilbert's assertion that a single word is never heard / when singers sing in chorus. Why could we not have had surtitles? There were indeed surtitles if you were seated in the galleries, but from my stalls seat I could not see them. And these are Auden's words I'm missing. The diction of the chorus, while not outstanding, was mostly all right but frequently drowned out because of the way the instrumentation is written. A surtitle tape above the band would have resolved this.
Jack Buckley
For more information about forthcoming ENO performances click here.