Germany Jonas Kaufmann: Under the Stars: Jonas Kaufmann (tenor), Anita Rachvelishvili (mezzo-soprano), Berlin Radio Symphony Orchestra / Jochen Rieder (conductor). Recorded at Waldbühne Berlin (video director: Henning Kasten) on 13th July and shown at Cineworld Basildon, Essex, 30.8.2018. (JPr)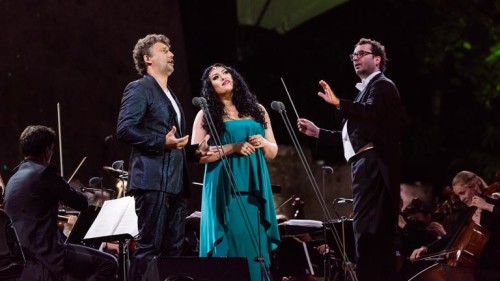 Verdi – I vespri siciliani Sinfonia
Ponchielli – 'Cielo e mar!'  (La Gioconda) Jonas Kaufmann
Mascagni – (Cavalleria rusticana) 'Voi lo sapete, o mamma' Anita Rachvelishvili; 'Tu qui Santuzza… No, no, Turiddu' Anita Rachvelishvili & Jonas Kaufmann; Intermezzo; 'Mamma! Mamma, quel vino e generoso' Jonas Kaufmann
Ernesto de Curtis – 'Ti voglio tanto bene' Jonas Kaufmann; 'Torna a Surriento' Jonas Kaufmann 'Non ti scordar di me' Jonas Kaufmann
Giovanni D'Anzi, – 'Voglio vivere cosi' Jonas Kaufmann
Leoncavallo – 'Mattinata' Jonas Kaufmann
Nino Rota – Theme from Legend of the Glass Mountain; Theme from Otto e Mezzo; 'Parla più piano' (Theme from The Godfather) Jonas Kaufmann
Vincenzo de Crescenzo – 'Rondine al nido' Jonas Kaufmann
Lucio Dalla – 'Caruso' Anita Rachvelishvili
Cesare Andrea Bixio – 'Parlami d'amore, Mariù' Jonas Kaufmann
Romano Musumarra – 'Il Canto' Anita Rachvelishvili & Jonas Kaufmann
Guido Maria Ferilli – 'Un amore cosi grande' Jonas Kaufmann
Stanislas Gastaldon – 'Musica proibita' – Anita Rachvelishvili & Jonas Kaufmann
Ernesto Tagliaferri – 'Passione' Jonas Kaufmann
Salvatore Cardillo – 'Catari, Catari (Core 'ngrato)' Jonas Kaufmann
Domenico Modugno – 'Volare' – Anita Rachvelishvili & Jonas Kaufmann
Puccini – 'Nessun dorma' (Turandot) Jonas Kaufmann
Phew! What a programme that was and it wasn't easy to distinguish where the encores began but there were a lot of them, probably seven! By that time Jonas Kaufmann had long discarded the white shirt of his operatic numbers for a white T-shirt; occasionally he had his hands in his pockets and even once whistled. He was the epitome of nonchalance, without any care in the world about the security of his voice or his ability to entertain those watching. Berlin's open-air Waldbühne is a Greek-style amphitheatre nestling in some woods on the edge of the city. With a capacity of over 22,000 it was not completely full but there were not that many empty seats. It was conceived in the early 1930s with all that means about Germany at that time! Some of the audience were in plastic ponchos so the weather didn't look particularly clement and rain seemed always to be threatening, but it didn't look as if any did actually fall. There may have been some judicious editing! Although what we saw was often in extreme closeup, Henning Kasten's direction for video often roamed around and I could almost smell the bratwurst and beer through the cinema screen!
Kaufmann's selection of songs – in an all-Italian programme – was largely based on was his 2016 Dolce Vita CD release. He sings in all the major opera houses, so the language is not an issue because of all his Verdi or Puccini. Still it was very strange for such a preeminent German tenor – with so much additional Wagner in his repertoire – not to sing anything in his native tongue. You had to wonder whether the cinema audiences everywhere also lacked the subtitles missing in Basildon. These would have increased everyone's enjoyment although it was clear that Kaufmann – and his colleague Georgian mezzo-soprano Anita Rachvelishvili – were singing about a limited range of subjects; heaven and sea, love and loss, jealousy and revenge, that sort of thing. What we heard were popular melodies, canzone, as well as, passionate operas arias and duets from Cavalleria rusticana, where Rachvelishvili shone, though I wish she had opened her eyes more often. Both artists had the solid support of Jochen Rieder and the Rundfunk-Sinfonieorchester Berlin (Berlin Radio Symphony Orchestra) who had their moments to shine in their purely orchestral items. I doubt Rieder had the opportunity for any great subtleties but the sound from the cinema loudspeakers was exceptional. He certainly accompanied his star singers with great care.
The Waldbühne audience clearly enjoyed Ponchielli's 'Cielo e Mar!', Mascagni's verismo, as well as the 'popular' songs 'Torna a Surriento', 'Non ti scordar di me' and a wonderful solo version of Lucio Dalla's 'Caruso' from Anita Rachvelishvili (featuring a marvellous pianist), as well as, a deeply affecting duet of 'Il Canto'; both previously made especially famous by Luciano Pavarotti. Highlights among the encores were Kaufmann's 'Parla più piano' (aka the theme from The Godfather), 'Volare' was another special duet and a potent, full-throated, 'Nessun dorma' from Turandot ended proceedings. What else could he finish with? Throughout Anita Rachvelishvili had a steelier sound than Kaufmann, though notably she relaxed vocally and physically as the concert drew to the close. I don't think that the fact that Kaufmann is a German tenor can be ignored but there was sufficient Italian sunshine and warmth in most of what he sang and, more often than not, he had a smile on his face and his eyes twinkled. In the end it was 'Nessun dorma' that whetted the operatic appetite for any future stage performances of Calaf there might be, apart from bringing those in Berlin who were not yet on their way home to their feet.
Jim Pritchard
For more events from CinemaLive click here.
For more about Jonas Kaufmann click here.