Ireland Wexford Festival Opera 2018 [3] – Saverio Mercadante, Il Bravo:  Soloists, Chorus and Orchestra of Wexford Festival Opera / Jonathan Brandani (Conductor). National Opera House, Wexford 21.10.2018. (RB)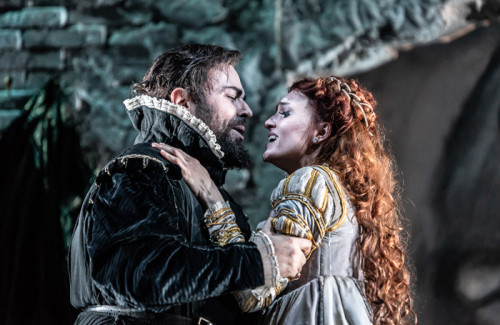 Cast:
Il Bravo – Rubens Pelizzari
Pisani – Alessandro Luciano
Foscari – Gustavo Castillo
Luigi – Simon Mechliński
Teodora – Yasko Sato
Violetta – Ekaterina Bakanova
Capello – José de Eça
Marco – Toni Nežić
Un Messo – Richard Shaffrey
Michelina – Ioana Constatin-Pipelea
Production:
Director – Renaud Doucet
Set and Costume Designer – André Barbe
Lighting Designer – Paul Hackenmueller
Stage Manager – Ellie Williams
Assistant Director – Kathleen Stakenas
This is the sixth opera by Saverio Mercadante to be staged by Wexford Festival Opera. That name is not very familiar to us nowadays, so who was   Mercadante? He was an Italian composer who was writing operas and other instrumental works around the same time as Bellini and Donizetti. He wrote around 60 operas and his instrumental works include a notable flute concerto. He made significant contributions to the development of operatic structures, melodic styles and orchestration. He is seen by many commentators as paving the way for the works of Giuseppe Verdi. Unlike his contemporaries, his works have not stood the test of time although there have been attempts to revive them in the 20th century, including those by Wexford Festival Opera.
Mercadante's Il Bravo was premiered in March 1839 in La Scala Milan.The libretto is based on a play which is in turn based on James Fennimore Cooper's novel The Bravo. Set in 16th Century Venice, the eponymous assassin believes he killed his wife long ago in a fit of jealousy. Unjustly accused of plotting against the state, he has been forced by the Council of Ten to become their hired assassin while his father is held captive to compel his obedience. The story also involves a young man, Pisani, who is under threat of banishment, and his love for Violetta who is in turn under the protection of Il Bravo. In Act II we meet Teodora, a wealthy foreigner living in Venice who turns out to be Violetta's mother and the wife of Il Bravo who he has not killed after all. The plot twists and turns are complex and bewildering (the libretto is very flawed!) and some sections of the opera are very difficult to follow. The opera ends with Il Bravo being instructed to assassinate Teodora and the latter taking her own life to avoid compromising him. Pisani and Violetta escape to freedom unaware of the tragedy that has befallen Teodora.
I was not familiar with the opera prior to this performance and was pleasantly surprised by the quality of the material. Some of the floating bel canto melodies are exquisitely beautiful and there are two superb duets, the first involving two tenors in Act I and the second involving two sopranos in Act III. Mercadante also produces some rich, imaginative orchestral sonorities and has a talent for whipping up dramatic tension. He was clearly not served well by the multiple librettists involved with this work and the opera does not entirely succeed as drama although Mercadante's music more than compensates for this.
Renaud Doucet's production follows the libretto in setting the opera in 16th century Venice and he and André Barbe use a variety of sets to depict the buildings in and the area surrounding the Palazzo San Marco. I particularly liked the opening scene where a group of ruffians are gathered together in a room in the Palazzo and a light shines through a window in the ceiling as Violetta sings her song. Some of the 16th century sets were more successful than others but as a whole they set the scene reasonably well. However, at one or two points in the opera, Doucet juxtaposed these scenes with scenes showing characters in modern dress taking selfies in present day Venice. This disrupted the dramatic flow in a pointless and unnecessary way and made the extraordinarily complex plot even more difficult to follow. The beautifully crafted costumes were more successful and provided a wonderful window into the period.
The standout performance of the evening was Russian soprano, Ekaterina Bakanova, in the role of Violetta. She captured both the vulnerability and feistiness of the character and sang with commanding authority. At the end of Act I her voice soared above the assembled orchestra and chorus in an electrifying way. She brought warm-blooded lyricism to the bel canto numbers while her handling of the Act III duet was nothing less than exquisite. Italian tenor, Rubens Pelizzari, radiated authority as Il Bravo and he sang beautifully throughout the evening. His arias were full of rich Italianate warmth and passion while he also succeeded in ratcheting up the dramatic tension in an exciting way.
Japanese soprano, Yasko Sato, also gave a fine performance as Teodora. I would have liked to hear more dramatic fire in some of her early vocal entries, but she got better as the evening progressed. She blended beautifully with Bakanova in the Act III duet and her final scene was a dramatic tour de force. Italian tenor, Alessandro Luciano, was disappointing in the role of Pisani and some of his singing was very uneven. At various points he was drowned out by other cast members and did not seem entirely comfortable in the role. Venezuelan baritone, Gustavo Castillo, gave a reasonably assured performance as Foscari and he acquitted himself well in the opera's opening aria although I would have liked a little more vocal heft.
Jonathan Brandani kept a tight rein on cast, chorus and orchestra as the evening progressed. He allowed us to savour Mercadante's wonderful instrumental colours while ensuring a good balance between the soloists and orchestra. However, the pacing of the opera did not seem quite right as he tended to fluctuate between spacious bel canto numbers and frenetic dramatic scenes which reached boiling point too soon. He needed to give the composer's ideas more room to breathe and to bring out more of the light and shade in the score. The Wexford Festival Opera Chorus were on tremendous form all evening and their scene at the end of Act I was a dramatic tour de force.
Overall, this production contained a lot of very fine singing and playing and Ekaterina Bakanova is clearly a name to watch.
Robert Beattie