United Kingdom Schumann and Fauré: Isabelle Faust (violin), Katharine Gowers (violin), Rachel Roberts (viola), Steven Isserlis (cello), Alexander Melnikov (piano), Wigmore Hall, London, 17.11.2018. (AS)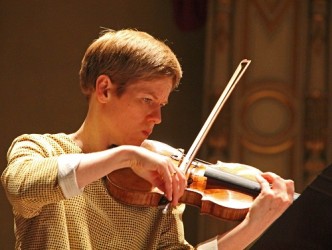 Schumann – Violin Sonata No.1 in A minor, Op.105; Piano Quintet in E flat, Op.44
Fauré – Piano Trio in D minor, Op.120; Cello Sonata No. 2 in G minor, Op.117
This was a concert that looked very enticing on paper, since a combination of the works of Schumann and Fauré seemed attractive, and very prestigious performing artists were involved. So anticipation of a rewarding evening was high. It is pleasing to report that in the view of this writer everything was as he expected it to be.
Isabelle Faust and Alexander Melnikov are regular recital partners, and their artistic harmony in Schumann's beautifully written, perhaps underestimated First Violin Sonata was very apparent. Highlights of the performance were the duo's warm, lyrical and passionate response to the opening movement, where they succeeded in both finding an intimate, inward quality in the music and also somehow strongly projected this quality to their listeners. Intimacy there was too, and also lots of charm in their delivery of the delightful central Allegretto. The mood changed in the fast final movement to one of determined seriousness.
Enter Steven Isserlis to join Faust and Melnikov in order to play the Fauré trio, the French master's penultimate published work. The infirmities of old age had not dimmed Fauré's melodic inspiration, and the German, British and Russian players were perfectly tuned to his very French, seemingly understated but quietly passionate style of writing. The long, lyrical melodic spans in the work's first two movements were finely shaped, and the three performers very much let the music speak for itself. In the finale Fauré calls for a more urgent response, and the music develops a more assertive, energetic quality. This was realised with appropriate alacrity.
After the interval we heard the second Fauré work, with Isserlis partnering  Melkinov. Once again, the playing was perfectly poised, with the opening movement's quite busy, strongly rhythmic invention nicely paced. The slow movement is an adaption of a funeral song written slightly earlier to mark the centenary of Napoleon's death, and its lovely, quietly elegiac melodic line had a strikingly rapt, still-like quality in Isserlis's delivery. In the last movement Melnikov responded in a fresh, upbeat manner to the increased prominence given to the piano part, and both players exuded an attractive warmth in this comparatively outgoing music.
Finally we heard the comparatively familiar Schumann Piano Quintet, with Katherine Gowers and Rachel Roberts now joining the other three performers. Here was chamber-music playing at its best, with generous give and take within the group, and everybody seemed to be enjoying the shared experience of playing together. Tempi and phrasing throughout were ideal. Particularly noticeable was the slightly more flowing tempo than we normally hear applied to the main part of the second movement. This contains a number of expressive commas, and if the tempo is too slow they tend to interrupt the music's flow. Here the progression of the music seemed much more natural.
Alan Sanders