Germany Offenbach, Les contes d'Hoffmann: Deutsche Oper Chorus and Orchestra / Enrique Mazzola (conductor), Deutsche Oper Berlin, 4.12.2018. (JMI)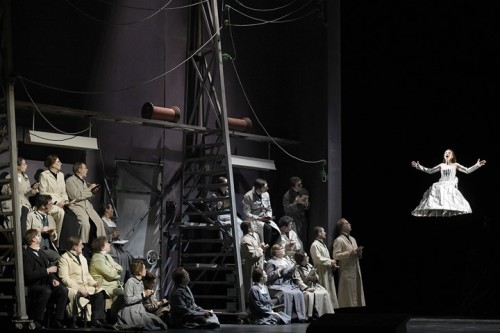 Production:
Director and Costumes – Laurent Pelly
Sets – Chantal Thomas
Lighting – Joël Adam
Cast:
Hoffmann – Daniel Johansson
Olympia,/Antonia/Giulietta,/Stella – Cristina Pasaroiu
Lindorf/Coppélius/Dr Miracle/Dapertutto – Alex Esposito
Nicklausse/Muse – Irene Roberts
Spalanzani – Jörg Schörner
Andrès/Cochenille/Frantz/Pitichinaccio – Gideon Poppe
Luther – Tobias Kehrer
Crespel – James Platt
Hermann – Bryan Murray
Schlemil – Byung Gil Kim
Nathanael – Ya-Chung Huang
As is well known, this Jacques Offenbach opera had its premiere in 1881, a year after the composer's death, and was a huge success. Over the years, both of these circumstances contributed to the fact that numerous changes and additions have been made to the work, which makes it hard to find two identical versions. Berlin used the comprehensive edition from the 1990s by Michael Kaye and Jean-Christophe Keck, with a few modifications. I suspect that new versions of the work will continue to appear – a combination of musicological interests and economics.
This is the well-known Laurent Pelly staging, a co-production of the Opéra National de Lyon, Gran Theatre del Liceu Barcelona and the San Francisco Opera, which premiered in Lyon in 2005. It is the first time the Pelly production has been put on at the Berlin theater. A number of easily moved, reversible panels make scene changes happen quickly; in fact, this easy set movement means that the changes are almost continuous. The interior scenes for the Olympia and Antonia acts are particularly effective, while Act III in Venice is less successful (there's no reference on stage to the Italian city). The costumes correspond to the time of the opera's premiere.
The Olympia doll's movements are the best part of the production, from the beginning in a basket of a large crane to her subsequent evolutions and skating in her duet with Hoffmann. To this it should be added the remarkable game that Pelly plays with the surprise appearances of Dr Miracle in the Antonia act. The Prologue, Epilogue and, above all, the Giulietta act are less compelling; it's a rather capricious originality to have Hoffmann kill Giulietta at the end of Act III.
The musical direction was entrusted to Enrique Mazzola, who was very good: he controlled the pit and supported the singers, whose voices in general were not large. Both the orchestra and the chorus were impressive.
It was decided to have all four heroines – Olympia, Antonia, Giulietta and Stella – performed by one singer, which is always a debatable choice. There is no doubt that it makes a lot of dramatic sense, since Hoffmann himself considered them as four faces of the same person. But the tessituras are too different to be interpreted by a single soprano and, where possible, it works better in vocal terms to have three different sopranos or two sopranos and a mezzo-soprano.
Hoffmann was played by tenor Daniel Johansson, whom I was seeing here for the first time. He wasn't completely convincing – he lacked volume and was tight at the top. Cristina Pasaroiu, who sang all four female roles, is a light-lyric soprano. She has an attractive voice and was best in the part of Olympia. Her Antonia was satisfactory, but she fell somewhat short singing the part of Giulietta.
The four Devils (Lindorf, Coppélius, Dr Miracle and Dapertutto) were well covered by bass-baritone Alex Esposito. Nicklausse and the Muse were played by mezzo-soprano Irene Roberts, who made a very positive impression. She was at her best in the violin aria of Antonia's act and in the farewell to Hoffmann in the Epilogue.
In the secondary characters, tenor Gideon Poppe did well in his four cameos (Andrès, Cochenille, Frantz, and Pitichinaccio), especially in his aria in Antonia's act. Jörg Schörner was a fine Spalanzani, and James Platt made a correct Crespel. Finally, it could be considered a luxury to have Tobias Kehrer sing the part of Luther.
José M. Irurzun