United Kingdom R. Strauss, Berg, Shostakovich: Dorothea Röschmann (soprano), BBC Symphony Orchestra / Rafael Payare (conductor). Barbican Hall, 7.12.2018. (CC)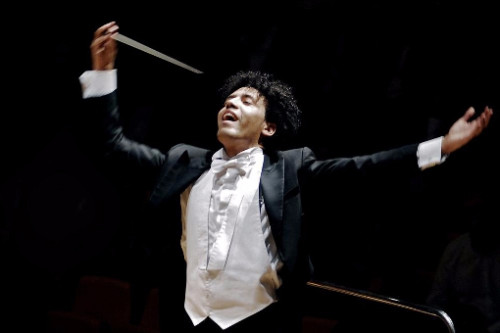 R. Strauss – Till Eulenspiegels lustige Streiche, Op.28
Berg – Sieben frühe Lieder
Shostakovich – Symphony No.5 in D minor, Op.47
A protégé of Lorin Maazel, the young Venezuelan conductor Rafael Payare is currently Music Director of the Ulster Orchestra; next year, he takes up the post of Music Director of the San Diego Symphony. He is clearly a conductor to watch, in both senses. That chameleon orchestra, the BBC Symphony Orchestra sounded better on this occasion than in many a moon, clearly inspired by his direction. And that direction is flamboyant, yet always born of a deep knowledge of the score in hand.
It was daring, perhaps, to start with Richard Strauss's Till Eulenspiegels lustige Streiche (Till Eulenspiegel's Merry Pranks), an orchestral showpiece with plenty of tricky corners. His was a neat, rhythmically precise reading – one wonders how much rehearsal had been devoted to this. Payare's interpretation was both intelligent and exciting; he felt little need to bask in the depiction of Till as priest. Tellingly, the high violins sounded far less shrill than of late, and through all of this Payare brought graphic storytelling, a real sense of narration. Excellent solos from Nicholas Korth (principal horn) and Richard Hosford (clarinet) sealed the deal.
Berg's Sieben frühe Lieder is a set of little jewel-like miracles. Jessye Norman was enamoured of them and gave memorable London performances in the 1980s; here it was the turn of Dorothea Röschmann, who has recorded the piano version with Mitsuko Uchida (herself over at the Royal Festival Hall this particular evening playing Schubert). Berg's orchestration is, however, magical, and Payare found detail aplenty: no wallowing in the sound for sound alone here. Röschmann's ability to spin long lines ('Schilflied', for example) paid huge dividends, particularly when so sensitively supported. Perhaps Payare could have found a touch more clarity to the accompaniment lines in 'Die Nachtigall', but there was no doubting the sheer beauty of the celesta-sprinkled close to 'Traumgekrönt'. Perhaps the strongest performance was that of the sixth song, 'Liebesode', where Payare created waves of sound from his players over which Röschmann narrated. Both came together to find a surprising amount of drama at the close of 'Sommertage', the final song.
On a presentational note, it was a little off-putting to have a different translation for the surtitles than that printed in the programme; but this Berg performance remained a moving experience.
Shostakovich's Fifth Symphony is familiar territory to many; it needs a fine conductor to bring it fully to life. Payare's achievement in maintaining detail at climaxes was a reflection of his intelligent, long-visioned reading (he conducted from memory). The first movement was perfectly paced throughout, the long, blanched violin melody identifiably in 4, not 8. A pity the brass climax just prior to the famous flute and horn duet did not quite pay off; neither did the horn contribution to that duet itself. One wondered if the prevalence of slurs in this particular horn solo as opposed to attack was for safety reasons. It didn't work, unfortunately, and accuracy was suspect elsewhere too. Could the player have felt under scrutiny from Payare, a horn player himself, one wonders? (Payare was at one point principal horn with the Simón Bolivar Symphony Orchestra); and yet that did not apply for the Till in the first half …
The Allegretto was a more variegated performance than many, the strings almost balletic on occasion. Placing the harp immediately behind the first violins paid dividends when it came to the flute and harp duet in the Largo (and, it should be noted, the harp solo at the movement's close was simply beautiful); Daniel Pailthorpe and Sally Pryce were the excellent flautist and harpist, respectively. If the climax to the third movement just failed to make full emotional impact and the finale did not quite take off (ragged ensemble at the opening might have contributed), one has to admire Payare's intelligence and grasp of the score.
There is so much to celebrate about the pairing of Payare and the BBC Symphony. They clearly enjoy working with him, as this was them at their very best. He is clearly a highly intelligent musician and this, coupled with his obvious passion, is potentially a dynamite combination.
Colin Clarke
For more about the BBC SO click here.