United States Verdi, La traviata: Soloists, Orchestra of Lyric Opera of Chicago / Michael Christie (conductor). Civic Opera House, Chicago. 16.2.2019. (JLZ)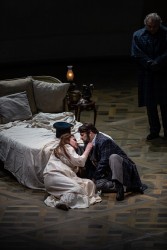 Production:
Director – Arin Arbus
Set designer – Riccardo Hernandez
Costume & Puppet designer – Cait O'Connor
Lighting designer – Marcus Doshi
Projection designer – Christopher Ash
Chorus master – Michael Black
Choreographer – Austin McCormick
Cast:
Violetta – Albina Shagimuratova
Alfredo – Giorgio Berrugi
Germont – Željko Lučić
Flora – Zoie Reams
Annina – Lauren Decker
Gastone – Mario Rojas
Marquis – Christopher Kenney
Baron Douphol – Ricardo José Rivera
Dr Grenvil – David Weigel
Giuseppe – Eric Ferring
Reprising La traviata from the 2013–2014 season, Lyric Opera of Chicago offered an effective staging with an international cast of seasoned Verdians. As familiar as the opera is, the production benefits further from engaging sets and well-thought direction, all effectively using the Civic Opera House stage, with equally thoughtful lighting and blocking. In his Lyric debut, conductor Michael Christie presented firm tempos and a wide range of dynamics. His sensitivity to the vocal line was apparent, and the orchestra balanced Verdi's textures superbly.
As Violetta, Albina Shagimuratova delivered a predictably fine performance. She was, however, somewhat subdued in the opening scene, where the sense of an ailing person challenged the audibility of the lines. Later, particularly in the last act, she was able to convey her character's frailty without singing too quietly. In contrast, the familiar 'Sempre libera' was particularly extroverted, but the exuberance sometimes blurred the diction. Shagimuratova's pitch was generally true, albeit with a vibrato at some points where the aggregate volume was high. Such differences were not as apparent in the second act, where she gave a careful reading of Violetta's interview with Germont, here portrayed by Željko Lučić. The blocking meant she sometimes had to step out of the set, to the front of the stage — a touch that worked well for her character's asides. Her clear tone made the scene at Flora's party more effective, and she carried it all the way through the final act.
Giorgio Berrugi was impressive as Alfredo, with his full voice, wide range, and pitch anchoring his interpretation. Originally an instrumentalist later studied voice, Berrugi had compelling clarity, especially in his opening aria. Among his demanding assignments, the aria 'De' miei bollenti spiriti' elicited an unusually strong response from the audience.
Lučić brought similar nuance as Germont, and his extended duet in the second act was moving. Pitch sometimes raised questions, but the overall shaping of the line was laudable, sparked by welcome intensity. At Flora's party, Lučić was dramatically and musically commanding, and in the final act, he was a sympathetic — if not changed — Germont, whose remorse contributed to the tragic finale.
Lyric's experienced chorus made the party scenes come to life. Diction was exemplary, even in the denser passages of 'Libiamo', where the declamatory text setting turned the singers into something like a Greek chorus — a tribute to Michael Black's efforts as chorus master. The ensemble also moved together with remarkable finesse, thanks to director Arin Arbus. This revival combined execution, choreography, and drama — not to mention style — to Verdi's masterpiece, for an audience who clearly enjoyed it.
James L. Zychowicz