Germany Mozart, Die Zauberflöte: Staatsopernchor and Staatskapelle Berlin/Alondra de la Parra (conductor), Staatsoper Unter den Linden, Berlin, 12.3.2019. (JMI)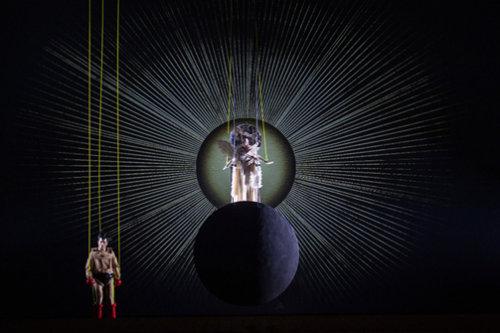 Production:
Director – Yuval Sharon
Sets – Mimi Lien
Costumes – Walter Van Beirendonck
Lighting – Reinhard Traub
Cast:
Sarastro – Kwanchul Youn
Tamino – Julian Prégardien
Pamina – Serena Sáenz Molinero
Papageno – Florian Teichtmeister
Papagena – Sarah Aristidou
Queen of the Night – Tuuli Takala
Monostatos – Florian Hoffmann
Spreaker – Lauri Vasar
Three Ladies – Adriane Queiroz, Cristina Damian, Anja Schlosser
This new production of The Magic Flute has left much to be desired. It brought to mind that old Spanish saying, 'El mejor escribano echa un borrón' or, in essence, 'Even the best scribe makes a blot on the paper'. There is no doubt that the Berlin Staatsoper is a leading company in the opera world, what one might call a very good or even excellent scribe. Unfortunately, Berlin's Die Zauberflöte was really spotty: a generally boring production, routine musical direction and a vocal cast whose problems were multiple and remarkable.
The Yuval Sharon staging premiered here last month, and the reviews were mixed. The setting is a large puppet theater and, except for Sarastro and Monostatos, the singers appear on stage as puppets hanging by cables from the ceiling. To this one must add that, with the exception of Papageno, spoken words are recorded and amplified, and the chorus sings from the pit. The final trials of water and fire are not quite that: instead, Tamino and Pamina enter the kitchen of a house. The sets consist of painted curtains, and the costumes are rather futuristic, which doesn't bode well for the future.
There have been a number of major changes in the vocal cast and musical director, and I have the impression that this may have been due to the production. Franz Welser Möst was to have conducted the opera, but his name disappeared from the program without explanation. The substitute is Alondra de la Parra, and I found her reading of the score fairly flat. As always, both the chorus and orchestra gave fine performances.
As far as the vocalists are concerned, only the interpreters of Sarastro and the Queen of the Night were noteworthy. Bass Kwanchul Youn gave a correct performance as Sarastro, with a proper voice for the part although he is not too rich at the bottom of the range. Soprano Tuuli Takala is a member of the Staatsoper roster, and she replaced Kathryn Lewek as the Queen of the Night. Her performance was satisfactory, and she did especially well in her two arias.
As I noted above, the rest of the cast left a lot to be desired. It was a lackluster performance overall in vocal terms.
José M. Irurzun