United Kingdom Debussy, Berio, Donatoni, Ravel and Respighi: Marianne Crebassa (mezzo-soprano), Philharmonia Orchestra / Esa-Pekka Salonen (conductor), Royal Festival Hall, London, 28.2.2019. (AS)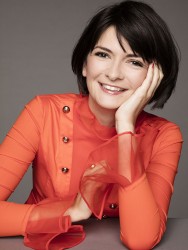 Debussy – Images –' Ibéria'
Berio – Folk Songs
Donatoni – ESA (In cauda V)
Ravel – Shéhérazade
Respighi – Pini di Roma
The Italian composer Franco Donatoni (1927-2000) was always perhaps a lesser figure compared with his compatriots, Luciano Berio and Luigi Nono, and his music has seldom been heard in recent times – at least in the UK. ESA was his last work and was commissioned by Esa-Pekka Salonen on behalf of the Los Angeles Philharmonic Orchestra. Donatoni was already ill at the time of the commission and when he heard of the composer's death not long afterwards Salonen assumed that the work had not been written. But two months later he received the score in the post. Donatoni had been too ill to write the music unaided and had dictated it to his students. Salonen himself has pointed the parallels between the creation of ESA and the genesis of Mozart's Requiem, but the work of Eric Fenby in taking down the last works of the stricken Frederick Delius from the composer's dictation also comes to mind.
As Salonen points out, there's nothing valedictory in ESA's mood. Colourfully scored in the Italian tradition, the 12-minute work is full of vitality and interest: its pungency and frequent motor rhythms are not a world away from Honegger's Pacific 231. The Philharmonia played it with great gusto and apparently effortless virtuosity.
We had already heard Berio's Folk Songs, originally written for chamber ensemble in 1964 and later orchestrated for a smallish orchestra in 1973. The inspiration for the work was the composer's one-time wife, the extraordinary artist Cathy Berberian (1925-83). If the words Donatoni and Berio in the programme listing were the cause of a less than total audience attendance, nobody should have been put off. Donatoni's work was very approachable, and in Folk Songs Berio merely treats a succession of traditional songs from various countries to some piquantly scored, imaginatively created accompaniments. Most of the audience members will have been familiar with Canteloube's Chants d'Auvergne and will have found Berio's embellishments to be not too dissimilar: in fact, Berio includes in his work two of the Auvergne songs to be found in Canteloube's settings.
If Berberian was a most remarkable singer then so is Marianne Crebassa. She has a most beautiful voice and possesses perfect technique, both of which attributes she uses to create a warm and most attractive vocal personality. She brought wit and charm to the series of 11 songs, responding to their sometimes-naive romantic sentiments in a sympathetic, almost kindly fashion. Jonathan Burton's text surtitles very much helped us to appreciate the moods depicted, sometimes sad, sometimes happy. No text was available for the final number, an Azerbaijan love song, which had been transposed phonetically by Berberian from an old 78rpm record.
As indicate in the titling above, ESA came between the two vocal items, and was followed by Ravel's Shéhérazade with Crebassa as soloist. She had made her Prom debut in this work with Salonen and the Philharmonia in August 2017 (review), and the outstanding impression she made then was now confirmed. On this occasion Jonathan Burton's surtitles seemed again to be more immediately effective than programme texts would have been, and helped us to perceive how sensitively Crebassa responded to the varying moods of Tristan Klingsor's exotic texts. Hers was a magical performance.
The concert had begun with a richly evocative account of Debussy's 'Ibéria', the most popular of the composer's three Images. Itself cast into three sections, this central excerpt from the set is an effective concert piece on its own, but the other two, 'Gigues' and 'Rondes de printemps' are often unfairly neglected, and 'Rondes', together with the ballet Jeux has claims to be Debussy's greatest orchestral work.
People are still snooty about Respighi's wonderful Roman trilogy, the word 'vulgar' even being applied sometimes to these wonderful pieces. Here it does no harm to play each work separately. Salonen delivered an exemplary performance of Pini di Roma, the first movement cheerfully outgoing, the 'Catacomb' movement brooding and mysterious, and the still quiet but more open-air 'Pines of the Janiculum' beautifully realised, with superbly warm strings and gorgeous woodwind solos. But if the recorded song of the nightingale was played at this point, at least two members of the audience did not hear it. The final evocation of Roman legions tramping down the Appian Way is an open invitation for a conductor to pull out the stops figuratively, and for the organist to do so literally. Salonen had strategically positioned three groups of trumpeters and trombonists, two adjacent to the seats on either side of the orchestra, and the third in the Royal Box of all places, presumably with appropriate permission. The result was a riot of sound which, as they say, brought the house down. It was a glorious end to a very fine concert.
Alan Sanders