Switzerland Aho, R. Strauss: Martin Grubinger (percussion), Tonhalle Orchestra Zurich/ Robert Trevino (conductor), Tonhalle Maag, Zurich, 14.3.2019. (JR)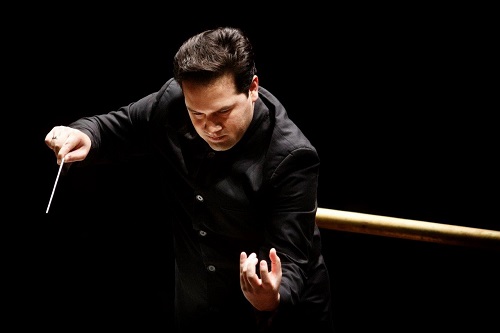 Aho – Sieidi, Concerto for percussion and orchestra
R. Strauss – Ein Heldenleben Op.40
Kalevi Aho is a seventy-year old Finnish composer who, it turns out, has composed – wait for it – no fewer than seventeen symphonies, thirty-one concertos and five operas; not to forget his chamber and vocal works. His style has been compared to Mahler and Schnittke, so no longer cutting edge. Sieidi is his most performed concerto, commissioned jointly by the London Philharmonic, the Gothenburg Symphony and the Luosto Festival (Lapland) in 2010.
Sieidi, from the northern Finnish language Samí, is apparently the word for an ancient cult or ritual place where the local gods were celebrated by local musicians. Aho has the soloist move from hand-beaten drums to instruments of pitch (marimba; vibraphone) to tam-tam, then back again in sequence. It is not all aggressive: there are some very soft, fetching passages. Bowed vibraphone and a tinkling rain tube evoked the bleakness of the far Northern landscape.
The orchestra's own percussion section is given plenty to do. The timpanist has several sections in which Nielsen's Inextinguishable (Symphony No. 4) sprang to mind, with shades of Shostakovich; timpanist Christian Hartmann was first-rate. Additional percussionists (Klaus Schwärzler and Andreas Berger) were placed to the front left and front right of the stage, and added stereo effects on tambourine and castanets – though I had no idea castanets were at home in Lapland!
I often find percussion works rather unmemorable and occasionally hard going; however, the Aho concerto distinguishes itself not perhaps with melody, but with a clear and definite structure and with a plethora of interesting sounds. It alternates between soloist and orchestra – conductor Robert Trevino had his work cut out counting out the rhythms assiduously; his micro-management gave him little chance, however, to allow the piece to breathe. The work, at 36 minutes duration, slightly outstays its welcome.
Grubinger is a natural showman; he knelt on one knee when not playing, as though in prayer. He introduced the piece to the audience at length, with some witticism, saying how much he admired the piece and that it was great fun to play and hoping it would great fun to hear, too. The hall was virtually full (percussion seems to bring them in) and it was heart-warming to see many teenage schoolchildren in the audience. Many (not having done their homework with the programme, which was cleverly posted online in advance, so no excuse) will have appreciated having the work explained on stage. After a standing ovation, Grubinger's encore disappointed. He opted for a Bach Sarabande on the vibraphone; it was so quiet as to be almost inaudible (at the back of the hall) and Bach's genius did not shine through.
After the interval, it was time for the orchestra to take back the limelight and for Robert Trevino to show us his quality. He impressed me greatly with a performance of Mahler's Fifth Symphony last season (review click here) and I now expect him to be a Tonhalle regular. His Heldenleben was first class and the orchestra responded in style. Trevino's control of dynamics, balance and tempi could not be faulted. Heldenleben is such a glorious, overwhelmingly beautiful work, starting with that thrilling sweep from the horns and celli in unison. The 8-strong horn section, led by principal Ivo Gass and ably abetted by co-principal Mischa Greull, covered themselves with glory. The other brass players were all on fine form. Julia Becker, the most senior of the concertmasters, was the tender and accomplished violin soloist, playing in the section fondly evoking Strauss's wife Pauline. The work contains not only music of melting Straussian beauty, but also violent passages in which the hero fights in battle – here, with the Aho percussion concerto still ringing in our ears, the battle onslaught seemed a mite tame. The 'Hanslick' section in which the music critics come up for ridicule was particularly effective, the trombones relishing their sneering snarls.
The section in which Strauss quotes from as many as nine of his other works has Strauss aficionados ticking them off.
Casey Creel, my fellow Seen and Heard reviewer in this city, ticked me off for not getting to the concert hall early, as he had, for what was billed as a 'Surprise'. This turned out to be three students of percussion (Matthias Kessler, Luca Staffelbach and Fabian Ziegler) from the local music conservatory (ZHdK, Zurich Conservatory of the Arts), taught by Tonhalle percussionists Klaus Schwärzler and Benjamin Forster, who had won the Jury and Audience Award at the recent Migros Kulturprozent Chamber Music Competition. My fellow critic was bowled over by their talent and maturity. They call themselves the 'Colores Trio' and rather than 'say' more, let me encourage you to take a look at their performance on YouTube.
There you will find the group's studio recording of Trio Per Uno and also two Arabesques by Debussy, which they played in the foyer of the Tonhalle Maag. All budding Grubingers.
John Rhodes