Switzerland Mozart, Le nozze di Figaro: Soloists and Chorus of the Opernhaus Zürich / Ottavio Dantone (conductor). Opernhaus Zürich, Zurich, 10.6 and 16.6.2019. (CCr)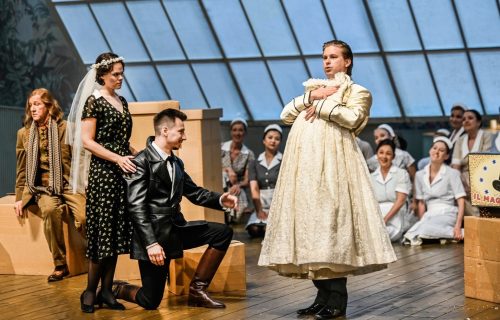 Production:
Director – Sven-Eric Bechtolf
Set designer – Rolf Glittenberg
Costume designer – Marianne Glittenberg
Lighting designer – Jürgen Hoffmann
Choir director – Janko Kastelic
Cast:
Count Almaviva – John Chest
Countess – Golda Schultz
Susanna – Regula Mühlemann
Figaro – Alexander Miminoshvili
Cherubino – Samantha Hankey
Marcellina – Liliana Nikiteanu
Bartolo – Michael Hauenstein
Basilio – Martin Zysset
Barbarina – Yuliia Zasimova
Don Curzio – Leonardo Sánchez
Antonio – Valeriy Murga
Many people like The Marriage of Figaro best over Mozart's other Italian operas. Of the three main ones, Così fan tutte (like Figaro a comedy) and Don Giovanni (a demanding hybrid of comedy and tragedy) may be accused of having too many arias or byzantine plots, but in Figaro that's the whole point. The plot synopsis in the programme for this production yawns over five pages, a length usually reserved in Zurich's programmes for the less minimal of Adorno's moralia.
Not so much in its magnanimous morality as in the delicious Vaudeville zing of Figaro's comedic storytelling do we appreciate the story, and Da Ponte as Mozart's great librettist. That is assuming the staging gets everything right, what with all of Figaro's crossdressing, the hiding-under-tablecloths, the scheming and the plotting and the final reconciliation. The reverent admirers of Mozart's gentility will cherish their Countess and her 'Dove sono' lamentation, a Mourner's Kaddish for her caddish husband. But the magic's really in the rush of emotions, in the flooded charm of mediocre people, all playing their little human games. Go to Spain, where the story is set, to see a zarzuela before your next Figaro, if you need a lesson in ludicrous antics that lead to theatrical ecstasy. If you are not perpetually wavering between bemused and ravished and chuckling, there's something wrong, very possibly with you.
Zurich's current revival of its 2016 Figaro production is funny and has heart. The faltering attempt at situating the story in the political 20th century – it is set in Franco's Spain instead of the theoretical one of Beaumarchais – does not get in the way of the story, but nor does this do it any obvious favours. That said, it is nice that the updated characters are more relatable (personally, I have never met a Count), and it is nice that they are at some distance from us, too, since too-contemporary productions with cheap pop-culture agendas are just as bad as all those dusty wigs and chambermaids. The single set here is light and airy, and duly lets a charade of upstairs and downstairs meddle in each other's business. Neither lavish nor dull, Sven-Eric Bechtolf's production does the trick, though short of its stated ambition.
There isn't a Figaro worth watching if the several characters fail to win your sympathies even as they butt against each other, no matter how good the singing. The singing in this production is mixed, and the acting is good. Baritone John Chest turned wan in sound later in his performances as the Count, but glued the trios together when his colleagues dragged; his meaner singing was not too pointed at the top, and both text and voice had a nice, lean oomph in his aria 'Hai già vinta la causa', without anything feeling forced.
Chest looked like he could have done more with his character, had he not been asked to perform magic tricks – don't ask me why, despite their occasional wit – and had he been dressed in something more interesting than a bland white safari suit. Costumes are by Marianne Glittenberg, and it remains a mystery why she and Bechtolf never saw fit to go farther with their Count, especially if there are ostensibly some political musings towards egalitarianism buried somewhere in their production (you know, the ones that were placed front and centre in the original Beaumarchais play). The production never really signalises the Count's abusive peevishness, even as the whole farce revolves around the Count trying to force his servant, Susanna, into bed with him before her wedding with Figaro. One wonders what a director like Kirill Serebrennikov would do with a safari-loving Count. Kidnap Susanna and lock her inside a taxidermied elephant? Is that so much to ask?
Susanna was sung by Swiss native Regula Mühlemann, an absolutely ideal performer for this role. Mühlemann is neither coquettish nor brazen as she keeps a lid on things, ever triangulating between the Count and the Countess and her fiancé Figaro, giving us a Susanna of tremendous composure. There is a knowing smile that adorns her vaguely melancholy air, none of which costs her any energy in her soubrette. With top notes given richly but for intimate effect, the young Mühlemann already knows how to combine grace and weight. She wasn't perfectly with the orchestra and could be better versed with her text, but her maturation in the coming years should be quite something to witness.
Her Figaro, Alexander Miminoshvili, also needed help with text, clipping details and muddling entrances in some of the more complex ensemble scenes. Miminoshvili is sexy enough and so full of vim that he can easily compensate for most vocal shortcomings. His often terrific recitatives exhibit a perfect half-scornful amusement that turns so electrically into a barely-amused scorn. A powerful final 'Aprite un po' quegli occhi' showed Miminoshvili's lyrical capabilities, and his ease on the stage leads to one delight after the next.
How lucky these singers were to have Ottavio Dantone in the pit, cradling them through every chop in the waters. After a pallidly perfectionist overture, I was wondering whether we would lose the forest for the trees, but Dantone's expertise at accompanying the occasionally-stumbling singers was soon apparent, and the orchestral colouration supporting each aria was outright glorious.
Take what happened with Samantha Hankey's two arias as Cherubino, some of the best music in the mezzo repertoire, devilishly tricky to sing. Hankey gives a masculine Cherubino, the character of the teenage boy with a libido for two and a suspicion that he might actually be in love. Her 'Non so più' was lavishly good, with none of the wide-eyed gee-whiz-aw-shucks blandness that other singers impose; Hankey only turned dreamy at the very end of the aria, when she still maintained the character's boastfulness amidst genuine naiveté. All of this was underpinned by sprightly playing, matching the mezzo splendidly in tone. Then Hankey's second aria came, 'Voi che sapete' ('You who know what love is'), a stoically absurd appeal by Cherubino to his own godmother the Countess (the gracious and silvery Golda Schultz) that she look within his heart, and tell him what he is feeling, on the off chance that she may absolve him of his love for her. Hankey sang with a shaky vibrato and too little text, losing lustre. Dantone's orchestra came to her rescue, the woodwinds were achingly gloomy and warm. Not all that's golden shimmers.
Casey Creel