Switzerland Richard Strauss, Elektra: Soloists, Chorus of the Zurich Opera, Philharmonia Zurich / Simone Young (conductor), Zurich Opera, Zurich, 7.7.2019. (JR)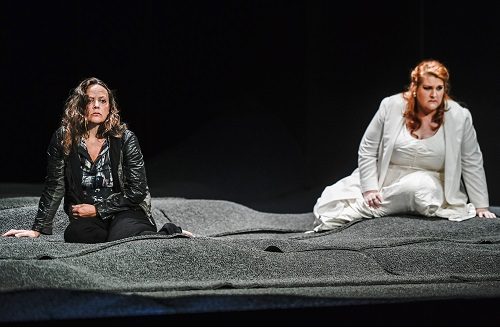 Production:
Director – Martin Kušej
Sets/Lights – Rolf Glittenberg
Costumes – Heidi Hackl
Lighting – Jürgen Hoffmann
Chorus – Janko Kastelic
Musical assistance – Emil Eliasson
Dramaturgy – Regula Rapp, Ronny Dietric
Cast:
Klytamnestra – Waltraud Meier
Elektra – Evelyn Herlitzius
Chrysothemis – Tamara Wilson
Aegisth – Michael Laurenz
Orest – Christof Fischesser
Orest's tutor – Alexander Kiechle
Overseer- Marion Ammann
First maid – Judith Schmid
Second maid – Deniz Uzun
Third maid – Irene Friedli
Fourth maid – Hamida Kristoffersen
Fifth maid – Natalia Tanasii
Confidante – Justyna Bluj
Trainbearer –Yuliia Zasimova
Young servant – Iain Milne
Old servant – Richard Walshe
This Martin Kušej production premièred back in 2010 and it is a most welcome second revival that brought back Evelyn Herlitzius for the second time in the title role. Herlitzius and Stemme are the leading Elektras at the moment; Stemme might have the advantage vocally, but Herlitzius's acting packs a punch: she plays demented very well. My colleague José Izurzun, reviewing Herlitzius recently in this role elsewhere, wrote that some vocal aspects should be ignored with an interpretation of this intensity. He refers, I think, to some swoops or slides onto occasional high notes, which I hardly noticed four years ago but have certainly now become apparent.
Tamara Wilson was top notch as Chrysothemis, commanding, forceful, intonation faultless – she received as much frenetic applause as Herlitzius. Christof Fischesser is my favourite bass (now that Kurt Moll is wandering in the Elysian Fields) and as Orest he was his dependably sonorous self. Michael Laurenz as Aegisth sang with more force than on previous occasions. Waltraud Meier, diction clarion clear, fared much better than Hanna Schwarz in the last revival and cut an attractive figure; she was suitably scary when describing the sacrifices she would have to make to forestall her bad dreams.
The minor roles were all well taken, notably by Irène Friedli, returning as the third maid. Marion Ammann was, for me, not quite loud enough.
I refer you to my previous review (review click here) for details of the challenging production. It is growing on me but I accept some will dislike it as rather wayward. It is a modern production without palace walls, statues and the like. There is, unusually, not a drop of blood to be seen, though Orest's arm is heavily bandaged after he has done the dirty deed. It is set in what appears to be the dank, leaky (water dripping) basement of a large hotel; the maids are French maids who set about cleaning the doors and (one suspects) satisfying certain desires of the hotel guests. I am still rather unsure why the guests go mad after the bloodbath and why the Carnival in Rio makes its exuberant appearance just before Elektra collapses. I suspect it is Elektra's hallucination of a joyful dance; rather than collapse in a heap, Kušej has Elektra lie down slowly, face down. We are left to ponder her fate or future.
There are some clever touches in the production: Orest makes his first appearance disguised as an aging transvestite in a tawdry blonde wig and ill-fitting skirt, bearing a bunch of white lilies, the symbol of purity. They can also, appropriately in this opera, indicate death.
Elektra is depicted as an angry teenager in a hoodie, which works very well. Generally all the cast are portrayed as younger than is often the case. Aegisth looks like an aging Rolling Stone as he gropes some scantily clad groupies and even salivates lasciviously over the visually unappealing Elektra.
Simone Young was absolutely first rate, bringing out many nuances of this complex and intriguing score. The orchestra played magnificently for her and there was plenty of volume whenever required, but never too much when singers needed to be heard.
The opera just flew by; it was over almost too soon. And yet, a fellow critic told me his neighbours had asked, only halfway though the opera, when the performance might finish – but they had expected a (Johann) Strauss operetta!
This astounding (Richard) Strauss opera made a truly wonderful ending to my opera season.
John Rhodes