United Kingdom Donizetti, La fille du regiment: Soloists, Chorus and Orchestra of the Royal Opera House, Covent Garden / Evelino Pidò (conductor), Royal Opera House, Covent Garden, London, 8.7.2019. (CC)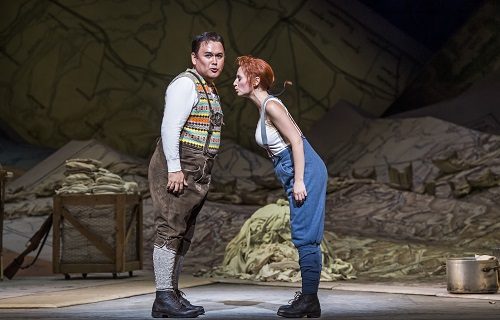 Production:
Director and Costume designer – Laurent Pelly
Set designer – Chantal Thomas
Lighting designer – Joël Adam
Choreographer – Laura Scozzi
Revival Choreographer – Karine Girard
Cast:
Marie – Sabine Devieilhe
Tonio – Javier Camarena
Sulpice – Pietro Spagnoli
La Marquese de Breckenfield – Enkelejda Shkosa
Hortensius – Donald Maxwell
La Duchesse de Crackentorp – Miranda Richardson
Corporal – Bryan Secombe
Peasant – Luke Price
Notary – Jean-Pierre Blanchard
This is the fourth revival of Laurent Pelly's joyous production of Donizetti's opéra comique, La fille du regiment. Previous casts have foregrounded operatic superstars, to mesmeric effect: Natalie Dessay, Juan Diego Flórez and Alessandro Corbelli have been staples of the production. With a cast made up of the lesser-known, and with only Donald Maxwell as a familiar face, the question was how would this all stand up? Dessay in particular has completely inhabited the role of Marie, while Flórez's tenor was perfect for the role of Tonio, Marie's Tyrolean beloved.
The sets and staging, with a huge map used to portray mountains and a ridiculous – in the best sense – tank at the end and plenty of silliness in between (including a mobile washing line of the regiment's smalls), holds its own, while the orchestra under Evelino Pidó provided plenty of detail. The castle of the second act, with its piano which contributes so much fun to the action, houses an hilarious ballet of domestics that, to this day, elicits a laugh-out-loud response. Attention to detail is total, always effective and geared to the light heart of the work, even to the surtitles, so that when Crackentorp speaks in English, the surtitles translate that in to French. This might be the production's fourth outing, but it will not be the last. Laurent Pelly has done Donizetti a great service.
What the orchestra – and, to an extent, the singers – did not present was a coherent line of energy threaded through the evening. There were times when the direction of the music seemed to droop, times when we were aware that there is a greater way with this piece. The so-called 'Rataplan' in particular seemed to suffer.
The role of Marie is highly physical, an aspect that Sabine Devieilhe tackled with aplomb. Perhaps a touch more strength in those clinching high notes might have sealed the deal; interesting, as her Royal Opera debut in the 2017/18 season was as the Queen of the Night, so the soprano stratosphere might reasonably be construed as her natural terrain. If Devieilhe lacks the nth level of agility that Dessay owns, there is no doubt she threw herself into the role. Her voice was a little small though, not always as to the fore as one might hope. Neither does she have Dessay's timbral variety; yet dramatically, she found an emotional heart to the role that was most convincing. Comedically, Devieilhe seemed to find her feet in the second act, where Marie is forced into a situation mightily uncomfortable for her: dressed in a way that is a million miles away from her manly trousers and braces when she is part of the regiment; the way she veered away from the gentile air to the regiment's song was convincingly done.
Her Tonio, the Mexican tenor Javier Camarena, has been knocking out opera audiences worldwide with this role. José M. Iruzun reported on a Liceu performance in 2017 that seemed to indicate that Camarena is nothing if not consistent: there, he encored 'Ah, mes amis,' as he did also in New York at the Met (at every performance of that run) and, indeed, here on this occasion at Covent Garden. The ovation was deserved: he has an astonishing accuracy – he has no problem leaving space between the anacrusis high C and the arrival C, more than even Flórez dares to do, and with no loss of pitch or accuracy of attack. There is an effortless freedom to his voice, and there really is the impression that he can knock out those top C's until his head falls off (there was no perceptible diminishing of the brightness of his sound or the confidence up top even by the very end of the evening). He is a perfect Donizetti tenor.
Enkelejda Shkosa was La Marquese de Breckenfield, exhibiting a fine lower register but blighted by a wide vibrato which gets more distracting the higher the voice goes. She was, in fact, overshadowed by the excellent Donald Maxwell as her Majordomo, Hortensius, for whom the role must feel like a comfortable pair of old slippers by now. The brilliantly attired Pietro Spagnoli (like a comic-book rendition of an army sergeant) did not quite erase memories of Corbelli, either vocally or in gesture, but he nevertheless seemed to love the role, and so, in turn, it was impossible not to love him. With a splendidly funny Duchesse de Crackentorp from British actress Miranda Richardson and strong contributions from the smaller roles, there was much to celebrate. Richardson stands in an interesting line of people who have taken on Crackentorp: Anne Widdecombe and Dawn French are her predecessors.
No complaints at all about the Royal Opera Chorus, as feisty in the male numbers as it was tender with the female members' prayer. A slightly mixed evening, then, but Pelly's production remains a triumph. What with Fille now a clear house favourite, and with the new recording of Donizetti's L'Ange di Nisida taken from (concert) performances at the Royal Opera recently released on Opera Rara, Donizetti's star is shining brightly. And that is a major cause for celebration.
Colin Clarke