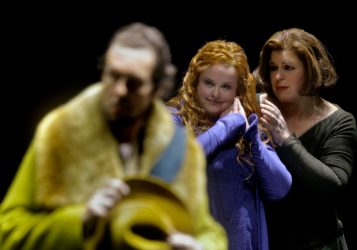 Germany Bayreuth Festival 2019 [4] – Wagner, Tristan und Isolde: Soloists, Chorus and Orchestra of the Bayreuth Festival / Christian Thielemann (conductor). Festspielhaus, Bayreuth, 16.8.2019. (JPr)
Production:
Director – Katharina Wagner
Sets – Frank Philipp Schlössmann and Matthias Lippert
Costumes – Thomas Kaiser
Dramaturgy – Daniel Weber
Lighting – Reinhard Traub
Chorus conductor – Eberhard Friedrich
Cast:
Tristan – Stefan Vinke
Marke – Georg Zeppenfeld
Isolde – Petra Lang
Kurwenal – Greer Grimsley
Melot – Raimund Nolte
Brangäne – Christa Mayer
Ein Hirt – Tansel Akzeybek
Ein Steuermann – Kay Stiefermann
Junger Seeman – Tansel Akzeybek
Tristan und Isolde directed by Katharina Wagner – the composer's great-granddaughter – is now in its fifth and final year and there was one significant change of cast with Stefan Vinke alternating with Stephen Gould (who was also singing Tannhäuser). Vinke seemed to up the energy levels and bring a different perspective to this somewhat controversial – to others but not to me! – interpretation and it gained even greater clarity than in previous years. Of the opera's themes that are mirrored in the composer's chromaticism which 'depicts' endless longing, Katharina Wagner shows us carnal desire, love, and jealously but there is no real forgiveness because – as is well known – a grieving Isolde is pulled away after the 'Liebestod' by King Marke who clearly has no pity for her. What we see is an unremittingly, unromantic, reading as Wagner makes a point about the power some men can have over women. Isolde has been part of a brokered peace deal between two warring factions and there can be no happy ending – at least not in this world – for Tristan and Isolde.
Tristan brings Isolde – who is portrayed by the marvellous Petra Lang as more man-hungry than ever – entirely against her will back to Cornwall from Ireland to marry his uncle, King Marke. Tristan was wounded in the fight that killed Isolde's fiancé but regardless she healed his wounds and they fell in love. The opera – as most know – begins with this return voyage and Isolde is upset and angry about the passion that they cannot share. She cannot comprehend how Tristan could condone her forced marriage to Marke. Frank Philipp Schlössmann and Matthias Lippert's Act I set is inspired by the works of Piranesi and M C Escher and has a maze of stairs and gangways often leading nowhere. Time and again Isolde and Tristan are cut off from each other and sometimes Kurwenal and Brangäne must physically restrain them. They certainly seem to make the most of it when they do get their hands on each other and then the passion is obvious. Isolde's bridal veil is torn to shreds in their ecstasy when the pair are finally released from their emotional turmoil and no potion – neither a love one nor the Todestrank (death-drink) – was needed.
The staging of Act II is simpler and focusses on the isolation and loneliness of love. We see the 'eternal triangle' of the relationship of Isolde with two men through her incarceration with Tristan in a triangular prison courtyard. From above there is constant searchlight surveillance by Marke. For those who remember them, there are large version of the toys called Slinkies now seen as huge metal hoops embedded in the walls or just lying on the ground. For the 'Love Duet' Tristan and Isolde – with their backs to the audience – are hand in hand facing distant silhouettes of themselves as if imagining a (happy?) future which will ultimately prove to be an impossible dream. Later they self-harm on some metal spikes before the pair resort to autoerotic asphyxiation and it is at that point Marke enters and he will go on to order a bemused Melot to stabs a blindfolded Tristan in the back as he drags Isolde away not for the last time.
In Act III the 'eternal triangle' idea continues with everything happening in Tristan's head when visions of Isolde appear in pyramidal shapes throughout the stage. I think Tristan may already be dead, with Kurwenal and others holding a vigil over his 'corpse', yet he 'resurrects' to relive his obsession with being reunited with Isolde. All the various phantom-like Isolde incarnations vanish in various ways and so perhaps we are asked to consider if Tristan's love for her is equally illusory. Marke and his men appear and swiftly dispatch Kurwenal. A distraught Isolde – possibly because she never saw it happen – cannot come to terms with Tristan having died and will not let go him as she sings her Verklärung (aka 'Liebestod'). Marke and Isolde clearly have an abusive relationship as a result of – or possibly regardless – of her relationship with Tristan. It is because of Marke's need to exert his power over her – just as much as everyone else he rules over – that he must forcibly drag Isolde away (again) before the curtains close. I have written before that although the characters – as Katharina Wagner shows them to us – never have the motivation we might expect them to exhibit, what we see has entirely been in the spirit of Wagner's Handlung (drama).
Christian Thielemann was conducting the third opera of the four I saw this year and his feel for the opera seems more deep-seated than ever though, almost perversely, everything sounds breathtakingly fresh. There is lyrical, romantic warmth, ebb and flow, intimacy and high drama in a perfect blend of incomparable music-making. An example of this perfection was Petra Lang's conversational and resplendent 'Mild und Liese' that was the perfect antidote to some of the stentorian 'can belto' singing earlier in the week. Elsewhere by turns Lang was imperious, vengeful or tender and certainly nobody ever portrays indignance and hurt better than her. She was a true warrior maid – a Wonder Woman figure – and this Isolde was determined to hold on to her man at all costs.
Stefan Vinke proved an ideal partner for Lang and sounded note perfect which is not a given at Bayreuth! Vinke clearly knows the role inside out and, more importantly, he lived the part. Creating a character seemed as important for him as his singing and his crazed delusional outpourings in Act III were gripping. He reminded me – more than some – of René Kollo singing his last Tristan for Christian Thielemann at the Deutsche Oper in 2000 and who was at the very edge of what was vocally possible in the last act because it was the final time he would sing the role. And that, actually, was the very first time I heard Thielemann conduct Tristan und Isolde.
Christa Mayer was again Isolde's loyal confidant Brangäne and the highlight of her performance remains the floated offstage warnings that reinforce the sense of physical threat throughout Act II. This year Greer Grimsley was Tristan's gruff loyal retainer, Kurwenal, and his slightly weather-beaten voice was just right for the character. Georg Zeppenfeld – who can do no wrong these days at the Bayreuth Festival – repeated his unusually aggressive King Marke shown glorying in the trophy wife who can further strengthen his power and authority. Zeppenfeld sang more nobly and winningly than Marke's actions deserved. As ever, even the smallest role was cast with care and this ensemble was one of the finest to have been heard in recent Tristans at Bayreuth.
Jim Pritchard
For more about the Bayreuth Festival click here.