United States Kamala Sankaram, Looking at You: Rob Handel (libretto); soloists; Mila Henry (piano); Jeff Hudgins, Ed RosenBerg, Josh Sinton, Matt Blanchard (saxophones); Samuel McCoy (music director); Kristin Marting (co-developer, co-choreographer, and director), HERE Arts Center, New York, 11.9.2019. (BH)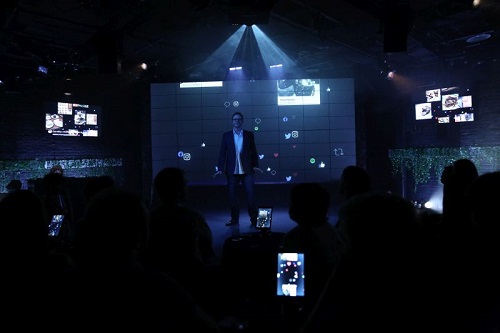 Production:
Video Designer – David Bengali
Technologists – Alessandro Acquisti, Ralph Gross
Tablet Technologists – Joe Holt, Daniel Dickison
Scenic Designer – Nic Benacerraf
Costume Designer – Kate Fry
Lighting Designer – Ayumu "Poe" Saegusa
Choreographer – Amanda Szeglowski
Sound Engineer – Nathaniel Butler
Production Stage Manager – Westie Productions
Cast:
Dorothy – Blythe Gaissert
Ethan – Brandon Snook
Raj – Paul An
Annina – Adrienne Danrich
Brooke – Mikki Sodergren
Charlie – Eric McKeever
When signing up for a smartphone app, how many people actually read the Terms of Service (ToS), to see what they are agreeing to? 'Basically none,' said a panelist onstage after Looking at You, the startling new opera by composer Kamala Sankaram and librettist Rob Handel, directed by Kristin Marting.
As ticket-holders stood in line before the show, a staff member asked them to pre-order a free drink with an electronic signature on a tablet. Though people could decline — assuming they were aware of the option — virtually all agreed, which gave consent to a long ToS (adapted from Facebook's template).
Little did any of us know that, behind the scenes, staff were diligently researching facts about the audience, which later appeared in the show itelf. In the question-and-answer session afterward, Marting offered reassurance that the data were not captured, but deleted after each show. Still, the point was made, playfully but arrestingly. For audience members to see personal photos flashed on screens around the room — never mind having cast members address them by name, seemingly out of the blue — was mildly unnerving.
The plot orbits around Rix, a fictional Silicon Valley company investigating a product called Check-U-Out, developed by an engineer named Dorothy, winningly sung by mezzo-soprano Blythe Gaissert. The software analyzes photographs of people across the room and reports on their likeability or desirability. (Readers may want to reference China's nascent Social Credit System, intended to maintain statistics on citizens' reputations.) Meanwhile, Dorothy is having an affair with Ethan Snyder, an Edward Snowden-type character (they even share the same initials) played with uncanny verisimilitude — and a pure tenor — by Brandon Snook.
Their colleagues were equally engaging. As the head of Rix, bass Paul An had the force of a demagogue, buoyed by an entertaining Greek chorus of three Rix employees — soprano Adrienne Danrich, baritone Eric McKeever, and mezzo-soprano Mikki Sodergren — all merrily in sync with the show's upbeat-yet-slightly-sinister tone.
For a relatively modest venue like HERE, the technological achievements were ingenious. In addition to the data-mining at the beginning, audience members sat at tables, each with a small tablet to register for a 'team-building activity.' (I signed up for a string band rehearsal.) A central Orwellian screen was flanked by smaller ones, confronting the audience at every turn. (The creative pedigree was impressive: HERE Arts Center and Opera on Tap were the presenters, with Experiments in Opera listed as a collaborator.)
Sankaram's score was entertaining on its own — a smart amalgam of techno beats, minimalism, and occasional, brief flirtations with Indian accents. She gave the cast many gratifyingly soaring vocal sequences, and the vocalists wore head microphones, all-too-apropos for the subject matter. Music director Samuel McCoy adroitly led an ensemble of five, with unusually spare instrumentation: Mila Henry (piano), and Jeff Hudgins, Ed RosenBerg, Josh Sinton, and Matt Blanchard (saxophones).
Of the many issues facing the world at the moment — climate change, political instability, income inequality, healthcare availability, gun control, and on and on — issues of data collection and privacy can seem not urgent. But Looking at You deliberately places the audience in a vulnerable spot. Like many on the premises, I wandered home feeling a little more fragile than when walking in.
Bruce Hodges