Switzerland Monteverdi, Orfeo: Soloists, Choir and Dancers of the Iván Fischer Opera Company (chorus master: Soma Dinyes), Budapest Festival Orchestra / Iván Fischer (conductor), Grand Théâtre de Genève, 28.10.2019. (ALL)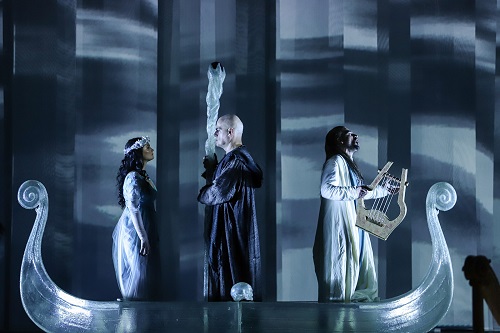 Production:
Director – Iván Fischer
Assistant – Hannah Gelesz
Scenography – Andrea Tocchio
Costumes – Anna Biagotti
Choregraphy – Sigrid T'Hooft
Lighting – Tamás Bányai
Video – Vince Varga
Cast:
Euridice / La Musica – Emőke Baráth
Orfeo – Valerio Contaldo
Pastore / Speranza – Michał Czerniawski
Pastore / Spirito – Cyril Auvity
Pastore / Spirito – Francisco Fernández-Rueda
Pastore / Plutone – Peter Harvey
Ninfa / Proserpina / Baccante – Núria Rial
Caronte / Spirito – Antonio Abete
La Messaggera / Baccante – Luciana Mancini
One should not forget that this is Iván Fischer, who has given us tremendous performances of Mahler, Bartók, and Dvořák, and who played the cembalo in Zurich in the legendary productions of Monteverdi's operatic works under the team of Nikolaus Harnoncourt and Jean-Pierre Ponnelle. The Grand Théâtre has established a partnership with Iván Fischer and his forces for a Monteverdi cycle that will span over three years and bring The Coronation of Poppea and the Return of Ulysses to Geneva.
In this return to Monteverdi, Fischer had undertaken several duties: assembling a period instrument ensemble, serving as the producer for the work, completing/restoring the original ending of Orfeo (with an unhappy ending where Orfeo is killed by Bacchus's followers) and, yes, he also conducted.
As we have now come to expect from Fischer, there was much to admire. The chorus in Acts III and IV has poise, gravity and distinction. The ending had rhythmic drive and proved to be very idiomatic and highly convincing. Of his singers, Emőke Baráth and Luciana Mancini had dramatic presence, plenty of colors in the voice and clearly understood the words they were singing. Valerio Contaldo in the title role took some time to warm up. He was truly at his best in Act III when he let his anger come out, a wonderful scene in which Charon … goes to sleep. Peter Harvey as Pluto had commanding authority. The chorus was superb and reminded us of how very daring and modern Monteverdi's harmonies are.
But the performance was not without its blemishes. Producing an opera is not an easy task, and Fischer's minimal, ultra-classical staging was conventional – timid at best –  and probably just boring; miles from, say, Ponnelle's imagination and feisty spirit.
We had to wait for Orfeo to be in the Underworld to hear some great music, as some of Fischer's musical options were debatable in the first acts. The opening toccata started with a simple recorder. The volume never went beyond mezzo forte, thus robbing the music of the physicality of this opening. Tempi were on the slow side. Where the music should celebrate life, it felt too safe. There were many passages where Fischer and his musicians produced carefully polished long lines that affected the theatricality of the work adversely.
In more than a few places, this reminded me of the aesthetics of Herbert von Karajan, another immense musician who wanted to produce and whose search for endless legato lines and static staging reduced the dramatic impact of operas. But we live in another world now. We want more theater in our operas. Monteverdi, who was such an innovator, would appreciate being played in modern times but would not have hesitated to recommend, I think, a much less reverential approach to his music.
Antoine Lévy-Leboyer