United Kingdom Richard Alston Dance Company, Final Edition: Dancers (Joshua Harriette, Nicholas Shikkis, Nahum McLean, Jason Tucker, Ellen Yilma, Elly Braund, Jennifer Hayes, Monique Jonas, Alejandra Gissier, Niall Egan), Snape Maltings, Suffolk, 2.11.2019. (CS)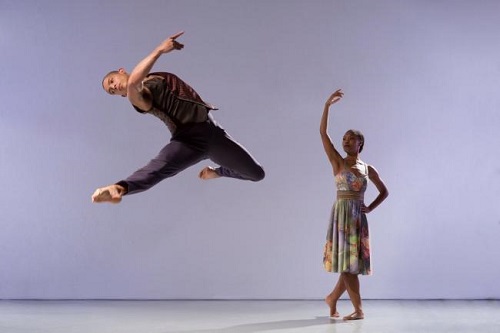 Voices and Light Footsteps:
Choreography – Richard Alston
Music – Claudio Monteverdi
Lighting – Martin Lawrance
Costumes – Peter Todd
Detour:
Choreography – Martin Lawrance
Music – Akira Miyoshi & Michael Gordon
Lighting – Zeynap Kepekli
Costumes – Jeffrey Rogador
Shine On:
Choreography – Richard Alston
Music – Benjamin Britten
Lighting – Zeynap Kepekli
Costumes – Fotini Dimou
Pianist – Jason Ridgway
Soprano – Katherine McIndoe
Brahms Hungarian:
Choreography – Richard Alston
Music – Johannes Brahms
Pianist – Jason Ridgway
Lighting – Zeynap Kepekli
Costumes – Fotini Dimou
Shine On.  This Final Edition tour by Richard Alston's dance company – I saw the company's second performance at Snape Maltings – found choreographer, creative team and associates, and, most importantly, dancers, in optimistic and innovative mood.
This surely will not be the last we hear and see from these talented individuals: from the seventy-year-old choreographer with 50 years of dancing and dance-making behind him, or from the twenty-something apprentices who have joined his company in recent years, or this season for its last sojourn. But the buoyancy – literal and figurative – in evidence at the Maltings was perhaps surprising given that during the last year the newly knighted Alston has announced that the Richard Alston Dance Company – founded in 1994 and resident since that time at The Place, the home of London Contemporary Dance School of which Alston was one of the first students in the late 1960s, and of which he was Artistic Director from 1994 – will close at the end of this tour, as a result of changes to Arts Council England funding principles.  Essentially, youth is in and age is out, and Alston has fallen on his sword to ensure that The Place's own funding is not adversely affected.  The former chief dance critic of the New York Times, Alastair Macaulay, has declared this 'unequivocally the grimmest news for British dance this century'.
Before I continue, I should perhaps declare my own allegiance.  In the early 2000s I spent a short period of time working at London Contemporary Dance School, where Alston was Artistic Director and where his company was housed.  I confess that when I joined LCDS I knew little about contemporary dance but, I hope, that when I left I knew a lot more.  I have to admit, though, that while I did play my fiddle and teach some arts and humanities classes, I rarely entered a dance studio.  My short-lived role was an academic and administrative one – chiefly, to support the development of funding arrangements for dance and drama undergraduates studying at the UK's conservatoires and to develop a new MA degree at LCDS, whose participants would have the opportunity to work as apprentices in RADC.  Twenty years later, however small my own role, it is gratifying to see that several members of the current RADC ensemble have reached their professional positions via the apprenticeship route, and that Niall Egan and Alejandra Gissler have joined the company as apprentices this season.
During the evening's performance, the RADC presented works old and new, by Alston and by his long-term Associate Choreographer, Martin Lawrance.  Voices and Light Footsteps with which the performance began seemed to me to both epitomise and extend the 'Alston-blueprint'.  Alston used the same title for a piece he made for Ballet Rambert in 1984 (having been resident Choreographer of that company from 1980, he was Artistic Director from 1986-92), though Alston declares that there is 'nothing of that dance in this new creation except the title'.
Alston's kinetic interpretation of the music of Claudio Monteverdi presents an integration of movement and music, of generic stylisation and physical gesture, of Classical grace and graciousness allied with occasional modernist sensibility – an idiom that Alston has made his own.  A palette of rust, gold, cream and amber, and the softly graduated shadows, summons the soft light and building materials of Mantua and Cremona.  But, while such stylism might, previously, have been most evidenced through such gestures as the elongation of arms, extending backwards in pre-Raphaelite refinement – all archly curved wrists, curling fingers – of Alston's English elegance, here there was a striking muscularity. The extraordinary leg extensions, spine-challenging balances and unconventional corporeal shapes struck a new tone.  It was as if Alston was seeking to embody Pythagorean conceptions of 'celestial harmony' through physical shape, structure, patterns and repetition.  And, if there was gentility and balance, there was also an edge of danger too.
Alston's response to Monteverdi's harmonic shifts, leaps and twists seemed to be an exquisite counterpoise of pain and pleasure – the perfect representation of the composer's expressive palette.  In contrast, homophonic explorations inspired manifestations more spiritual than corporeal.  The solo soprano voice in 'Si dolce è'l tormento' inspired wonderful expressiveness from Elly Braund and Nicholas Shikkis; elsewhere, rapidly changing moods prompted unrest.  Joshua Harriette and Ellen Yilma strived for, and surely reached, effortlessly, the peak of physical control in their duet response to 'Tempro la cetra': when Harriette lifted Yilma, who was seated on his thigh, with not even the merest tremor of his core and spine.  It was breath-taking.
These Snape performances also saw the premiere of Shine On, Alston's choreographic response to Benjamin Britten's On this Island, a song cycle setting five poems by W.H. Auden, composed in 1938. Britten has loomed large in Alston's oeuvre: the first RADC season featured a piece based on Britten's Lachrymae; more recently Alston has presented responses to Phaedra, Rejoice in the Lamb, and Britten's transcription of Purcell's Chaconny.  Here, though, I couldn't help but think that Alston, like Britten eighty years earlier, had bitten off more than he could creatively chew.  But, that's not to say that the endeavour of both composer and choreographer to understand and communicate, through their own means, Auden's complex, oblique meaning did not offer rewarding engagement.
At the Maltings, On this Island was performed live by soprano Katherine McIndoe and pianist Jason Ridgway.  McIndoe has plentiful power, iridescence and glossiness and projected to the far reaches of the Maltings; Ridgeway was a thoughtful and discerning accompanist.  'Nocturne' was particularly beautifully sung, and there was a jazzy insouciance infiltrating 'Look, stranger'.  But, 'words' were an infrequent entity.  And, this matters.  There is little to bind the poems of the 'cycle': they share few thematic links, though there may be a sexual subtext in some poems; the musical structure is loose in terms of key and motivic connection; and the style is diverse, often employing pastiche.  If we are to make any sense of the five-song set then we at the very least need to know what is being 'said'.
In 'As it is, plenty', Britten attempts to complement the false sentiments exposed by Auden's social satire through reference to popular song and cabaret.  'Look, stranger, at this island now' tells of life's choices and potentiality, but there is such artifice in Auden's imagery that it is difficult for Britten (who seems to avoid addressing Auden's more confrontational images) to provide musical directness,  'Now the leaves are falling fast' examines the defeat of Love by negative forces.  The opening poem, repeated here at the close, 'Let the florid music praise', is perhaps the most satisfactory text: there is a sense of a public statement, one which presents the abundant resources of the English poetical tradition.  Britten responds with a parallel exploration of England's musical heritage: there is a florid 'Handelian' vocal fanfare, combining drama and energy in the vocal line with Baroque flamboyance in the accompaniment.
If it was a challenge for Britten to respond to such erudition and political philosophising, then there are further hurdles to translate this into physical means of communication.  In Alston's choreographic realisation, colours were monochrome; costumes were simple – silver starched tops, black-briefs and see-through skirts for the girls; grey and sandstone loose trousers and tunics for the chaps.  Alston summoned formality with a dash of exuberance in the framing florid ceremony.  There was wit – coy hands and palms – in 'As it is, plenty'.  But, in the final reckoning, I struggled to make it all 'add up'.  Perhaps, like Auden's poetry and Britten's settings, Alston's choreographic response needs more familiarity and time to make its mark.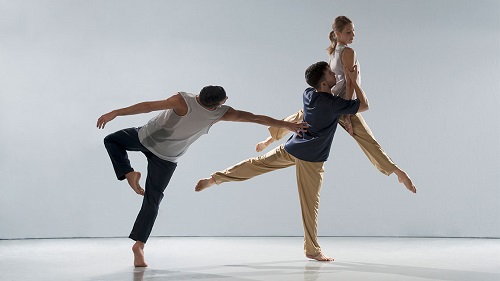 Alston's responses to Monteverdi and Britten were separated by Martin Lawrance's Detour (2018), a rapid-action, explosive embodiment of Akira Miyoshi's Ripple for solo marimba and Michael Gordon's Timber, in which six percussionists play wooden, amplified simantras.  The series of solos, duets and brief ensemble groupings presented by Lawrance creates exhilarating tension between stillness and movement.  The choreography is muscular and fluid – dancers literally fly on stage and leap onto their partner's chest – and also statuesque, as they hold such poises in tense temporality.  It feels raw.  Some movements are so lightning quick that you wonder how the muscles and sinews coordinate with synaptic judgements in milliseconds.  The monochromes, as lights are lowered and raised, acquire a cinematic hue: there are flickers, shadows and occasionally a sense of slipping into a (perhaps a little clichéd) twilight zone.  The gymnastic extensions and athleticism that Lawrance demands of his dancers are not inconsiderable, but the company rise consummately to the challenges.
The evening concluded with Brahms Hungarian (2018) – an opportunity for both Ridgway (who breezed through Brahms' virtuosic demands with unruffled ease) and the dancers to show their mettle, but a display that – to my mind disappointingly neglects the potentiality of the folk element inspiring Brahms' music in favour of the Classical.  The balletic underpinning of the company's technique is writ large.  Of course, such underpinning is essential to Alston's aesthetic; and I'm in no way suggesting that it's a 'bad thing'.  But, the overt Classical pronouncements in this context fuel a sense of artifice and fancy.  It's all beautifully presented: bows and balletic acknowledgements incorporated into the proceedings.
Whatever misgivings one might have about any particular piece, there's no denying the technical assurance, creativity or communicativeness of Richard Alston's dance-makings and his company's delivery of such.
In a statement on The Place website, Alston declares:
'The Place has been my home for almost fifty years and I am nothing but grateful for the invaluable support and encouragement I have received over that time.  Now change is very much in the air and inevitably it is the turn of others – I accept that.  The Place must embrace change if it is to thrive and I wish these younger artists well.  Now I have to try and find new opportunities to make dance because I am not ready to stop.  I still have dances in me and I feel strongly that mature artists are an important part of the dance ecology.  There are not many of us!"
He will surely find his 'new opportunities', as will his dancers.  But, where are the new dance-makers who will fuel the 'dance economy' from its roots?  Shine on, Sir Richard.
Claire Seymour