Austria Olga Neuwirth, Orlando (world premiere): Soloists, Vienna State Opera Choral Academy, Vienna State Opera Chorus (chorus directors: Thomas Lang, Stefano Ragusini, Svetolomar Zlatkov), Band (Lucas Niggli [percussion], Stephan Börst [bass guitar], Edmund Köhldorfer [electric guitar], Annemarie Herfurth [synthesister], Martina Stückler [alto saxophone]), Stage Orchestra and Orchestra of the Vienna State Opera, Matthias Pintscher (conductor). Vienna State Opera, Vienna, 8.12.2019. (MB)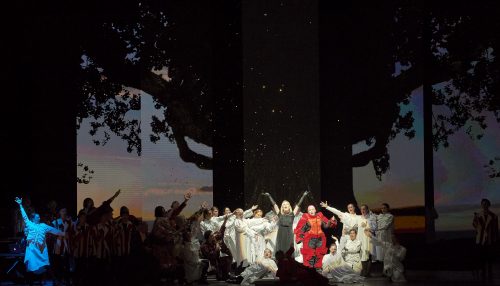 Production:
Director – Polly Graham
Video – Will Duke
Set designs – Roy Spahn
Costumes and masks – COMME des GARÇONS
Hair creations – Julien D'Ys
Masks – Stephen Jones
Lighting – Ulrich Schneider
Live electronics and sound design – Markus Noisternig, Gilbert Nouno, Clément Cornuau, Olga Neuwirth
Sound direction – Julien Aléonard
Movement – Jenny Ogilvie
Dramaturgy – Helga Utz
Cast:
Orlando – Kate Lindsey
Narrator – Anna Clementi
Guardian Angel – Eric Jurenas
Queen, Purity, Friend of Orlando's Child – Constance Hauman
Modesty – Margaret Plummer
Sasha, Chastity – Agneta Eichenholz
Shelmerdine, Greene – Leigh Melrose
Dryden – Marcus Pelz
Addison – Carlos Osuna
Duke – Wolfgang Bankl
Pope – Christian Miedl
Orlando's Child – Justin Vivian Bond
Putto – Emil Lang
Doctor 1 – Wolfram Igor Derntl
Doctor 2 – Hans Peter Kammerer
Doctor 3 – Ayk Martirossian
Orlando's Girlfriend, Lead Singer – Katie La Folle
Lead Singer – Ewelina Jurga
Two Actresses – Selina Ströberle, Antoannetta Kostadinova
Tutor – Andreas Patton
Russian Sailor – Felix Erdmann
Boat's Captain – Michael Stark
Children's Father – Tvrtko Štajcer
Officiant – Massimo Rizzo
Fiancée – Katharina Billerhart
Servant – Florian Glatt
Cameraman – Robert Angst
The first ever opera composed by a woman to appear on the main stage of the Vienna State Opera, let alone the first such to be commissioned and premiered by that house, not only did Olga Neuwirth Orlando defy expectations; not only, indeed, was it dramatically concerned with defiance of expectations; it accomplished those tasks and/or performed those roles with gestures of defiance such as that house had never previously seen. It was concerned with writing, yet also with performance; with sex, yet also with gender; with Vienna, yet also with the wider world; with art, yet also with violence. This was an historic evening that was also concerned with history — and with its uncomfortable bedfellows, present and future.
Based on Virginia Woolf's novel, yet, as is common with Neuwirth's work, drawing upon and quoting a number of other related sources — some quotations came from Sally Potter's film —  the score, Polly Graham's staging, and libretto, written collaboratively by Catherine Filloux and Neuwirth, take us from the Elizabethan era to the present, dangling an uncertain future before us. Orlando, the boy who time travels and reawakens as woman sees his/her story taken further than Woolf's 1928, through spin of a filmic top and absorbing musical transition, right up until now, yet also peers into the future through her non-binary child, played here by performer Mx Justin Vivian Bond, whose non-operatic voice is doubtless more startling to many in a theatre such as this than are ideas of gender fluidity. Or rather, the latter should come as little challenge whatsoever to an artform and audience accustomed to a Nerone, a Cherubino, or an Octavian, yet sadly may still do so for some in this particular context. Perhaps, be it consciously or unconsciously, because this is not an opera written by men; because, like Neuwirth's widely misunderstood American Lulu, it is an opera that purposely seeks to avert, even to neuter, the male gaze. How dare she/they? That the mezzo-soprano Kate Lindsey, a renowned interpreter of all three of those roles, should feature here at the centre of the opera and do so with such excellence, should and, certainly in my case, did give pause for thought.
Hand on heart, in the house, I was neither so intrigued or convinced by libretto and Polly Graham's often surprisingly conventional staging as I was by score and most performances. That said, I have since found myself considering their collaborative interaction more than I should have suspected. There is probably a lesson in that too: certainly collaboration and respect of difference lay, unsurprisingly yet with undoubted moral force, in occasion and opera alike. The scenes looking to the future, for all their polemical intent, seemed to me dramatically to descend into little more than a litany of demands to build a better world; I was going to say no one could reasonably object to them, but many objections — not least the hostility experienced from sections of the audience — are far from reasonable. Aesthetic judgement would probably have recommended a cut of half an hour: perhaps even more, with greater time being afforded earlier scenes that seem somewhat rushed through. That was not necessarily, however, the sole form of judgement to be exercised here. Perhaps this audience did need to see and hear Orlando with her girlfriend, to hear her child sing freely, to be reminded of the threat Trump-and-Johnson fascism poses us all, and so forth. Olga Neuwirth is not Richard Strauss. This was not really an occasion for l'art pour l'art. Mr Greene's refusal to publish Orlando's work and his anger when she dared question his critical judgement spoke of and to many: not so much when the mask dropped as when it was donned in all its horror.
I set to thinking about how Neuwirth's work fitted — and did not fit — into received canons of modernist politically committed work. (How could I not, such having been a particular research — and life — concern of my own?) Not entirely coincidentally, Hans Werner Henze and Luigi Nono came to mind. Electronic manipulation of voices, here clearly a telling comment on and dramatisation of other possibilities and hopes for transition, formed part of a greater determination to offer as large a vocal range as possible, whilst rightly affording particular attention to the female voice in its various guises. As Matthias Pintscher pointed out in a programme interview, not only did Neuwirth specify that Orlando should be sung by a mezzo, but 'exactly what kind of mezzo-soprano she has in mind. And always the spectrum: the three ladies Purity, Chastity, Modesty, or the three doctors or the poets, and especially in the choruses: a children's choir, and the division in the voices.' That went for vibrato, or not, and all manner of degrees in between. Interest in incorporation of music from far beyond the Classical canon, whilst subjecting it to procedures and development we may still reasonably consider modernist is a political as well as an aesthetic statement. The desire to give voice to those without a voice is common, of course, to both Henze and Nono, yet not necessarily in this way. It is difficult to imagine either incorporating pop music in this way, though Henze arguably came a little closer in a work such as Natascha Ungeheuer — or perhaps better, in his idea of a work that in many ways turned out rather differently: 'the finished product,' as he put it, 'was to have a touch of arte povera.'
Quotation, allusion, reference: these are rife, incorporated into Orlando's development as a writer, again more successfully in the score than elsewhere. The play between expectation, between what was new and what one 'knew', between those and what one may have been artistically convinced one knew was part and parcel not only of the opera's aesthetic worth, but surely also of its political message. Tudor church music, Purcell's Sound the Trumpet (to different yet related words, and sung by a different vocal type), a wonderful recording of Arnold Rosé and his daughter playing the Bach Double Violin Concerto (names of Holocaust victims projected), chordal progressions from Wozzeck (I think…), square manipulations of material from The Rite of Spring: they formed the drama but also led one to think what is 'quotation' and how does it differ from 'allusion' and 'reference'? Traditionally, pitch has proved paramount. Should it be now, in a different age, with different music, different requirements, different forms of transition? Again and again, one's ears come back to the interludes, to possibilities for change, for transformation — and to their achievement. There is messiness, often deliberately so. That was surely part of the point, just as it can be with Henze and indeed with much art, musical and non-musical. Neuwirth's recent film score for Die Stadt ohne Juden could not help but hang in the air, not least since the strong presence of film sometimes afforded a narrative, yet aesthetically destabilising, sense of film to proceedings.
I could continue saying what the opera is not. It is certainly not primarily concerned with character, as conventionally dramatically understood. Neither is Fidelio, for that matter, still less Al gran sole carico d'amore — or any Nono opera, for that matter. There is often something to be said for a via negativa, perhaps: ask Aquinas, or the Schoenberg of Moses und Aron, with its 'unrepresentable [etc.] God'. Again, though, I am not sure that that is the point here. Comparison with Al gran sole, an opera concerned with women's revolutionary experience, written by a composer of undoubted importance to Neuwirth, may well illuminate. Yet it still presents a male composer as model. Many, most, even all of us can only avoid that path fitfully for the moment. Awareness may take us a little further along a path less trodden; or, to quote the thirteenth-century inscription that once so inspired Nono, 'Caminantes, no hay caminos, hay que caminar,' ('Travellers, there are no paths, only travelling itself'). Easy, doubtless, to say, with privilege, yet nevertheless often helpful to bear in mind.
That certain threatened, entitled, privileged elements in the audience took it upon themselves loudly, violently, fascistically to boo the composer — not, be it noted, anyone else from a participant list of Meyerbeerian proportions — doubtless contributed to the first-night 'drama' in the demotic sense. Yet it was difficult to resist — and why would one resist? — asking why they had done so? Presumably those old, white, cisgender, heterosexual men had known that they were not in for an Against Modern Opera Productions evening of Donizetti and Zeffirelli. They had attended, it would seem, in order to boo, in order to attack — a woman and others in roles these self-appointed protectors considered not to be fit for them. We knew on whose side they would have stood — on whose side they still stood — when it came to accusations of 'degenerate' (entartet) art. That Neuwirth, longstanding collaborator with that most heroic of Nestbeschmutzerinnen, Elfried Jelinek, once again refused to be oppressed by the hegemonic either/or, to be 'yodelled out of existence' as she put it in a celebrated 2000 intervention against Austria's far-Right FPÖ, that she and others fought back, was the crucial thing here to those angered by the slightest disruption to their unmerited, alleged authority.
What better way to oppose stark primary colours of exclusivity than through music, that most ambiguous of media? Those who would 'defend' it — against what and on whose authority? — proved, as ever, to be those most violent in their defamation of it. 'I will continue,' in Orlando's final words, 'because: "Nobody has the right to obey!" My hopes are fading, but my rage remains. –' Yes, but… Just as in Così fan tutte or Capriccio, Götterdämmerung or, yes, American Lulu, music, still more than language, provides the 'buts'. For that, however, one must listen, and to listen through the struggle to appreciate that there is no more one way to listen than there is to write or to perform. If that is not ultimately a political message, I am not sure what is. 'Nobody has the right to obey!'
Mark Berry