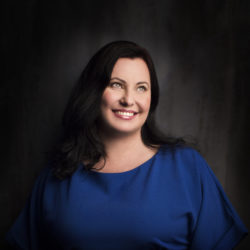 Ukrainian dramatic soprano Liudmyla Monastyrska had early success as a principal soloist with the Ukraine National Opera, as well as, singing at St. Peterburg's Mikhailovsky Theatre. Important debuts followed in Berlin as Tosca (2010), at Covent Garden she sang Aida (2011) and in this same role she first appeared at the Met in 2012. She sang Abigaille opposite Plácido Domingo in Nabucco at Covent Garden in 2013 (Jim Pritchard described her voice as having 'a great range of dynamics and colour but also the capability to sing a line softly when required') and 2016. Liudmyla Monastyrska returns to Covent Garden as Santuzza in Cavalleria rusticana in a production broadcast to cinemas on 21 April. Before that she makes an eagerly awaited return to La Scala in Milan as Leonora in Il trovatore in Alvis Hermanis's production and conducted by Nicola Luisotti. In her answers to some questions from Seen and Heard International Liudmyla Monastyrska gives an insight into her background, training and the roles she sings.
Where were you born?
In the Ukraine, not far from Kiev.
Do you come from a musical family?
Not at all, but they all loved Ukrainian folk songs and sang them often.
What music did you listen to at home as a child?
My mother especially loved music from Soviet movies and we often listened to the old vinyl discs.
What was the first opera you saw? Have you always liked opera?
I hadn't grown up with any tradition for opera and classical music before I entered music college. It was only when I came to the big city, I learnt to enjoy the opera. The first one was Tchaikovsky's The Queen of Spades at the National Opera in Kiev.
Do you play any other musical instruments?
I graduated after seven years of music studies as a pianist and still play it for joy or when I warm up
When did you first start singing and how did it progress from there?
Professionally I started singing when I entered the R. Glier Kiev Institute of Music – I was 15 years old. Then I continued at the Kiev Conservatory. But my development didn't end with the conservatory and I am sure that I am still learning and developing.
Who do you credit for telling you that you had a voice and encouraging you as a singer?
Mainly it was my mother who always believed in my talent.
Please tell us more about those musical and vocal studies.
I must say that I had wonderful teachers (they were also cousins), who always encouraged me: Ivan Palivoda and the late Diana Petrinenko – I was really lucky to get the right start from the beginning. It doesn't happen often nowadays.
What was the first opera role you ever sang on stage?
It was an almost unknown opera for western people – Natalka Poltavka by a Ukrainian composer Mykola Vitaliyovych Lysenko. You can call it opera buffa with lyrical elements.
What other roles do you particularly remember from your early years?
Tatyana in Eugene Onegin and Micaëla in Carmen were quite memorable.
Did you ever enter any singing competitions, and do you consider anything like that are a good thing for a young singer?
I received the first prize in the 1997 Mykola Lysenko International Competition (by the way the same composer, who wrote Natalka Poltavka – first role I first sang). Generally, I think competitions are not good for young singers nowadays. But, as always, there are exceptions, for example the BBC Cardiff Singer of the World or Plácido Domingo's Operalia.
In 2010 you had your European debut at Berlin's Deutsche Oper, how did that come about and what do you remember most about it?
After an audition Christoph Seuferle, Director of Opera at the Deutsche Oper Berlin, said that he loved my voice and gave me the chance to debut as Tosca. Christoph took a big risk to offer it to an almost unknown singer in the West and I am extremely grateful to him for giving me that chance. And I think the co-operation between this opera house and me is continuing to be very successful – I always feel very welcome there.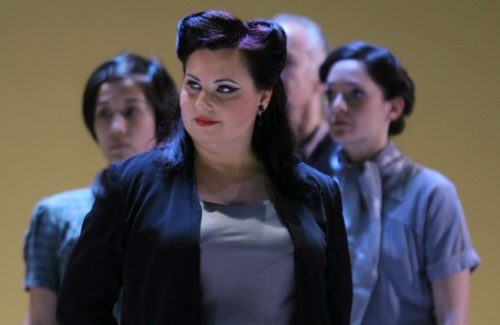 Your signature roles seem to be as Abigaille, Aida, Lady Macbeth, Santuzza, and Tosca and you sang all these early in your career, where did you sing them first?
Aida and Santuzza were sung first in Kiev, but Tosca, Lady Macbeth, Abigaille, as well as, another role, Odabella in Attila, I sang later.
What are the particular demands of these roles?
First of all, for any role it is vocal technique that is the most important thing. Then we can speculate about different styles, colours, ways of acting, but technique comes first in my opinion.
I suspect much has changed in the way you approach these roles since you first sang them?
It is very individual – I can only speak for myself. The main difference in my approach to all roles is strangely enough more calmness and even judgement; knowing the architecture of the role and where the climaxes are – that is the main characteristics for a good opera singer. Then the music speaks for itself and the audience will be enthusiastic. I can say that I am not all the way there yet to this ideal, but I am trying very hard. 
You will make your return to Milan's La Scala soon as Leonora in ll trovatore and tell us more about that if you can.
I sang Leonora in Il trovatore for the first time as recently as October 2018 at the Staatsoper Unter den Linden in Berlin, but Milan's La Scala is always special to me and it is always like an exam to perform an Italian role for an Italian audience. We have a fantastic stage director with an equally fantastic team and conductor – I hope it will be a success.
You will be returning to Covent Garden soon for Santuzza in Cavalleria rusticana that will also be broadcast in cinemas. It must be rather special for a singer to be able to reach such a wide audience throughout the world?
Yes, it is always really very special.
Which of the other roles that you sing have you most enjoyed?
It is not just one: Norma, Leonora from La forza del destino, Leonora from Il trovatore, Elisabetta from Don Carlo, Puccini's Manon Lescaut.
What fellow singers or conductors have you most enjoyed working with over your career?
There are very many of them, but I will especially mention Zubin Mehta, James Levine, Leo Nucci and Plácido Domingo.
Where do you call home?
In Kiev.
Do you enjoy all the travelling a singer's life entails?
Rather no than yes … but this is a part of my job.
If you have to learn a new role how do you prepare for it?
That is a private and intimate process – so please allow me not to answer this.
Do you have a teacher now?
I don't have a him or her now, but I am still learning very much from my colleagues.
You especially sing several Verdi roles, what is special about his music?
Verdi operas are the best for me because they are very healthy for my voice, it always feels incredible in Verdi's repertoire. But I will also gladly sing Puccini, Mascagni, and Tchaikovsky.
Do different composers make you need to use your voice in any different ways?
Yes, and even Verdi from different periods demands different approaches to the roles.
Do you do much concert work?
I feel that sometimes it is much more difficult to sing concerts than opera performances. You have to deal with 2, 3, 4 and sometimes 5 different composers in the same evening, which means (following on from the previous question) that you must have 5  different approaches in the same evening – it can be a hell! But if I succeed – it is a joy.
Where have you not sung yet that you would still like to?
China, South Korea, and Australia particularly.
What are you most looking forward to singing in the near future?
The future will tell us.
Has anything funny happened to you on stage you can tell us about?
When I sing a very difficult part or make my role debut, a couple of my friends make me laugh a lot by saying (just to make me calmer): 'Think only of the restaurant we are going to visit after the performance'!