Germany Wagner, Die Meistersinger von Nürnberg: Staatsopernchor and Staatskapelle Dresden / Christian Thielemann (conductor). Semperoper, Dresden, 30.1.2020. (JMI)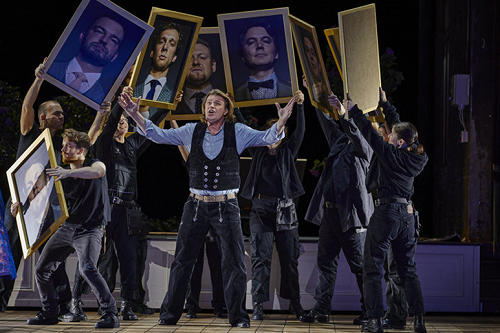 Production:
Direction – Jens-Daniel Herzog
Sets – Mathis Neidhart
Costumes – Sibylle Gädeke
Lighting – Fabio Antoci
Cast:
Hans Sachs – Georg Zeppenfeld
Walther – Klaus Florian Vogt
Beckmesser – Adrian Eröd
Eva – Camilla Nylund
David – Sebastian Kohlhepp
Pogner – Vitalij Kowaljow
Magdalene – Christa Mayer
Fritz Kothner – Oliver Zwarg
Kunz Vogelgesang – Iurie Ciobanu
Konrad Nachtigall – Günter Haumer
Balthasar Zorn – Markus Miesenberger
Ulrich Eisslinger – Patrick Vogel
Augustin Moser – Beomjin Kim
Hermann Ortel – Rupert Grössinger
Hans Schwarz – Christian Hübner
Hans Foltz – Roman Astakhov
Nachwächter – Alexander Kiechle
This performance was one of the great attractions on my current trip to Germany, and it has lived up to my expectations, particularly the musical aspect. The production premiered in Salzburg a year ago, also under the direction of Christian Thielemann, and has now arrived at the Semperoper.
Maestro Thielemann clearly made this trip worthwhile. There are not many words available to convey the quality of his conducting: suffice it to say, he is magnificent. I recommend to anyone coming to Dresden that if Thielemann is conducting at the Semperoper, it's worth attending. His leadership was unbeatable, starting with a magnificent overture, but above all I must highlight the great Act III. Thielemann is in his element in Wagner, and he proved it once again. I don't know if he had the score with him, but I can say that his eyes never looked down, such is his mastery of the work. Under his baton were the wonderful Staatskapelle Dresden and Staatsopernchor. The maestro conducts two more or less traditional operas here each year, and I look forward to his Don Carlo this spring.
The Jens-Daniel Herzog production, however, is quite confusing. It's a work of theater within the theater: a staging that attempts to re-create a performance of an opera, starting with what seems to be a rehearsal, with seats at the front of the stage and, in the background, a church and choir. Soon, however, the stage director, who is none other than Hans Sachs, appears and orders the decorations removed from the church. The stage revolves and at times we see the supposed theater; at others, it's the stage where the opera itself takes place. And thus there is a Hans Sachs who is a stage director, with an office and an assistant (David), but also a Hans Sachs in his shoemaker's workshop. It doesn't help avoid confusion that there are some active dressing rooms above Sachs's workshop.
As in Salzburg at the premiere, Hans Sachs was sung by bass Georg Zeppenfeld. While not the traditional baritone in this role, he had no problems with the tessitura and gave an excellent performance. Klaus Florian Vogt in the part of Walther von Stolzing was excellent too. He has a somewhat angelic voice that, for my taste, works perfectly in some characters but not in all of them. Lohengrin and Walther are the two Wagnerian characters that best fit his vocal characteristics, as he has shown here. Eva Pogner was played by soprano Camilla Nylund, and her performance was correct if not particularly exciting.
I would highlight the performance of Adrian Eröd in the part of Sixtus Beckmesser. He dominates the character, and that is always appreciated. Tenor Sebastian Kohlhepp as David, the shoemaker's apprentice/stage director's assistant, was also very good. His voice is nicely suited to the part, and he moves well on stage.
Bass Vitalij Kowaljow as Pogner has an attractive voice, while mezzo-soprano Christa Mayer in the part of Magdalene did well though I expected more from her. As Fritz Kothner, Oliver Zwarg's sonorous voice fit the role, but Alexander Kiechle fell somewhat short as the Night Watchman.
At the final bows, the audience gave a triumphant reception to the artists, especially to Christian Thielemann and his Staatskapelle, but also to Georg Zeppenfeld and Klaus Florian Vogt.
José M. Irurzun