United States Handel, Agrippina: Soloists, Chorus and Orchestra of the Metropolitan Opera, New York / Harry Bicket (conductor).  Broadcast live from the Metropolitan Opera, New York to Dundonald Omniplex Cinema, Belfast,  29.2.2020. (RB)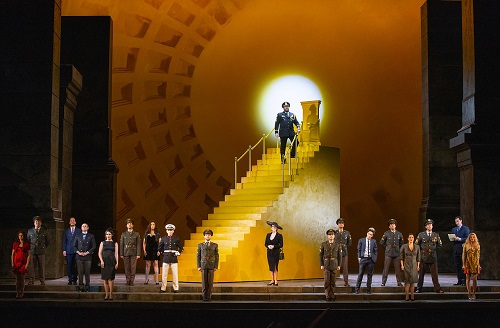 Production:
Director – Sir David McVicar
Set & Costume designer – John Macfarlane
Lighting designer – Paule Constable
Choreographer – Andrew George
Cast included:
Agrippina – Joyce DiDonato
Poppea – Brenda Rae
Nerone – Kate Lindsey
Ottone – Iestyn Davies
Pallante – Duncan Rock
Claudio – Matthew Rose
Narciso – Nicholas Tamagna
Live in HD Director – Gary Halvorson
Live in HD Host – Deborah Voigt
This is the Metropolitan Opera's first production of Handel's Agrippina.  In order to help with the foray into the highly stylised and cultivated world of Baroque opera, the Met have enlisted the help of producer Sir David McVicar who staged the work in Brussels in 2000, and Joyce DiDonato and Iestyn Davies who both sang in last year's production of this opera at Covent Garden (review click here).  Baroque operas with their convoluted plots and lengthy arias can sometimes lack dramatic momentum but I can honestly say there was never a dull moment in this production.
Handel wrote the opera in 1709 when he was 24 and it was his first major success.  The libretto is a pitch-black comedy by Cardinal Vincenzo Grimani which looks at power play, sexual politics and the cult of personality in 1st century imperial Rome.  There are cynical and subversive elements running through the work as we watch the characters lie, cajole, manipulate and use sexual favours in order to achieve what they want.  There are many topical political allusions which were probably aimed at Grimaldi's diplomatic rival, Pope Clement XI.  These allusions can equally apply to the present day:  McVicar's last staging of the work in Brussels in 2000 drew comparisons with hard-nosed political figures from that era such as Margaret Thatcher and the Clintons.
The plot involves Agrippina engaging in various political intrigues in order to usurp her husband Claudius and install her son Nero on the throne.  At the beginning of the opera she receives reports that Claudius' ship has capsized at sea and he is presumed dead.  She uses sexual favours to enlist two freedmen, Pallante and Narciso, to help install Nero as emperor.  We then learn Claudius has been saved by the Roman officer, Otho (Ottone), and the emperor names Otho as his successor as an act of gratitude.  Agrippina is having none of this and she tricks Otho's lover, Poppea, into smearing Otho to Claudius who then denounces him.  The intrigue continues unabated but the upshot is that Agrippina finally has her way and Nero succeeds to the throne while Otho and Poppea declare their love for one another.  The opera ends on this upbeat note although we know that Nero subsequently murdered Agrippina.
Sir David McVicar has dispensed with the 1st century historical setting and decided instead to set the action in a mausoleum.  When the curtain opened we saw the main characters seated on plinths in a cavernous setting.  John Macfarlane's sets were striking and imposing.  At various points a yellow staircase leading up to a golden throne dominated the stage.  The characters were all wearing modern dress including chic cocktail dresses, power suits, and army/navy uniforms.  At the start of the second half, we saw the characters seated around a bar with some of them looking the worse for wear while a harpsichordist serenaded the revellers.  At the end of the production the assembled cast returned once again to their plinths consigned now to history.  The lessons of opera around the manipulation and abuse of power are timeless so the spare abstract sets and modern setting helped to underscore these points.
The cast were uniformly excellent throughout and this is certainly one of the best acted productions I have seen.  Joyce DiDonato minced across the stage in an affected way and we saw her scheming, bad mouthing and seducing many of the other characters while the sexual antics with Nero hinted at incest.  The rapid-fire coloratura in the early part of the opera were handled with complete technical assurance while DiDonato's performance of 'Pensieri, voi me tormenti' was incandescent and full of searing dramatic fire.  We saw more generosity of spirit from DiDonato in the final act and I loved the warmth and radiance which she brought to her final aria, 'Se vuol pace'.
Kate Lindsey's Nerone was an out of control teenage punk who was covered in tattoos and wearing a sleeveless T-shirt when we first encountered him/her.  Lindsey was constantly writhing snake-like and touching herself up as well as groping most of the rest of the cast.  There were hints of the nastiness of this character:  Lindsey made obscene gestures to all and sundry and wore surgical gloves while giving out food parcels to the poor, toying with them in the process.   She sang her arias while performing a variety of acrobatic movements.  In one she was walking backwards while leaning on a moving structure and in another she sang while performing press ups and holding her body up on one arm.  In the final act she sang an aria while snorting a line of cocaine and even rubbing some on her gums.  It is the most astonishing physical performance I have seen.
Brenda Rae's Poppea veered from being a superficial Sloane Ranger to Agrippina-in-training to following the emotions of her heart.  In the second half we saw her slouched over a bar looking completely the worse for wear, believing that Otho had left her.  She demonstrated amazing vocal dexterity in her duet with the harpsichord and was impressive at the top of the vocal register.  Iestyn Davies's Ottone was relatively straight-laced compared to many of the other characters but he played the part well.  Davies gave us the best singing of the evening with a meltingly beautiful performance of 'Voi ch'udite'.  Time really did stand still as he succeeded in transfixing his audience with the sustained vocal line.  Matthew Rose's Claudio initially appeared in a suit and red tie but later on turned up in a tracksuit and golf clubs (a portrait of President Trump perhaps).  He showed excellent comic timing throughout and the scene where he pulled down his trousers and chased Poppea around the room reminded me of the Carry On films.  Rose's singing was robust and virile and he showed excellent vocal dexterity.  Nicholas Tamagna and Duncan Rock both acquitted themselves well in their respective roles although I would have liked a little more vocal colour from Rock.
Harry Bicket and his pared down Baroque orchestra provided excellent support to the singers throughout.  The textures were light and the music had rhythmic bounce and brilliance.  The instrumental solos were superb in the big set piece arias and Bicket did an excellent job contrasting the comic, contemplative and fiery elements of the score.
Overall, this was a brilliantly performed and highly inventive production which shows how to make Baroque opera both contemporary and relevant.
Robert Beattie