United Kingdom Beethoven: Martino Tirimo (piano). Peacock Room, King Charles Court, Trinity Laban, London, 9.3.2020. (CC)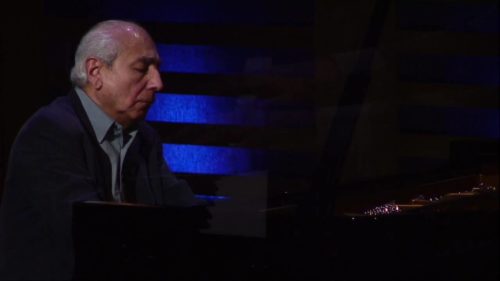 Beethoven – Diabelli Variations, Op.120
Part of Trinity Laban's 'Beethoven+ Series', this concert presented an opportunity to enjoy Beethoven's greatest set of variations by a pianist who, throughout his rigorously complete recordings of Beethoven piano works over 16 discs on Hänssler, has revealed himself to be a consummate interpreter of the Master.
And even though the recording of Diabelli Variations is hugely involving, the live element gave the performance an extra frisson. The majesty of the interpretation remains – Tirimo sees the work over a huge span, allowing the music to unfold with a luminous inevitability. Immediately, it felt as if there was an extra element of chirpy cheekiness to the theme. By the time of even the second variation, after the very maestoso 'Alla Marcia', it was clear that we were to be steered into profound territory. Overlapping entries spoke of a contrapuntal love from Beethoven that surfaced again and again. Contrasts were marked: the sheer beauty of Tirimo's carefully sculped soundscape in the eighth variation (Poco vivace) sat in stark contrast to the strong 'pesante e risoluto' of the very next re-examination of the theme.
All of this enabled the 14th Variation (Grave e maestoso) to sound in a glow of warm expression (as did, later, the Fughetta of the 24th variation). There was no sense of hurrying at all; against this, again offering maximal contrast, was the chattering 15th Variation. Tirimo's technique seemed to know no bounds – the strong, even left hand of variation 25 and the ferociously tricky 27th variation held no perils.
But it was when we got to the trio of slower variations (numbers 29 through 31) that Tirimo took us to the heart – the soul, even – of Beethoven. Setting this against a notably hard-edged Fuga. The final Tempo di menuetto moderato (the 'moderato' totally taken to heart) emerged as exquisitely sculpted porcelain.
The strength of the performance was to make us marvel once more at Beethoven's supreme imagination heard over an extended canvas. What does one do for an encore after that? Another Waltz by Beethoven, of course. Not a well-known one, but one notable for its Trio, which requires pedal down for some 32 bars straight (the Waltz in E flat, WoO84, written on 21 November 1824 for a Viennese publisher of light music). That Trio section is pure magic; the return of the Waltz proper a moment of delight almost as cheeky as the Diabelli theme itself.
Colin Clarke
For more about Martino Tirimo click here.
For more about the 'Beethoven+ Series' click here.