Switzerland Aspen Music Festival – Beethoven: Andreas Haefliger (piano), world premiere of a performance recorded in Uri, Switzerland, for an upcoming movie, presented virtually by Aspen Music Festival, 16.8.2020. (HS)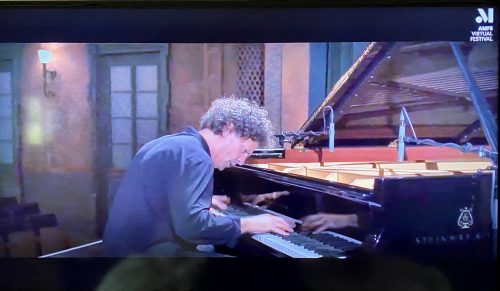 Beethoven – Piano Sonata No.29 in B-flat major Op.106 'Hammerklavier'
This single-minded Sunday piano recital by Andreas Haefliger wanted to do more than document a performance by a pianist who has lived with Beethoven's Piano Sonata No.29, known as the 'Hammerklavier'. It wasn't so much an Aspen Music Festival recital as a sort of movie premiere, a project Haefliger has been working on since March while the Coronavirus quarantine kept him marooned in Switzerland.
As the 2020 festival limits these free virtual Sunday concerts to an hour, the program consisted of just one sonata, but it's a big one, often stretched to close to an hour by other performers. As Haefliger noted in a video conversation with festival CEO Alan Fletcher early last week, in recital he has balanced this sonata with other big works. Once he followed it with Mussorgsky's Pictures at an Exhibition (which, coincidentally, Nicolai Abduraimov played in the festival's 2 August concert).
Haefliger's Beethoven brims with intelligence, detail and nuance. Clocking in at 44 minutes (about 5 minutes less than the usual timing), it favors fairly brisk tempos, even in the long and expressive Adagio sostenuto that stands as one of Beethoven's most eloquent soliloquies.
What the festival presented was only the concert part of a longer film that is still being edited. The feature-length film, made with an all-Swiss crew, will also include commentary from the pianist, with Alpine scenery in the background and documentary footage of Haefliger's quarantine project. It's booked for screenings at European cinemas and an eventual online release.
The pianist may have avoided indulgence, but the same could not be said of the video's director. Haefliger wanted the video to do more than simply document the performance. He told Fletcher he aimed to create an 'art work' that conveyed 'what we as the artists feel as we play'. Placing the piano on the stage of the intimate Uri Theatre and shooting from the stage with empty seats and the lights of the auditorium in the background created a unique look, but constant camera motion along with the tracking shots and quick cuts made my head spin. And it's hard to fathom how extended views of the piano's innards added to any sense of a pianist's feelings.
It was better when the camera simply focused on Haefliger's hands on the keys, or showed his face as it suggested what he wanted to coax from the music. And the music he got was riveting. The fanfare-like opening measures did not try to emulate a brass band, its crisp, tight reading contrasting smoothly with softer repetitions of the themes. The musical elements seemed to pop out from around a corner, making it all feel fresh. The short scherzo teased out a range of colors in its two-plus minutes, and the long Adagio felt like a master story-teller regaling us with soft poetry here, clever asides there. It was so fresh and attentive to the close harmonies that at times it seemed almost like a jazz ballad.
The transition to the fugue-infused finale kept with the same feeling, changed colors with the different keys, harmonies and tempos, and finally burst into an exuberant explosion of virtuosity. This was not show-off stuff, but the work of a musician who has lived with a piece of music for decades until it is in his bones.
The presentation repeats on the festival's website and YouTube channel on Tuesday 18 August at 7pm MDT.
Harvey Steiman
For more about the Aspen Music Festival click here.