United Kingdom Royal Opera: Live in Concert – #OurHouseToYourHouse: Kristīne Opolais, Lisette Oropesa (sopranos), Aigul Akhmetshina (mezzo-soprano), Charles Castronovo, Filipe Manu (tenors), Vito Priante (baritone), Gerald Finley (bass-baritone), Jeremy White (bass), Chorus and Orchestra of the Royal Opera House / Sir Antonio Pappano (conductor). Streamed live from the Royal Opera House, Covent Garden, 4.9.2020. (JPr)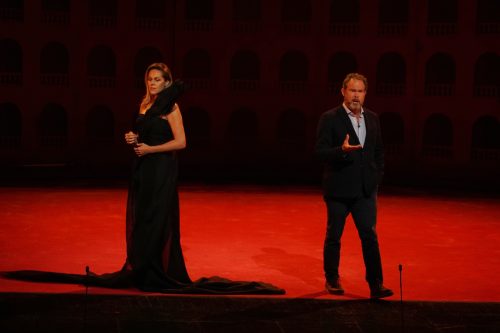 Mozart – Overture from Le nozze di Figaro
Rossini – 'Largo al factotum' (The Barber of Seville) – Vito Priante (Figaro)
Donizetti – 'Caro elisir!' recitative and duet (L'elisir d'amore) – Lisette Oropesa (Adina) & Charles Castronovo (Nemorino)
Rossini – 'Non più mesta' (La Cenerentola) – Aigul Akhmetshina (Angelina) & Royal Opera Chorus (tenors and basses)
Bellini – La sonnambula, final scene – Lisette Oropesa (Amina), Filipe Manu (Elvino), & Royal Opera Chorus
Verdi – 'Forse la soglia attinse' (Un ballo in maschera) – Charles Castronovo (Riccardo)
Verdi – 'Credo in un Dio crudel' (Otello) – Gerald Finley (Iago)
Dvořák – 'Song to the Moon' (Rusalka) – Kristīne Opolais (Rusalka)
Offenbach – 'Scintille, diamant' (Les contes d'Hoffmann) – Vito Priante (Dappertutto)
Massenet – Recitative and Gavotte (Manon) – Lisette Oropesa (Manon) & Royal Opera Chorus (tenors and basses)
Bizet – Final act of Carmen – Aigul Akhmetshina (Carmen), Charles Castronovo (Don José), Vito Priante (Escamillo), & Royal Opera Chorus
Puccini – Act I duet and 'Te Deum' from Tosca – Kristīne Opolais (Tosca) and Gerald Finley (Scarpia), Filipe Manu (Spoletta), Jeremy White (Sacristan), & Royal Opera Chorus
Introducing this livestream Katie Derham promised us 'scintillating showstoppers' and music director Sir Antonio Pappano hoped that for those watching 'the emotion comes over, I hope they feel the warmth of the orchestra, the enthusiasm of the chorus, and the talent of the soloists; that it's all a spirit of teamwork, that they feel that, that for me is everything.' Earlier in his short interview (following an earlier rehearsal) Pappano said how 'challenging' it was getting this Royal Opera gala event together, 'On one day I lost six singers just because they had all somehow come through Austria, and then we know the quarantine rules so I had to rethink'.
A passing thought is that 'rethink' could have included more British talent and possibly that is a debate to be rekindled another time because of all the good intentions behind what we saw and heard. When Canadian bass-baritone Gerald Finley was asked about how he had been getting through these past six months he very poignantly said, 'Living life … coping, helping each other, supporting each other. That's really how it's been with young singers, particularly the ones who are just breaking in, you know, really trying to keep them encouraged.' That was the caring thoughts of a vastly experienced singer for his younger colleagues not as fortunate as himself.
It was all very well done and far superior to some rather unimaginative Met Stars Live in Concert offerings we have seen up to now because no matter how interesting the setting, opera sounds best – as here – with a full orchestra. Pappano conducted from the rear of the stalls that was filled by his socially distanced musicians at individual music stands; the tenor and basses of the Royal Opera Chorus were evenly spaced around the stalls circle (for those who know the theatre) and likewise the women were higher up around the grand tier.
Pappano admitted that 'Any kind of vocal programme has to fit the strengths of the singers that you have'. So, what we got were their 'party pieces' to a degree and perhaps future programmes could be curated rather better around certain themes and – to attract the widest audience possible – more of the popular arias and duets. This two-hour programme rarely drew breath, but I suspect many listening in will not have been very familiar with music from, at the very least, La Cenerentola, La sonnambula, Un ballo in maschera, Rusalka, La contes d'Hoffmann, or Manon. Every sung item should have had a brief scene setting introduction – either from Katie Derham or on screen – to let the audience know more about what they were hearing. A small point in a marvellous resurrection of the Royal Opera, though an important one I believe.
Much praise is due to the sound engineers for getting the balance just about right, it cannot have been easy with everyone scattered around the Royal Opera House. Bob Crowley's 'bullring' for Act II Scene 2 of Sir Richard Eyre's La traviata was the unchanging setting for all the arias and socially distanced duets, but it worked well enough. To begin with we could celebrate a full orchestra playing once again in the Royal Opera House; even if they were not in their rightful position in the pit, nor even massed on stage. The Overture from Mozart's The Marriage of Figaro was the musical roller-coaster ride it must always be and, therefore, its joyous self. Italian baritone Vito Priante was suitably bombastic for the well-known 'Largo al factotum' (The Barber of Seville) and dealt well with all the fiendish tongue-twister lyrics, without perhaps having the vocal allure and persona of the best Figaros.
Throughout the evening American tenor Charles Castronovo and Cuban-American Lisette Oropesa proved themselves to be two star singers I wish I had heard more from over recent years. 'Caro elisir!' from Donizetti's L'elisir d'amore was very merry and acted and sung with great verve; even though Oropesa was slightly less accomplished in this than in her magnificent Bellini and Massenet that was to follow. Russian mezzo-soprano Aigul Akhmetshina, a former Jette Parker Young Artist, introduced herself with 'Non più mesta' (La Cenerentola) and her voice has the near perfect combination of dusky hues and pinpoint accurate coloratura, runs and trills, as well as, care for expressive contrasts.
There was something deeply affecting in hearing the chorus singing once more in the theatre as Oropesa caught the eye and ear during Amina's engrossing final scene from La sonnambula (The Sleepwalker) with more than just a little help from Felipe Manu's cameo as Elvino. (Manu is a promising New Zealand-Tongan tenor and currently on the Jette Parker programme.) There are wondrous qualities in Oropesa's singing and her voice has such bloom and (if she will forgive me) you could see her diaphragm working overtime to provide secure support and allow her to send Bellini's phrases soaring. Oropesa clearly had a particularly sensitive understanding of nuance in the combination of notes and words she was singing.
Next was Castronovo's 'Forse la soglia attinse' from Verdi's A Masked Ball – 'Are there any other kind these days I hear you cry' said Katie Derham – that was ravishing in its tenderness and feeling. In the first of his two significant contributions, Gerald Finley sang Iago's 'Credo in un Dio crudel' from Verdi's Otello. It must be said that Finley's left eyebrow seems to have a life of his own and there was a frisson as he stared down the lens of the camera to deliver Iago's evil belief system with such menacing glee. Pappano and his orchestra provided sinister orchestral flourishes, including some ominous calls from the brass section which seem to have found their ways into Puccini's much-later Turandot.
In her exquisite gown and with a faintly divaish demeanour, Latvian soprano Kristīne Opolais brought tonal radiance to 'Song to the Moon' that she sang as a heartfelt prayer. In all this otherwise splendid singing Vito Priante's 'Scintille, diamant' from Offenbach's The Tales of Hoffmann, as good as it was, did lack some sparkle. Oropesa returned to sing Manon's Gavotte with vitality and joy and there was a laser-bright high D flat (I believe?) at the end of the first part and she brought a credible hint of sadness to the second verse. What a wonderful singing-actor Oropesa is.
With the Royal Opera Chorus sounding out resplendently we were taken to the square outside the arena in Seville and it didn't matter that there was no real set or any costumes, nor at the end was there any pretence that Don José stabs Carmen. Watching, we believed he did brutally murder Carmen and then kill himself. This horrifying ending – which is another matter for debate in our current #MeToo world – brought out some remarkably impassioned singing from Akhmetshina and Castronovo. For this Carmen death seems to be the only possible ending for such an untameable woman who has spent most of her life in love: Akhmetshina must have seized everyone's attention with her sensuous, luscious-toned singing. At a safe distance, Castronovo's obsession and desperation as a crazed Don José was palpable.
Bringing everything to a glorious conclusion was the duet for Scarpia and Tosca followed by the 'Te Deum' at the close of Act I of Puccini's Tosca. Just listen if you can to Opolais's response to Scarpia when Tosca is shown the fan, ''E L'Attavanti!', is a snarl of real anger. Later, she conveys genuine pain in her half-tones as Scarpia's poison begins to do its work, before opening up her voice superbly as she claims that she will be pardoned as God sees her weeping. Amongst modern Scarpias, Finley has a unique snarl and as appropriate he was capable of obsequiousness, vehemence, or considerable threat. Just like the previous Bizet, Pappano has Puccini's music in his blood and his soloists, chorus and orchestra brought their concert to an exhilarating conclusion. Sadly, before all the singers could be brought back on stage to congratulate each other and applaud the chorus and orchestra, the live stream ended prematurely.
Jim Pritchard
For more information from the Royal Opera House click here.