Germany Musikfest Berlin [4] – Benjamin and Rihm: Ensemble Modern / George Benjamin (conductor). Philharmonie, Berlin, 3.9.2020. (MB)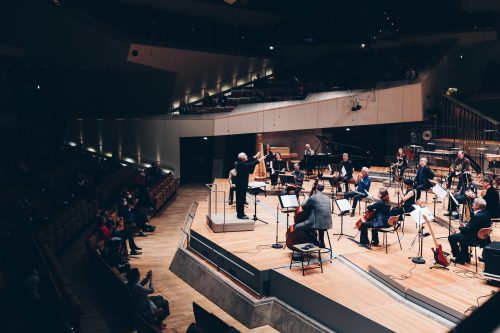 Benjamin – At First Light (1982)
Rihm – Jagden und Formen (1995-2001, 2008 version)
George Benjamin returned to the Musikfest Berlin to conduct, in typically excellent performances, Ensemble Modern in one of his early works, At First Light, and the 2008 version (Zustand, more literally 'state' or 'status') of Wolfgang Rihm's Jagden und Formen. These were pieces, at least it seemed to me at first, that offered contrast more than exemplification of an idea, but there is nothing wrong with that. On reflection, however, I began to make connections after all, intended or otherwise. It was instructive to be reminded once again of Benjamin's breadth of musical sympathies, leading here in a direction I should not necessarily have suspected, as well as to step back from his more recent, often operatic output, to a piece from his (near-)Wunderkind years.
At First Light opened in a world of ever-changing liminality, against which fanfares made an unmistakeable mark, almost as if entering from another world. La Mer in reverse? Perhaps, not least given the Turner painting, Norham Castle, Sunrise, which lay behind Benjamin's inspiration for the work: 'the way,' he once wrote, 'in which solid objects – fields, cows, and the castle itself – virtually appear to have melted under the intense sunlight.' The impression is different at first light, of course, but the distinction between object and haze still appeared to play a role, both in work and performance. The pristine quality of sounds, both alone and in combination – for instance, minor thirds – seemed here just as important as the undeniable complexity of combinations throughout the fourteen-strong chamber orchestra. Memories of one glorious moment, when instruments and players came together as if a consort in the sky, will remain with me long.
Rihm's Jagden und Formen likewise lived up to, and expanded our notions, of what its title implied: 'hunts and forms'. By coincidence, I had visited earlier in the day the old Jagdschloss (hunting lodge) in the Grunewald, the oldest Hohenzollern castle remaining in Berlin. This, however, seemed to be an altogether more ferocious hunt than that implied in the Renaissance clearing by the lake. An opening battle between two fiddlers offered resonances aplenty, more strings and later other instruments entering, yet at first in a role more akin to commentary. In time, however, more hunts and forms were incited, even ignited, forms unquestionably created before our ears: perhaps an attempt to control the wildness of the hunt; or, just as likely, a way for it to extend its reach. If there was perhaps something of Henze – König Hirsch or The Bassarids, for instance – to some points of departure, they were soon left behind; that may have been more a matter of my ears seeking orientation in a new work (to me) rather than of anything more 'objective'. A crazy duet between cor anglais and viola, other instruments providing ever-shifting background – kinship with Benjamin's piece after all? – lingered in my recollections, but there were many such concerto-for-orchestra-like partnerships of the moment. Was there a sense of persistent frustration, perhaps of the metaphorical quarry escaping? Or was the point more the thrill of the chase? Why choose? Metamorphosis through infectious energy was the order of the day, nowhere more so than in the outstanding musicianship heard from the Frankfurt players. I sensed a strangely Mahlerian mood toward the close, disrupted by further fury, and then a sudden falling into the distance. All was over for another day, but it had been quite a ride. Time to rest, then, before another 'first light'.
Mark Berry