United Kingdom Weill, The Seven Deadly Sins: Soloists, Orchestra of Opera North / James Holmes (conductor). Livestreamed (directed by Jonathan Haswell) from Leeds Playhouse's Quarry Theatre, 21.11.2020. (JPr)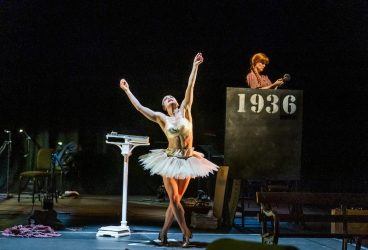 Production:
Music – Kurt Weill (arr. for 15 players by HK Gruber and Christian Muthspiel)
Text – Bertolt Brecht (English translation – Michael Feingold)
Director and Choreographer – Gary Clarke
Designer – George Johnson-Leigh
Costumes – realised by Stephen Rodwell
Lighting designer – Mike Lock
Dramaturgical Advisor – Lou Cope
Cast:
Anna I – Wallis Giunta
Anna II – Shelley Eva Haden
Brothers – Stuart Laing, Nicholas Butterfield
Father – Campbell Russell
Mother – Dean Robinson
This was my first experience of watching Kurt Weill's 1933 The Seven Deadly Sins, it was my first time reviewing a fully staged Opera North performance for some while and – of course – it was their first one since they closed their doors at the start of the current coronavirus pandemic.
I read somewhere how the composer's wife, Lotte Lenya, thought George Balanchine, was 'very courageous' in choreographing The Seven Deadly Sins for its premiere in the Théâtre des Champs-Élysées in Paris. The score was commissioned by an Englishman, Edward James, who wanted from Weill and his librettist Bertolt Brecht something that had a part for his ballerina wife Tilly Losch. This goes a long way to explain the convoluted split personality plot of this ballet chanté (sung ballet) which should not work but does magnificently in this Opera North staging once you get accustomed to what you are watching. Apparently, Balanchine – who spoke no German – had the lyrics translated into Russian though this did not help him understand them. Opera North's choreographer/director Gary Clarke certainly seems to and Brecht and Weill's satire on 'making it big' in 1930s' America (in the background is the famous Hollywood sign) works just as well when it brings to mind the movie capital's more recent #MeToo exposés.
The Seven Deadly Sins follows Anna on her travels over seven years (here 1932 to 1939) through seven American cities striving to make enough money to have some to send back to their avaricious family in Louisiana so that they can build 'a little house'. Each city is matched with one of the seven sins (in order: sloth, pride, wrath, gluttony, lust, greed, and envy) that must be confronted.
We get two Annas travelling as one person so that we can see and hear an internal dialogue. Anna I (the singer) is more worldly-wise and understands money is to made any way they can and Anna II (the dancer and mostly silent) is the physical manifestation of her better self and strives – without much success – to make her way in the world without going against her instincts and debasing her morals.
Gary Clarke and his collaborators George Johnson-Leigh (designs) and Stephen Rodwell (costumes) stage – or more rather present – The Seven Deadly Sins in a simple socially distanced fashion employing seven separate numbered area with basic scene-setting furnishings. Anna's Mother, Father, and two Brothers are first shown as émigrés arriving in America having fled persecution in their homeland, just as Brecht and Weill had escaped Nazi Germany. They have who they are hanging round their necks and their suitcases contain title cards (as in old silent films) naming the cities and the sins. The quartet act as a Greek chorus egging Anna on and rubbing their hands at all the money they hope to get or bemoaning their lot if things don't seem to go to plan.
Looking at my notes this review could go on longer than the short work itself. We begin in 1932 in an unknown city. Anna II (the very flexible Shelley Eva Haden) gyrates acrobatically – in typical contemporary dance fashion – on, over and around a park bench. Subliminally suggestive, we all get the idea how Anna I is actually getting the dollars she clutches to her chest. The following year in a Memphis cabaret Anna II's simple burlesque fan dance is not enough and the punters demand – and get – something sleazier. Anna I sings 'Pride is fine if you do not need the money. Give the people what they want.' When Anna I is pleading with Anna II, she is trying to convince herself! Arriving in Los Angeles Anna II works first as an extra but Anna I urges her on to get more opportunities by being compliant – think casting couch – and Anna II goes through a hectic montage of her work in films.
The two very best sequences follow next: firstly, on reaching Philadelphia Anna II is reminded by Anna I of the 'Need to keep slim' (in order to seduce more wealthy men) and not to 'Forget our house in Louisiana'. In the presence of some weighing scales Anna II is a ballerina exhaustingly performing Anna Pavlova's heart-wrenching 'Dying Swan' until she collapses – probably due to having gone without food for some time – at the end. Things then move on to Boston where Anna's life is increasingly getting out of control. Reclining on a chaise longue we enter familiar territory from kept women operas such as Manon, La traviata and La bohème. Anna I sings how 'She loved a different man entirely and she was paying him because she loved him'; however 'A poor girl has to earn her keep' as we see Anna II cavort erotically. And so on, until the Epilogue where we hear a warning from the 'chorus' about the dangers of a hedonistic life: 'Who only can conquer their weaker selves, they can conquer the world'. Anna I sings about the 'Seven years away from our home town trying our luck in the cities', concluding 'Waste not your youth' and 'Your life is what you make it'. This then is possibly the moral of all that had gone before.
James Holmes has for many years been a consummate pianist, coach and frequently conductor. I was intrigued by the '77' on what he was wearing as – right at the back – he could be seen energetically cajoling his 15 musicians through HK Gruber and Christian Muthspiel's spare new arrangement of The Seven Deadly Sins. Holmes and his exemplary small ensemble did not stint on rhythmic emphasis nor edgy detail and it was all totally persuasive. Since he is the recipient of the Kurt Weill Foundation for Music's Lifetime Distinguished Achievement Award, surely there can be no better advocate for the composer's punchy and angular music?
Wallis Giunta made Anna I a shrewd, somewhat cynical woman, trying to make her way as best as possible in a man's world. The mezzo-soprano had all the necessary tone colours at her disposal and thanks to her convincing delivery every word of Michael Feingold's translation was intelligible and vital to our understanding of the Anna I-Anna II dichotomy. Shelley Eva Haden flung herself about gymnastically to chart Anna II's increasingly frenetic downward spiral. As the parents and brothers, Campbell Russell, Dean Robinson, Stuart Laing, and Nicholas Butterfield, were at their best when making their more harmonious barbershop contributions.
This musical reduction of The Seven Deadly Sins was destined to be performed live by Opera North until Lockdown 2 intervened and may yet return in 2021. I highly recommend you see it yourselves if you get the chance. There were also plans for the Royal Opera to put it on next year which may or may not still happen.
Jim Pritchard
For more about Opera North click here.