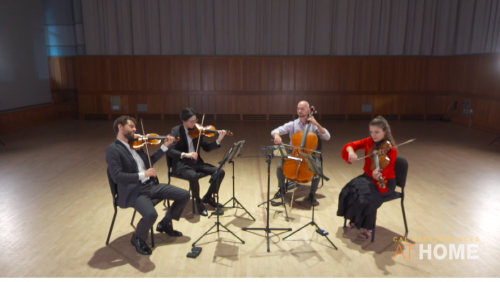 United States Haydn, Ligeti, Dvořák – Dover Quartet (Joel Link, Bryan Lee, [violins], Milena Pajaro-van de Stadt [viola], Camden Shaw [cello]): Exclusively for Cal Performances at Home from Gould Rehearsal Hall, Curtis Institute of Music, Philadelphia, 16.10.2020. Streaming 10.12.2020 to 10.3.2021 (click here). (HS)
Haydn – String Quartet in D minor Op.76 No.2 'The Fifths'
Ligeti – String Quartet No.1 'Métamorphoses nocturnes'
Dvořák – String Quartet in G major Op.106
The Dover Quartet burst onto the chamber music scene in this past decade by taking on a wide range of music for string quartet with uncanny understanding and technique. In an auspicious first video appearance presented by Cal Performances at Home, it delivers a thrilling account of Ligeti's 'Métamorphoses nocturnes'.
They don't look like they're having much fun in this concert, performed in October in the spare surroundings of Gould Rehearsal Hall at Philadelphia's Curtis Institute of Music. Straight-faced, focused on their iPad screens, they glance attentively at each other for accurate articulation. And yet Ligeti's music emerges with flesh on its bones. They make the music come alive, flaunting Ligeti's wry humor and pungent takes on Hungarian folk music. Call it 'controlled abandon'.
Completed in 1954 but not performed until 1958 in Vienna, after Ligeti had fled Communist Hungary for the West, the piece begins with the instruments exchanging chromatic runs a half-tone apart, up and down together. That's the prime motif that runs through the single movement's 32 minutes, and each recurrence arrives with a different mood, rhythm and range. Though not really a theme and variations, the piece echoes that form.
Violinists Joel Link and Bryan Lee, violist Milena Pajaro-van de Stadt and cellist Camden Shaw weave these shifting colors, tempos and spins on the material into a kaleidoscopic tapestry. One moment they're suspending the music into a foreboding mist, and the next they're whipping up a storm. Every step is utterly natural, and they never seem to flag.
Some of the music feels a lot like Bartók's two middle quartets, especially the 'night music' sections that give the work its nickname (though Ligeti never called it that). But these musicians relish the way Ligeti spiraled off in a different direction from Bartók's. He made it very much his own, with a naughty sense of humor that is certainly different from his predecessor's (though not as broad as in some of his later works).
Most impressively, the group finds a through line that shapes the music more cohesively than its episodic structure might suggest. After the dissonance at the beginning, things evolve over time to become downright sweet in the final pages. There is even a little insouciant dance section. The Dover brings it all to a smiling finish that could pass for Brahms if you squint a little.
The video direction favors two-shots of the violinists, or the viola-cello pair, only occasionally homing in on one player (and not always the one carrying the melody) or showing the whole quartet. Unlike in other recent chamber music videos, this group forgoes spoken introductions. Fade-outs and fade-ins separate the pieces and the movements within them.
With a break of only a few seconds, the sweet, Romantic final pages of the Ligeti link (perhaps inadvertently) with Dvořák's Quartet in G major Op.106. The sunniness of the Bohemian composer's melodic and harmonic palette and the dancing opening measures feel almost like an extension of what came before. But Dvořák spins a more controlled conversation among the four players and revels in lovely melodies, leaving it to the musicians to find their own range of color in their interpretation.
Whatever the Dover tries – subtle shifts in articulation and tempo, vibrato and other colors – is just right, and the Dvořák Quartet makes for a more satisfying conclusion to the 90-minute concert than the dutiful-sounding Haydn that began it. The String Quartet in D minor 'The Fifths' bounces along with the same attention to detail but, if anything, it seems to underplay Haydn's wit rather than celebrate it. It feels more like a warm-up. Well, if that's the appetizer, it sets up the rest of the meal to make the big impact that it does.
Harvey Steiman