United States Various, Christine Goerke (soprano) and Craig Terry (piano): Recorded at Art Factory Studios, Paterson, NJ, on 18.2.2021. Viewed on 1.4.2021 and available to stream on Cal Performances at Home through 30.6.2021. (RP)
Handel – 'Furie terribili' (Rinaldo)
Tosti – 'L'ultima canzone'
Resphigi – 'Nebbie'
Cimara – 'Stornello'
Zandonai – 'Sotto il ciel
Ricci – 'Il carrettiere del Vomero'
Mascagni – 'Voi lo sapete' (Cavalleria rusticana)
R. Strauss – 'Zueignung' Op.10 No.1, 'Die Georgine' Op.10 No.4, 'Nichts' Op.10 No.2
Brahms – 'Nicht mehr zu dir zu gehen' Op.32 No.2, 'Botschaft' Op.47 No.1
Owens – Drei Lieder Op.19
Jacobs-Bond – Half-Minute Songs
Bernstein – 'One Hundred Easy Ways to Lose a Man' (Wonderful Town)
Kent – 'The Last Mile Home'
Porter – 'Why Can't You Behave?' (Kiss Me, Kate)
Soprano Christine Goerke is famous the world over for the blazing tone and dramatic intensity that she brings to the heaviest roles in the operatic canon such as Wagner's Brünnhilde, Strauss's Elektra and Puccini's Turandot. On the operatic stage, Goerke hardly gets to crack a smile, let alone laugh, but in her recital with pianist Craig Terry for Cal Performances at the University of California, Berkeley, she let her hair down. This wonderful, versatile artist doesn't sing many recitals, which is a real shame – she is a natural.
Goerke opened the recital with 'Furie terribili', Armida's passionate, fiery entrance aria from Handel's Rinaldo, an attention grabber that Goerke dispatched with aplomb. It was a nod to the early days of her career when she sang more lyrical fare. In 1997, Goerke broke onto the scene singing the title role in Gluck's Iphigénie en Tauride, first at Glimmerglass and, later that autumn, for New York City Opera. It was a hot ticket, and I was fortunate enough to get one.
The rest of the program provided insights into a rounder, more complex artist and person than revealed by Goerke's appearances in opera and her current role as host for the Metropolitan Opera's Met Stars Live in Concert. Today's opera world tends to shoehorn singers, especially dramatic sopranos, into a few roles; the scarcity of the breed and the adulation of fans dictate that course. It wasn't always so, and perhaps future generations will delight in Goerke's delightful, worldly rendition of 'One Hundred Easy Ways to Lose a Man' from Bernstein's Wonderful Town, just as we relish Birgit Nilsson singing 'I Could Have Danced All Night' from Lerner and Loewe's My Fair Lady.
Her last name may sound German, but Goerke is an Italian-American of Sicilian and Neapolitan stock. She paid tribute to her ancestry with songs by late nineteenth- and early twentieth-century Italian composers that are seldom heard today, although singers such as Enrico Caruso, Renata Tebaldi and Luciano Pavarotti championed them. Paolo Tosti, purported to be Queen Victoria's favorite singer and composer, wrote songs that would be termed salon music, but Goerke's singing of 'L'ultima canzone' revealed that they have lost none of their charm.
Pietro Cimara spent most of his life in America and conducted at the Metropolitan Opera until illness prompted his return to Italy. 'Stornello' is light and airy but seethes with passion: a lover's lips are compared to the grains of a pomegranate and breath to the perfume of a mountain strawberry. Goerke's voice shimmered as she sang of such delights, with the flexibility and lightness of her voice a reminder of what first made her a star.
With 'Voi lo sapete' from Mascagni's Cavalleria rusticana, Goerke pointed to the future. She will sing the role of Santuzza with Michigan Opera Theater in an outdoor concert performance in May. Last month, MOT announced Goerke's appointment as its associate artistic director. She will have principal responsibility for production casting and collaborate with the company's artistic director, Yuval Sharon, on all musical matters.
German Lieder filled out the program. With her sumptuous voice, Strauss's 'Zueignung' had all the radiance for which one could hope, while the light-hearted 'Nichts' displayed Goerke at her flirtatious best. The most sumptuous singing of the recital came in Brahms's 'Nicht mehr zu dir zu gehen' which revealed the richness and depth of her middle and lower ranges.
Texas native Robert Owens studied in France and spent most of his life in Germany. He is best known for his settings of the poems of Langston Hughes, but Goerke, eschewing the obvious path, sang his Drei Lieder, set to poems by the German Romantic poet Joseph von Eichendorff and dating from 1998. Atmosphere and lyricism were important to Owens, as they were to singer and pianist in their superb performance of these three musical gems.
The male-dominated publishing industry turned their backs on Carrie Jacobs-Bond, so she established her own music publishing company. Jacobs-Bonds got the last laugh: she went on to become a millionaire as sole owner of the rights to her immensely popular songs. In 1911, Jacobs-Bond published Half-Minute Songs, for which she not only composed the music but also the short, witty texts. Goerke was a delight with her rapid-fire renditions of these pithy, and sometimes poignant, bursts of home-spun truisms, which she captured with a twinkle in her eye.
Goerke spends her life on the road doing what she loves, but home is always on her mind. If you don't recognize Walter Kent's name, you'll know his music. 'The White Cliffs of Dover' and 'I'll Be Home for Christmas' number among his hits. It is hard to imagine anything more beautiful and wistful than Goerke singing the words 'The sweetest mile you'll ever roam is the last mile home' from his 1949 hit song.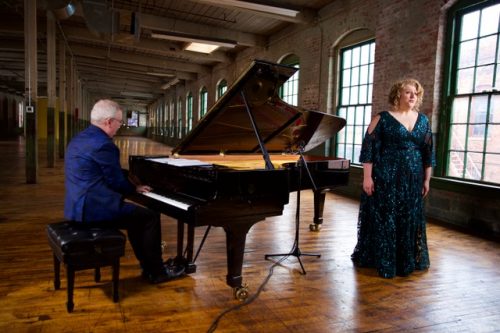 Craig Terry partnered Goerke on the piano and was her equal in charm and high spirits. He shared duties with her in giving brief, informative descriptions of the songs. His immaculate musicianship gave way to spontaneity, as in his incorporation of Sousa, Mozart and Wagner into 'Why Can't You Behave?' from Cole Porter's Kiss Me, Kate.
Rick Perdian
To view Christine Goerke and Craig Terry in recital for Cal Performances, click here.