United States In Focus/Episode Eight, Visions and Impressions: Joshua Smith (flute), Paul Jacobs (organ), Strings and Timpani of the Cleveland Orchestra / Franz Welser-Möst (conductor). Severance Hall, Cleveland, on 18-20.3.2021, and reviewed as a video stream. (MSJ)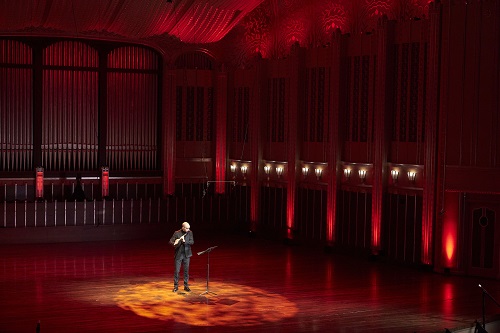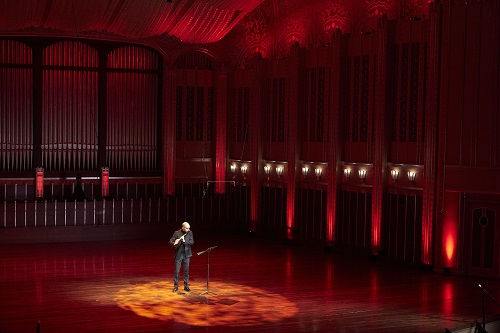 Takemitsu – Air
Prokofiev – Visions Fugitives (arr. Rudolf Barshai)
Debussy – Syrinx
Poulenc – Organ Concerto in G minor for organ, timpani and strings
Wind stirs once again in Cleveland! Wind instruments, that is, as the ensemble cautiously reanimates its component parts more than a year after the Covid pandemic laid waste to world concert life. On this occasion, the sole woodwind is the flute of the orchestra's principal, Joshua Smith, playing two solo pieces between orchestral selections.
First is Toru Takemitsu's final work, Air. This is a nature meditation, clear and calm, with a few extended techniques such as fluttering-tonguing and bent notes, but such effects are deployed purely as the mood requires, not as virtuoso hijinks. It so happens that Smith is both a tremendous virtuoso and a searching artist, and his rendering of the piece was exquisite, free of any attempts to sentimentalize Takemitsu's last words as a composer. A fascinating visual byproduct of Smith's rare appearance alone on stage under full light was the way reflections off his golden flute seemed to dart through the air like fireflies. It suited the work perfectly.
Sergei Prokofiev collected several of his early piano miniatures as Visions Fugitives (Fleeting Glances). On this occasion, we heard a selection of about three-quarters of the original pieces as arranged for string orchestra by Rudolf Barshai (the arranger behind the Shostakovich Chamber Symphony heard in the previous episode). To be clear, this particular arrangement will never replace the keyboard originals, nor are they meant to. But Barshai's ingenuity in adapting Prokofiev's idiomatic and characteristically sardonic instrumental colors is fascinating. If an orchestral version can never quite provide the focus and flexibility of a solo piano rendering, it can offer a wider range of colors and, in the penultimate vision, an intense heft. Prokofiev has been one of Cleveland music director Franz Welser-Möst's special areas of focus, and he takes obvious delight in adding another gem to this composer's orchestral repertory. The Cleveland strings play with freshness and poise.
The generative figure for this entire program is Claude Debussy, without whom none of the others would have been what they were. Debussy is represented here by his solo flute work, Syrinx, which evokes a moment from a story about the ancient Greek god Pan. Debussy's composition, like the Takemitsu, is incidentally virtuosic, the emphasis being on rhapsodic lyricism. Smith, this time on a darkened stage, brought the piece's faux-archaisms hauntingly to life.
Francis Poulenc has been described as equal parts jester and monk. That doesn't capture his transformation, though. The witty trickster is prominent in his youthful works which took Paris by storm in the 1920s. The monk emerges as the composer aged and grew more spiritual in his outlook. The two sides are briefly balanced in uneasy perfection in Poulenc's Concerto for Two Pianos and Orchestra, written in the early 1930s. By the time he finished the Organ Concerto in 1938, the visionary monk had arisen.
Poulenc had accepted the commission for the Organ Concerto from the Princess de Polignac, who wanted a relatively simple work for the organ she had installed in her mansion, to be accompanied by chamber orchestra. Poulenc put off starting for some time, being unfamiliar with the pipe organ and needing time to study characteristic compositions by Bach and Buxtehude. Before he could develop his ideas, he suffered a personal trauma in the loss of his close friend Pierre-Octave Ferroud, a young composer and music critic, who was horrifically decapitated in an automobile accident in 1936.
The work that finally emerged in 1938 was far beyond the Princess de Polignac's capabilities, but it was premiered at her salon. It is an intense response to trauma yet recognizably Poulenc in its tart harmonies and remarkably elegant way of expressing anxiety. The piece is often recorded in cathedral-like environments, so the opportunity to hear it in the more intimate acoustic of Severance Hall in Cleveland better matches its original scope
Indeed, organist Paul Jacobs concentrates on the chamber element by immersing his console onstage, amidst the orchestra, instead of out front as one would typically find in a live concert. It also places him closer to the organ's pipes, allowing a closer interplay with the strings and timpani. This recorded stream catches an ideal presence from the organ, something that doesn't always happen live in concert as the pipes are located at the rear of the stage.
Jacobs and Welser-Möst start the piece at less than full blaze, to give it room to build. And the intensity does build, despite unhurried tempos that let us hear the organ lines with clarity. Each wrenching part of this concerto (where even the major key passages are stormy) follows an inward interlude and grows even more anxious. The timpani, played here by principal Paul Yancich, punctuated the heady gloom of the string/organ-drenched textures.
In the end, it is a cathartic work, another fine choice for our journey out of world disaster, and these artists richly do it justice.
Bonus videos include a backstage tour of the Norton Memorial Organ with Jacobs and a flute demonstration by Smith.
Mark Sebastian Jordan
Subscriptions to the Cleveland Orchestra's Adella streaming app are available at Adella.Live or on their website: click here.