United Kingdom BBC Proms 2021 [22] – Handel, Bach: Anne Hallenberg (mezzo-soprano), Monteverdi Choir, English Baroque Soloists / Sir John Eliot Gardiner (conductor). Royal Albert Hall, London, 1.9.2021. (KM)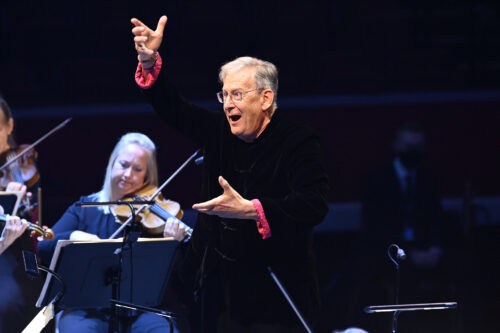 Handel – 'Donna che in ciel'
Bach – 'Christ lag in Todes Banden'
Handel – 'Dixit Dominus'
The year is 1707. Two nascent German-born composers are beginning to make their mark on the European musical world. And while the similarities might end there, one thing both Handel and JS Bach did have in common was that they were to go on to epitomise the zenith of musical genius and creativity produced within the Baroque period. Their chosen paths, however, could not have been more different. Handel's interest in opera had taken him to Italy – where at the tender age of 22 – he was already the darling of the Roman party set.
Most of his compositions from this time there were commissions from well-healed members of the Italian aristocracy, and his Marian cantata, 'Donna che in ciel' is no exception. In early 1703, the country was hit by a series of devastating earthquakes which caused extensive damage, and huge loss of life. Rome, however, was unaffected, which in turn led Pope Clement XI to order a thanksgiving to the Virgin Mary for sparing the city's population.
The manuscript for Handel's cantata bears the inscription 'Anniversary of the deliverance of Rome from the earthquake on the day of the Feast of Purification of the Virgin', and while the exact circumstances of its composition are hazy, Handel's piece was clearly intended for one of these anniversary events. Set for solo alto and string orchestra, 'Donna che in ciel' certainly made an auspicious BBC Proms debut.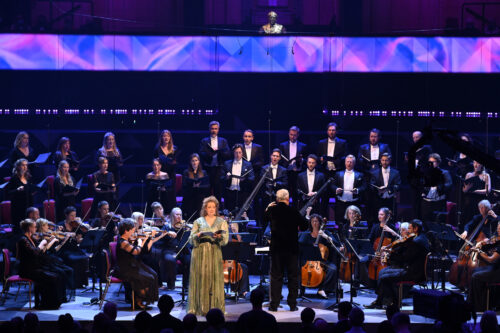 Swedish mezzo-soprano Ann Hallenberg was the glorious soloist, ably supported on the podium by Sir John Eliot Gardiner and exemplary playing from the English Baroque Soloists. Consisting of an overture, followed by a series of recitatives and arias, Handel's focus is on Mary's role as protector and comforter, and Hallenberg rose to the challenge and was indeed full of grace. Beatific throughout, her limpid tone in 'Tu sei la bella, Serena Stella' (You are the lovely, serene star), caught Handel's glorification of Mary to perfection. Handel's only nod to the horrors of the earthquakes comes in the third aria, 'Sorge pure dall'orrido averno' (Rise, then, black flames of eternal fury), whose vigorous vocal lines were venomously dispatched by Hallenberg. Let's just hope we don't have to wait another 314 years for its next appearance at the Proms.
While Handel was swanning around Italy, JS Bach was firmly ensconced in the Lutheran environment of the Thuringian town of Arnstadt, a mere 30 miles from where he was born. His church cantata, 'Christ lag in Todes Banden' (Christ lay in the fetters of death) may have been written as part of the interview process for the role of organist at the larger town of Mühlhausen. Whether or not this is the case, it is likely that this is his earliest church cantata. There are seven verses, proceeded by a sinfonia. According to Gardiner, this is Bach's 'first-known attempt at painting narrative in music', and while 'Christ lag in Todes Banden' lacks the liturgical brilliance of his later Leipzig cantatas, it was fascinating to hear the composer's first foray into this field. Filled with suspensions, daring chromatic figures, and in interweaving Luther chorale which makes its way through the choruses and arias (here sung in groups), Bach charts the solemnity of his subject matter unerringly. The Monteverdi Choir are unrivalled in this repertoire, and their precision, diction and delivery were faultless throughout.
After the interval we were treated to a spitfire performance of Handel's dramatic psalm-setting 'Dixit Dominus'. Astonishing in its originality, and making almost impossible demands on his musicians, Handel throws everything he has at it. Ideas burst from every bar, and whilst less may possibly be more, one cannot help but be bowled over by the composer's youthful exuberance. From the pinpoint accuracy of the contrapuntal entries of the opening chorus, it was clear that for these musicians, Handel's writing held no terrors.
Once again, the 30-strong Monteverdi singers despatched each chorus with apparent ease, despite the complexity of what was required of them. Jubilant in the cries of 'Dixit Dominus', menacing in 'Tu es sacerdos', and ebullient in the closing 'Gloria', despatching the florid vocal lines and runs, seamlessly.
The soloists came from within its ranks, and each relished their moment in the spotlight. Bethany Horak-Hallet's rich mezzo infused 'Virgam virtutis tuae' with the required gravitas, whilst sopranos Julia Doyle and Emily Owen revelled in the myriad suspensions of 'De torrente', both singing with crystalline tone.
This exemplary Prom was also Gardiner's 60th. The conductor, along with his forces, were rightly cheered to the rafters. Given how long choirs have been silenced, to hear once again singers of this calibre, performing at the absolute top of their game, was a rare privilege.
Keith McDonnell