Czech Republic Verdi, Rigoletto: Soloists, State Opera Chorus and Orchestra / Vincenzo Milletarì (conductor). Národní divadlo, State Opera, Prague, 2.9.2021. (RP)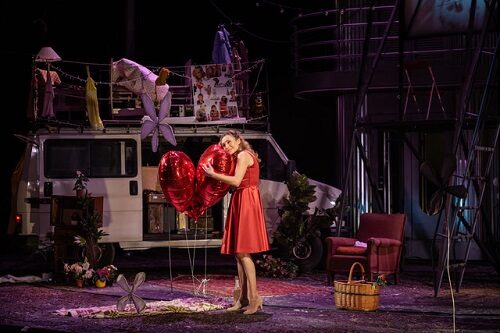 Production:
Director – Barbora Horáková Joly
Sets – Barbora Horáková Joly, Sophia Schneider
Costumes – Annemarie Bulla
Lighting – Jan Dörner
Video – Sergio Verde
Choreography – Jan Adam
Dramaturgy – Jitka Slavíková
Chorus Master – Adolf Melichar
Cast:
Rigoletto – Daniel Luis de Vicente
Duke of Mantua – Kyungho Kim
Gilda – Olga Jelínková
Maddalena – Jana Sýkorov
Sparafucile – Zdeněk Plech
Monterone – Miquelangelo Cavalcanti
Giovanna – Sylva Čmugrová
Marulla – Lukáš Bařák
Borsa – Amir Khan
Count Ceprano – Andrey Styrkul
Countess Ceprano – Kristina Kubová
The stage premiere of the Národní divadlo's powerful new production of Verdi's Rigoletto directed by Barbora Horáková Joly was a gala night at the opera. The splendor of the newly restored State Opera, to say nothing of the audience's response and an entire flower shop's stock delivered on stage during the curtain calls, added to the luster of the evening. And for all the talk about the death of fashion post-COVID-19, the younger people in the audience didn't get the memo.
This production had originally been scheduled for last season but was postponed due to the pandemic. Earlier in the year, the National Opera streamed it with two different casts and performed without audiences. It gave a good idea of the impact of the production and the quality of the singers, but live was infinitely better, as if that should come as a surprise. Horáková Joly's staging, which appeared cluttered and overly busy at times in the stream, emerged on the stage as far more coherent: a rare updating of a classic that was true to the spirit of the original in every way.
Horáková Joly trained as a singer but switched to opera directing, where she has found remarkable success since embarking on this career less than a decade ago. In 2017, she won the Ring Award in Graz for her staging of Donizetti's Don Pasquale, and the following year was named Newcomer of the Year at the International Opera Awards in London.
The Prague-born director's updated Rigoletto is dark and brutal – a testosterone-driven, male-centric society run amok where cruelty and wanton violence rule. The Duke, a peacock of a man, is a class act: he passes out in a dumpster after his tumble with Maddalena. His domain is a glitzy modern bar that substitutes for a sixteenth-century ducal palace.
The Duke's henchmen are cut from the same cloth, crude macho types who murder with ease, and for whom women are sex toys (a rubber doll gets a good working over to drive the latter point home). For opera singers, they have pretty good moves, especially their pelvic thrusts.
Rigoletto's home is a parked caravan with Gilda's bedroom, an oasis of fancy, perched on its roof. Sparafucile's club, on the other hand, is little more than bare scaffolding, which creates a sinister and even more depraved atmosphere where matters of life and death are purely transactional.
Rigoletto is conceived as a facially disfigured man with a mysterious past. Seeking revenge after his daughter's abduction and rape, Rigoletto puts on the white make-up of a clown, his mouth a slash of red. In the final scene, with his daughter dead and hearing the Duke's voice singing 'La donna è mobile', Rigoletto self-immolates in an automobile as the entire stage turns blood red.
Daniel Luis de Vicente was a superb Rigoletto – full voiced and dramatically compelling. His Rigoletto is a remarkably human one, made even more so by the moments where de Vicente sang ever so softly. As Gilda, Olga Jelínková was equally compelling both vocally and dramatically in a finely etched performance. Kyungho Kim's gleaming tenor provided vocal thrills, and he got the Duke's self-absorption down pat.
The rest of the cast was equally fine. Zdeněk Plech's resonate bass and imposing stature resulted in a sinister, matter-of-fact Sparafucile. Jana Sýkorová made a star turn out of Maddalena; there is something about her ripe, raunchy and sometimes tender Maddalena that rings true. Lukáš Bařák's Marulla and Amir Khan's Borsa offered jolts of vocal glamour and energy each time they appeared on stage.
Vincenzo Milletarì, a protege of Riccardo Muti and Pier Giorgio Morandi, instilled drama and excitement in every note of Verdi's score. He can build a phrase, a scene or an entire act to a thrilling climax. As strong as this cast was, the true stars of the performance were Milletarì and the players in the pit.
Rick Perdian