United Kingdom BBC Symphony Orchestra's A New Dawn: Ben Goldscheider (French horn), BBC Symphony Orchestra / Sakari Oramo (conductor). Livestream (directed by Matthew Woodward) from Barbican Hall, London, 2.10.2021. (JPr)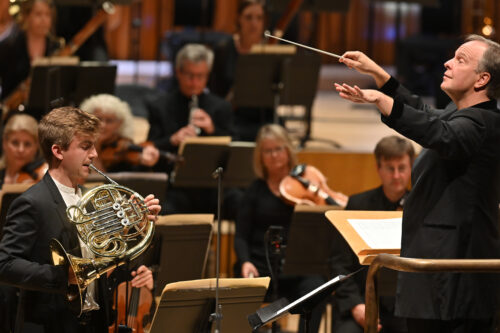 Betsy Jolas – Letters from Bachville (UK premiere)X
Ruth Gipps – Horn Concerto, Op.58X
Brahms – Symphony No.2 in D major, Op.73
Unless you are a musicologist your enjoyment of this concert would have been more greatly enhanced by watching the livestream than probably siting in the Barbican Hall. Not only was there a fascinating audio feature during the interval (featuring Victoria Rowe, composer Ruth Gipps's daughter-in-law and keeper of Gipps's archive) there were concise and informative pre-recorded introductions to all the music we would hear from genial BBC Symphony Orchestra's Chief Conductor Sakari Oramo. I do wish more orchestras would get musicians to talk to their audiences more in the concert hall to give them a better insight into the works they have come to hear, some will never need it but most – I am certain – could benefit.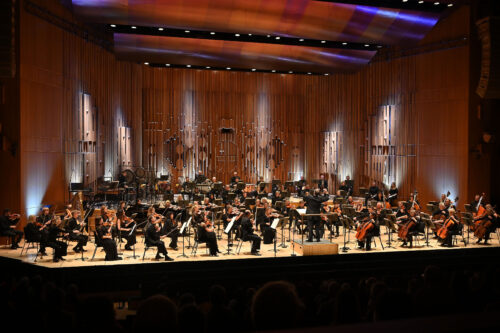 I make no apology from repeating – throughout this review – some of what Oromo said and he began by welcoming those watching in to 'a fantastic programme that celebrates coming back from the pandemic times'. We heard how Betsy Jolas is 'a French composer, she's already now past 95 years of age but very actively writing music and this is a fresh piece of hers from 2019. It is called Letters from Bachville'. Oramo referred to a message from the composer which revealed how it was inspired by the elation of getting a commission from the famous Leipzig Gewandhaus Orchestra and how Gipps thought she was 'in an imaginary way, walking the streets of Leipzig in the footsteps of the great Johann Sebastian Bach. And gradually Leipzig becomes Bachville in her imagination and extracts of well-known Bach pieces start flying past her imagination from every direction' and from which she created her Letters from Bachville. Oramo continued: 'Having only these beginnings of famous works like a Brandenburg Concerto, the Double Violin Concerto, the Toccata and Fugue, for instance […] also describes the way that people listen to music nowadays, as playlists, as short bits, which are taken out of context and made as easy as possible to listen [to]. And, of course, with this piece Betsy Jolas wants to contradict this culture.'
Jolas's laudable aim is submerged in her fragmentary percussion-heavy 16-minute creation and the bigger question is why must nearly all new late-twentieth and early-twenty first century orchestral music involve an oversized array of percussion instruments? I appreciate the commitment given to Letters of Bachville by the BBC SO and almost every principal got an ear-catching solo contribution under the wafting hands of the ever-smiley Oramo whose eyes were glued to the score. A Bach scholar might recognise the oblique allusions to his compositions but that is sadly not me. I was mostly reminded of the Great Dane(!) Victor Borge who in his legendary 'Comedy in Music' events only played some of the beginnings or endings of great music as he wanted to save us sitting through the bits in between, or Morecambe and Wise with André Previn and 'all the right notes, but not necessarily in the right order'. I must accept Letters of Bachville was not my kind of thing, but I am sure it might have been for many others.
Oramo explained how 'Ruth Gipps, not a household name, was a British composer. She was a pupil of Ralph Vaughan Williams and also an active musician herself. She played oboe and cor anglais in the City of Birmingham Symphony Orchestra and also conducted a lot of amateur and student ensembles. As a woman in those days in the 1950s and 60s she wasn't able to break through with professional orchestras, so much times have changed.' (I agree they are better than they were, but a universal parity is still some way off.) We learnt how 'Ruth Gipps's Horn Concerto has this wonderful neoclassical feel to it. It is built in a traditional concerto format, but her tonal language is really fresh and crisp and gives the horn soloist a lot of showing [their] virtuosity, and also gives the orchestra a whole lot to do.' During the interval profile of Gipps (whose centenary it is this year) it was emphasised that her 1968 Horn Concerto was specifically composed for her son Lance Baker – who was just starting his professional career – in order to show his mastery of the instrument. Apparently, his best qualities were his quick tonguing and good top and bottom notes and that is, of course, demanded of any soloist who now attempts it.
The first movement has a lyrical opening, and the tremendous range of the soloist's music is quickly apparent in several tricky passages requiring that quick tonguing as well as fast fingering. After some early interplay with the woodwind the influence of Ralph Vaughan Williams on Gipps clearly becomes apparent. After a fiendish cadenza near the end the music subsides quietly. Former BBC Young Musician finalist Ben Goldscheider clearly has a formidable basic technique, but I found his tone a little harsh and the occasional note sounded more 'off centre' than they perhaps should have. (It must be remembered that I was not in the Barbican Hall but listening through loudspeakers so that might not have been the experience of those there.) The Scherzo begins with an intriguing theme showcasing the woodwind again which is taken up by the soloist as the music begins Gipps's roller coaster ride. The tempo and intensity ramp up a final time as very high and very low notes challenged Goldscheider. For me the opening theme of the final movement was rather Coplandesque. There is reflection and then some jauntiness from the horn against a rather pastoral accompaniment from Oramo and his musicians who prove as virtuosic as the soloist in this concerto. After a face-off with Elizabeth Burley's celeste Goldscheider's horn surmounts Gipps's big finish and matches the flourish from the orchestra as the concerto rapidly ends. Goldscheider's encore was 'Nun komm, der Heiden Heiland' ('Now is our saviour come') which was some genuine Bach and only highlighted the limitations of the horn as a solo instrument; to me, it does not seem particularly expressive and it was Burley's piano accompaniment that impressed more here.
Introducing Brahms's Second Symphony Oramo said: 'It was written in 1878 only just a year after he had finished his First Symphony [review click here] which really took a long time coming. So once the symphonic hurdle was passed, Brahms had a really creative spell in his composing and the Second Symphony has a sunny, positive nature'. According to the conductor there may be 'a dark stream behind all this happiness and all this D major jubilation' because Brahms suggested the score should be printed on black-edged paper because of its sad music, though that might have just been the composer's odd sense of humour. Oramo said he hoped the BBC SO's performance would present 'both sides', and so it proved.
Brahms's Second Symphony is in four movements and beginnings and endings came to the fore again as the lengthy first movement (Allegro non troppo) was twenty minutes long (and seemed longer), sounding for the most part as the finale to the symphony rather than its opening movement. In the cellos and double basses there was a three-note motif that recurred in various ways during the remainder of the symphony. A second theme which came back time and again was more than a consoling hint of Brahms's 'Lullaby' (Wiegenlied, Op.49, No.4). As 'sunny' as the music was here (and in the other movements) it was as if storm clouds are never far away and there was certainly some portent to Chris Hind's timpani roll; however, the carefree, proto-jazz feel to the movement's ending seemed tacked on. Oramo's graceful hand gestures guided the BBC SO through the slow second movement (Adagio non troppo) and there could be no question that there was a melancholic miasma established by the cellos though there were still moments of hope. The short third movement (Allegretto grazioso quasi andantino) opened with a lilting oboe melody underscored by pizzicato cellos. It was distinctly livelier than what we had previously heard and oddly Mendelssohnian. It is clear that in the concluding Allegro con spirito Brahms was keen to end the symphony in triumphant mood and as its sonata form resolved itself the string players were seen swaying in their seats and – celebrated in the brass, timpani and with four emphatic chords – a joyous conclusion was reached in a blaze of D major glory.
I apologise to those I haven't mentioned – everyone was worthy – but there were notable contributions throughout the evening from BBC SO's leader Igor Yuzefovich, Daniel Pailthorpe's flute, Gareth Hulse's oboe, Richard Hosford's clarinet, Philip Cobb's trumpet and Helen Vollam's trombone.
Jim Pritchard