United Kingdom Mozart: Christian Blackshaw (piano). Wigmore Hall, London, 27.1.2022. (JB)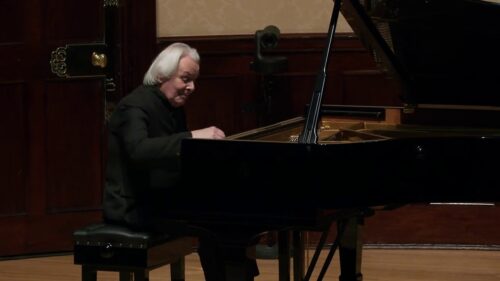 Mozart – Piano sonatas: in F K280; in B flat K281; in E flat K282; in C K330; in B flat K333
Mozart was a mischief maker. A misogynist. A workaholic. A genius. An improviser. A precisionist. An evangelist. A pedlar of pornography. A humourist. A dramatist. A man of incomparable charm. And anger.
Sometimes these attributes collaborated. Sometimes they fought. Either way, they were uniquely Mozart. And yes, it must be admitted that there is, above all, the mystery of Wolfgang Amadeus Mozart. That which no words can explain.
On 27 January (Mozart's birthday) Christian Blackshaw tried to meet these staggering challenges at the Wigmore Hall. Not always successfully. As the evening went on, his efforts seemed to outstrip their results.
My first encounter with Blackshaw was in Rome, performing in the gardens of the Accademia Filarmonica Romana on a hot July evening, about 1968. I had received a telephone call from Barrie Iliffe (Head of Music at the British Council) to ask his Arts Officer (me) if I could attend this recital and then let him have a report on it. He said that Blackshaw was currently studying with Clifford Curzon, who thought highly of the boy's musicianship. Very promising. At that July recital, Christian's musicianship for a very poorly attended audience (summer is never a good time for Rome concerts) was most moving.
Wigmore Hall has had the good idea to honour Mozart's birthday each year with a concert of his solo piano music. I reported on the first last year and this is the second.
To say that I was disappointed, is an understatement.
A man and woman sitting in the same critics' row were also shaking their heads in dismay. They appeared to leave at the interval. A handsome, younger couple in the row in front were also expressing their doubts. But the hall was full and the applause, if often sustained, sounded hollow. No shortage of VIPs either. A claque – if that is what it was – was at the front with the Wigmore Hall's Royal Patron, HRH The Duke of Kent.
As I was re-entering the auditorium after the interval, an elderly lady, taking off her mask, asked me if I considered the first part most beautiful? She clearly did. I said I had some reservations. Oh dear, said she, can you please tell me what your reservations were? Taking my own mask off, I said that it would not be appropriate for me to pronounce criticism, halfway through a concert. But hearing myself sounding churlish and not a little pompous, I added, To taper the ends of phrases can be charming, but to repeat constantly that tapering, renders it meaningless, just as overusing a word renders it meaningless. Putting on her mask, she said, Oh, I see. Thank you. 
While I think it is a mistake to read too much of a composer's life into his music, some readers may find some background information useful. Young Mozart's relationship with his dad would be exaggerated if it were just considered love/hatred. Though unquestionably those extremes come into the reckoning. All three of the sonatas in the first half of this concert (F K280, B flat K281 and E flat K282) were written when the composer had once again taken up residence in the family home in Salzburg. And keep in mind that both these men had a sense of humour, which is to say, they could easily laugh at their own absurdities. That in turn is about the freedom of choice. And while I feel sure that father Leopold would be ready to take a step back from his son's genius, that would suggest that tensions could not last very long. Wolfgang's mother (Anna Maria) also died in 1775 – a sorrow that probably lived on for the rest of the composer's life.
David Owen Norris makes the point in a programme note that the E flat sonata has only three movements (nothing unusual) except that the first movement is an Adagio. Then follows minuets 1 and 2 and an Allegro finale. I don't think there is anything more complex here than Mozart feeling the slow movement first. I am convinced that Mozart continually, simply plucks the music out of the air (or so it sounds or should sound to my ear). Invention is there in every bar. But maybe that is only my prejudice!
The two sonatas after the interval (C K330 and B flat K333) strikingly belong to another epoch of music. They are – among other things – declarations of independence from Leopold's influence. And from Anna Maria's too. Blackshaw attacked these sonatas like a bull in a china shop. There is an uncompromising steeliness of tone throughout. Lyricism disappears. Does he really hate this music as much as he forces his sound?
Something similar seemed to have happened to Ivo Pogorelich whose playing Blackshaw made me recall. Pogorelich studied in Moscow with the Georgian teacher Alisa Kezheradze who in turn had studied with Alexander Siloti (Ukrainian 1863-1945) whose cousin was Sergei Rachmaninoff, and also a pupil of Siloti. Improvisation, but also precision, was the distinguishing feature of the Siloti school.  
Ivo Pogorelich married Alisa Kezheradze in 1980 (she was much older than him). When I met them on the island of Ischia in, I think, 1978, the year Ivo won Alessandro Casagrande International Piano Competition, and two years later won Montreal and failed to win the Warsaw Chopin Competition, the relationship seemed a little distant but nevertheless, very real. Martha Argerich walked out of the jury at the 1980 Warsaw Chopin Competition, in protest of Ivo's being excluded from the finals. No one remembers who won the 1980 Polish competition, but everyone remembers Martha walking out. She had effectively decided the competition's winner. (Some ugly nationalism was blatantly going on in Warsaw: Yehudi Menuhin's brother-in-law Louis Kentner – had walked out of the same jury for the same reason as Argerich but it was Argerich's name which caught the attention of the international press.)
In 1996 Alisa died from cancer in London and whatever the relationship, Ivo went to pieces and declared himself unable to play: that continued for almost two years. He cancelled concert bookings and (temporarily) his recording contract with Deutsche Grammophon. Moreover, he was now looking after Alisa's son, George, from her previous marriage to a leading Russian scientist. To everyone's surprise, Ivo took his fatherly duties very seriously. He made me laugh by recounting umpteen schools for George that he had rejected before he found one he liked, and which took music seriously! Something I know something about he said with a smirk.
Poignantly Christian Blackshaw was also struck a violent blow when his wife (a star pupil of Fanny Waterman) died of cancer, leaving him father of their two daughters. (The two of them had met at the Royal Northern College of Music: Christian hales from Cheshire.) He too prioritised his fatherly duties, even, at the failed urging of his daughters to return to playing. His public silence lasted more than two years. Was the Blackshaw who returned to the platform the same that had left it? The jury is still out on that.
This is probably the most difficult review I have had to write. My own prejudices inevitably get in the way, and while that may be natural, it is also inexcusable. In the end, every critic has to say to his readers, over to you. 
For historical information I remain indebted to Letters of Mozart and His Family (Macmillan 1938, in three volumes, translated with notes by Emily Anderson) and of course, Hermann Ebert's W.A. Mozart (Yale University Press 2007, translated by Stewart Spencer and edited by Cliff Eisen). Dates of non-public events come from my not-always-reliable memory.
Jack Buckley