United Kingdom Handel, Theodora: Soloists, Royal Opera Chorus (chorus master: William Spaulding), Orchestra of the Royal Opera House / Harry Bicket (conductor). Royal Opera House, London, 31.1.2022. (MB)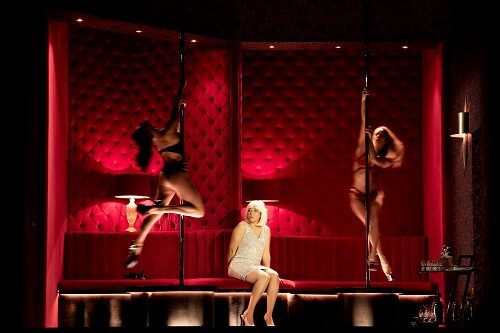 Production:
Director – Katie Mitchell
Set Designs – Chloe Lamford
Costumes – Sussie Juhlin-Wallén
Lighting Design – James Farncombe
Movement Director – Sarita Piotrowski
Cast:
Theodora – Julia Bullock
Irene – Joyce DiDonato
Didymus – Jakub Józef Orliński
Septimius – Ed Lyon
Valens – Gyula Orendt
Marcus – Thando Mjandana
Actors and dancers – Aquira Bailey, Browne, Ben Clifford, Sarah Northgraves, David Rawlins, Holly Weston, Kelly Vee
Theodora received its first performances at Covent Garden in 1750. Now, at last, Handel's oratorio came home, albeit staged—and in a staging Handel, Thomas Morrell, their singers and their audience might have had difficulty in understanding. That qualification is, of course, irrelevant as only a truism can be, for much of we might do would be largely incomprehensible to eighteenth-century London, let alone fourth-century Antioch. The question, as ever, is how performance — which emphatically includes the audience — might mediate between different societies, between different ideologies, between text, act, and critique.
Katie Mitchell adopts, unsurprisingly, a feminist standpoint. She updates the action to a modern embassy, lorded over by Valens as Roman ambassador (rather than governor), where Christians work as an oppressed class. One of their number, Theodora, is pushed to the extent of attempting and, more controversially, succeeding in destruction of the embassy. That already points to a shift in standpoint, crucially apparent from the opening. We should normally wait until the third scene before seeing (hearing) Theodora or indeed the Christians more generally, the first two scenes being devoted to Valens, Didymus, Septimius, and the Chorus of Heathens. Here, we see Theodora and her people from the start, in the kitchen (traditionally, the female 'domestic' sphere, of course, 'top chefs' notwithstanding). When we view and hear the Romans, it is through their eyes and ears as much as our own. That continues to be the case when Theodora has been sent to the brothel (the other side of the main public room from the kitchen) as a sex slave and continues, moreover, to be the case for Didymus when they have exchanged clothes, when he takes his first, literally faltering steps in heels to learn what it might be to view the world as a woman, and to be treated by that world as a woman. He experiences female solidarity with fellow sex workers, as had Theodora. They teach him how he might survive, by pole-dancing.
Yet we also remain wise to what continues to divide them; there is far more to womanhood than clothes and a blonde wig. For where Mitchell's achievement hits home most powerfully, often shockingly so, is in its unflinching portrayal of violence against women, Theodora humiliated, molested, 'remade' in an appearance acceptable to those in power, and awaiting rape. Septimius may speak of Theodora as a 'prostitute', but she is not that; there is no payment. She is entirely at the mercy of those who possess her — until, that is, she fights back. Mitchell's determination to avoid, to demolish, the male gaze is meet and right. Indeed, in having Didymus stand as the object of our gaze, male and female, first in the baptismal rite conducted at the end of the first act, renewed and parodied in the second loss of his clothes (his masculinity too), she reminds us that even such fragile 'equality' as that will constantly be under attack. We recognise it as inversion, even if we pleasure in it. And should we not instead wish for and bring about liberation instead?
Whereas the libretto has us move in our mind's imagination from one camp to the other, the embassy setting enables exchange, sometimes by splitting the stage into different rooms, sometimes by having their worlds collide. This has evident dramatic consequences, but they can be arrestingly aesthetic too. In Irene's 'Defend her, Heav'n!' for instance, the action taking place simultaneously in the brothel is seen in magnificently crafted slow motion (movement: Sarita Piotrowski) that interacts with vocal and orchestral music in astonishing fashion. Mitchell appreciates the difficulties attendant to staging in 'modern' fashion arias which, if even if they had been intended to be staged — we need not be too hung up on that, for Handel would have written them similarly, even identically — would not generally have been conceived as purveyors of dramatic action. Here, and on certain other occasions, she lets the world continue to move. How, after all, could she stop it? Yet there is a suspended quality to that action, a recognition that beholding it can be exquisite, can be spellbinding, and can be harnessed, dare I suggest, to good and evil.
Harry Bicket's conducting of the Orchestra of the Royal Opera House — in a welcome break with much recent practice, the Royal Opera has not consigned Handel's music to an imported band — impressed most when, as often it did, it appeared quite indivisible from the stage action. I had a sense — right or wrong, it barely matters — that he might have done it differently in a performance without Mitchell's staging. At times, more often than not with the chorus, it took a little while to settle down; indeed, some of the faster choral writing, arguably too fast on this occasion, ran a little ragged. This, however, was by and large a thoughtful and compelling musical performance, with some utterly ravishing woodwind playing in particular. And what a joy not to have to endure Handel with toothpaste-squeezing strings!
What a joy, moreover, to be treated to such a cast of Handel singers, who of course contributed greatly to much of what I have said above. Julia Bullock's patient strength and unshowy sincerity seemed to me just the ticket for Theodora. Charles Burney described her predecessor, Giulia Frasi, a few years earlier as having for Handel 'a clear and sweet voice, free from defects, and a smooth and chaste style of singing; which, though cold and unimpassioned, pleased natural ears, and escaped the censure of critics.' Doubtless that meant something different then from what it would now, but I sensed, however fancifully, a dialogue between our two Theodoras, in the broader spirit of what we saw and heard elsewhere too. If I felt the production a little less clear what to do with Irene — perhaps I was simply failing to understand — Joyce DiDonato's performance of heartfelt clarity likewise challenged one to imagine it sung otherwise. Likewise Jakub Józef Orliński's Didymus, as athletic and as melting as his stage presence. Movingly, intelligently compromised as a character between worlds, Ed Lyon's Septimius was again an object lesson in vocal style, clarity, and tenderness. If Gyula Orendt's task as Valens in this production was rather thankless, he emerged nonetheless with vocal and dramatic credit. Dramatic credit certainly went to the non-singing actors in the cast too, crucial to Mitchell's vision — and to our increasingly discomfited gaze.
I have a 'but'. (Does not one always?) I can see why Mitchell and her team resist Theodora's martyrdom. In many ways, I sympathise, though surely we have all moved beyond Cathérine Clément's notorious Opera, or the Undoing of Women (notorious not least for treating opera as if it were not a musical genre). Yet ultimately, to have the heroine survive and kill her oppressors points to a lack of interest I find more troubling than any inversion or deconstruction; it is a lack of interest shared by most opera directors and indeed by most beyond our theatres too. For Theodora is supposed to be a Christian in more than name. Didymus is supposed to convert in more than word. Who are these 'Christians'? One could adopt a Nietzschean attitude towards their 'slave morality' if one did not want to take their faith, or Handel's, at face value. One could make them another oppressed group: Muslims, say. There is surely, though, interest in that for which they are willing, even joyful, to die; to lose that completely seems an unnecessarily bitter pill. Religious belief and a broader theological framework seem neither here nor there, which surely is to sidestep why Theodora 'should' have died and to fail to recognise her on terms more radical still than anything attempted here and which ultimately resist victimhood more strongly too. That, of course, is not what Mitchell has chosen and she is perfectly entitled to have made the choice she has, but it is surely not incompatible with feminism (at least as this male voice understands it). We are nevertheless left with much to consider.
Mark Berry