Switzerland Tchaikovsky, Bruckner: Gabriela Montero (piano), City of Birmingham Symphony Orchestra / Mirga Gražinytė-Tyla (conductor). Kultur- und Kongresszentrum (KKL), Lucerne, 22.5.2022. (JR)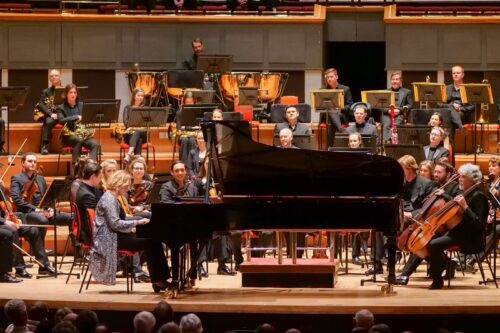 Tchaikovsky – Piano Concerto No.1 in Bb minor, Op. 23
Bruckner – Symphony No.6 in A major, WAB 106
Tchaikovsky's mentor Nikolai Rubinstein found the composer's First Piano Concerto rather vulgar and demanded a complete revision; Tchaikovsky refused and Hans von Bülow took over the première. It must be said that Rubinstein had a point: the work is coarse at times and lacks subtlety. It is an audience favourite but not to everyone's taste. That too was the problem with Gabriela Montero's performance which was often heavy-handed rather than ebullient – the playing style of Montero's close friend Martha Argerich came to mind. Phrasing rather took a back seat, though one could not argue with Montero's admirable technique. The orchestra was often too loud, the acoustics of the KKL (resembling those of Birmingham's Symphony Hall which used the same acousticians) amplified the volume to excess. Montero played the outer movements hard and fast, with little respite; it was quite a tub-thumper. Only the slow movement highlighted some delicacy and sensitivity. Montero's trade mark encore, an improvisation, was based on the theme of Bolero, first an allusion to the style of Bach, then to South American tango.
Full credit to Mirga Gražinytė-Tyla for undertaking a major European tour in what looks like her sixth month of pregnancy (of her third child). As is known, Gražinytė-Tyla will now step down as Music Director of the CBSO. The orchestra, celebrating its 100th anniversary during the Covid pandemic, is coming to an end of its long tour, taking in many German and other European cities. An air of fatigue was palpable, Montero admitting this was her ninth performance of the concerto; it must also have been dispiriting to see the huge concert hall less than half full. (I gather in Munich, at the Isarphilharmonie, the concert was nearly a sell-out).
Gražinytė-Tyla, for obvious reasons, did not leap around the podium as is her wont, but sensibly kept her flat shoes firmly on the floor. Nevertheless she injected plenty of vigour, direction and steady rhythm into the Bruckner. Bruckner's Sixth Symphony is not generally considered one of his best works and therefore a brave choice for a European tour – while the first movement is well constructed, the slow movement has its inconsistencies and tedious passages  and my mind wandered, particularly in its first half; the second half of the slow movement, however, is sublime. Gražinytė-Tylawas fully in command of the structure and detail of the work. The militaristic double basses in the opening of the Scherzo brought Mahler's Sixth Symphony to mind (the Mahler work composed some 25 years later). The final movement is puzzling, crude brass interjections rather spoil it, only saved by a thrilling conclusion. Whilst Gražinytė-Tyla did not put a foot wrong, the orchestra were not free of fluffs and rough edges; the orchestra lacked a degree of refinement, sheen, finesse – let's be charitable and say they were tired after their long tour.
John Rhodes