United Kingdom Phrases (Album Launch): Héloïse Werner (soprano), Emily Hultmark (bassoon), Colin Alexander (cello), Laura Snowden (guitar), Daniel Shao (flute), Calum Huggan (percussion). Wigmore Hall, London, 4.5.2022. (CC)
Werner/Martlew – The Other Side of the Sea: Syncopate (2018)
Nico Muhly – Benedicite Recitation (2021, world premiere)
Josephine Stephenson – Comme l'espoir/you might all disappear (2021, world premiere)
Georges Aperghis – Récitation No.9 (1978)
Héloïse Werner – Unspecified Intentions (2021). Confessional (2018).
Georges Aperghis – Récitation No.8 (1978)
Elaine Mitchener – whetdream (2022, world premiere)
Héloïse Werner – Like Words (2022, world premiere)
Oliver Leith – yhyhyhyhyh (2021)
Zoë Martlew – The Plot (2022, world premiere)
An embarrassment of riches here at the Wigmore Hall: no fewer than five world premieres. Most works here are featured on Héloïse Werner's new album on Delphian, Phrases, due for release on June 24.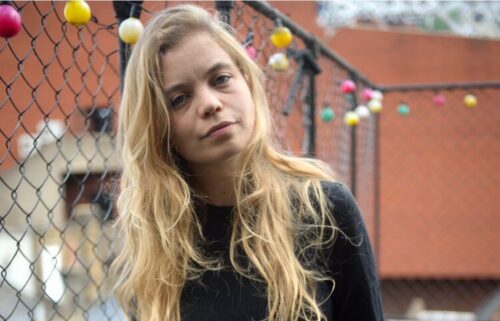 Werner has a versatility that is rare today; her clear resonance with the music of our time, her faultless technique, her laser focus and her presence all imply that soon she will be mentioned in the same breath as the likes of fellow singers, Cathy Berberian, Phyllis Bryn-Julson and Jane Manning. Her Phrases album, and by extension this concert, grew out of her admiration for Georges Apreghis's Récitations. Listening to her performance of the Récitation No.9, it was clear she is a great storyteller – even if sometimes one is not always sure what the story is!
The event was bookended by music either by or with a pronounced input from Zoë Martlew, like Werner a musician of unique talents. In 2004, Martlew had her show Zoë Unleashed …. Unhinged, uncensored, underwired' at the Semley Music Festival, and things for this writer have never been quite the same since. Martlew was Werner's mentor for the show The Other Side of the Sea. A micro-study in games (linguistic and musical), 'Syncopate' features Werner using a cello as a percussion instrument. You can see and hear Werner in the original production of The Other Side of the Sea here.
While that, and the seminal Aperghis pieces, are solo, it is clear Werner thrives in collaboration. Nico Muhly's Benedicite Recitation is scored for voice and flute (Daniel Shao) – plus a crotale that issues in the coda. It is a piece in which, via a religious text, we heard how sheerly beautiful Werner's voice can be in the longer line. The music expands gradually, reaching a climax of soaring lines.
Oulipian experiment informs Josephine Stephenson's bilingual Comme l'espoir/you might all disappear, which uses texts by Antoine Thiollier and Stephenson. (Like myself you may need to research 'oulipian'.). The complexities and abstractions of linguistic manipulation might be one aspect of the work; beauty is certainly another in this lovely piece for voice and guitar (Laura Snowden the absolutely hypnotic guitarist on this occasion). Meaning is questioned; nay, distorted through a fairground mirror so that words gain meaning purely through their sound as signifier and thus signified part company, seemingly naturally; just as natural is the 'evaporation' of the work's ending. The merging of the languages of French and English also reflects the close friendship between Werner and Stephenson, and how both, friends, originally in Paris, relocated to the UK to study.
It is clear, too, that Werner is maximally at home in the Aperghis Récitations. No.9 emerged as a joyous exploration of vocal timbre via a parallel joy in virtuosity: what would Werner make, one wonders, of Ligeti (I think specifically of Mysteries of the Macabre here); this Aperghis piece was also the ideal bedfellow for Werner's own Unspecified Intentions a phenomenal act of deconstruction and substitution for solo singer and crotale. Werner was even finer live than here, her YouTube offering of this piece from two years ago (the video also has some helpful, but not essential, subtitles for Werner's invented language). It is also Werner laying her heart out in public: a brave thing to do. The leap to Aperghis's Récitation No.8 was not a large one, but here the sheer mobility seemed even more pronounced (if less amusing).
This is certainly not Elaine Mitchener's first appearance at the Wigmore and her Whetdream uses a graphic score and intends to conjure up a liminal state between sleep and wakefulness. It is intended both as 'theatrical performance' and as 'multi-dimensional listening experience'; it is designated as a 'strange, city-infused nocturne'. It is not often (probably) that a mattress finds its way onto the Wigmore Hall stage; in keeping with the all-encompassing aspect of Werner's Weltanschauung and the ethos of this concert, even the stage set-up was performance art. Whetdream includes a composed awakening, including creaks from a rotating drum (and other sounds, too). The one setback was that so much happened low down, close to the stage floor (with a mattress as major player, hardly surprising), and that's not so great for sight-lines. A prime contender for the definition of new music madness, Mitchener's piece was at once hugely enjoyable and fully in the spirit of the occasion; Calum Huggan was the intrepid percussionist.
Combinations were clearly thought-through. It was fascinating to hear Werner's Like Words for voice and bassoon next to Oliver Leith's yhyhyhyhyh for voice and cello. Werner was joined by the bassoonist Emily Hultmark for Like Words, a piece that effectively treats the voice and bassoon as one instrument. With Hultmark's unique and incredibly appealing tone in tandem with the sheer beauty of Werner's delivery, the piece was a huge success. Leith's piece uses a detuned A string on the cello. In this way, the composer destabilises our sense of pitch via quarter tones. A fascinating adventure in timbre, this was brilliantly realised by Werner and cellist Colin Alexander.
Finally, a modern-day tale of loss and revelation through love via fairy tale (specifically, the 'Fabulous Fairy of Narrative Continuation'), disco and (sadly imagined due to Wigmore Hall house rules) glitter, Martlew's The Plot takes Victor Hugo (and the audience) for a hell of a ride, through the 'Forest of Forgetting'. Werner acted and sang magnificently through this latter-day Die Zauberflöte, taking in elements of the Romantic Wanderer and the tarot archetype of The Hermit. It is as impossible not to love this piece as it is not to take up its invitation for finding 'a brand-new plot of love'. Martlew's works have been drip-fed into the light of day; this reveals a voice that needs to be heard. We need fun, and we need depth. Rarely do these come at once these days; the piece is beautifully constructed and deeply funny (the secretary glasses were a nice touch, as is the line 'when in doubt, wear sequins'!).
With a programme without a single dud piece and Héloïse Werner – a performer of stellar talent – supported by a galaxy of young stars, what's not to like?
Colin Clarke