United States Bonds, Credo and Orff, Carmina Burana: Brandie Sutton (soprano), Joseph Tancredi (tenor), Ethan Vincent (baritone), Philadelphia Girls & Boys Choirs, Opera Philadelphia Chorus and Orchestra / Lina González-Granados (conductor). Opera Philadelphia, Academy of Music, Philadelphia, 5.2.2023. (RP)
This was a concert intended to showcase Opera Philadelphia's Chorus and Orchestra. And what better work to do so than Carl Orff's Carmina Burana, with its combination of soaring melodies, infectious rhythms and bawdy lyrics. Carmina Burana is a crowd pleaser – a full-house at the Academy of Music attested to that – full of visceral musical thrills, and this performance delivered them all.
The company debuts of soprano Brandie Sutton, baritone Ethan Vincent and conductor Lina González-Granados added to the excitement. There was also the drama of a last-minute substitute, with tenor Joseph Tancredi, a student at the nearby Curtis Institute of Music, replacing the indisposed Alasdair Kent.
The concert opened with Margaret Bonds's setting of American civil-rights advocate W.E.B. DuBois's 1904 prose poem Credo for soprano and baritone soloists, mixed chorus and orchestra. The DuBois manifesto on racial equality is one of the great American civil-rights texts, generally ranked second only to Dr Martin Luther King Jr's 'I Have a Dream' speech.
This was savvy programming as DuBois had strong ties to this city. While a paid researcher at the University of Pennsylvania, he did research for his landmark study, The Philadelphia Negro. Published in 1899, it was the first case study of a black community in the United States.
Most opera lovers know of Bonds for her arrangement of spirituals for soprano Leontyne Price, but she was a prolific composer. Her friendship and collaboration with Langston Hughes, whom she met in 1936, led to some of her most important works. Bonds's music has seen a resurgence in recent years, as the repertoire expands to include works by composers overlooked due to gender and race.
Even by 1960s standards, Bonds employed a somewhat conservative classical style in Credo. The music that she composed for the soloists and orchestra is proficient, but she invested her soul in the spacious and richly-colored choral writing. The Opera Chorus, prepared by Elizabeth Braden, sang with majesty and honesty.
Hedonism, not social messaging, is at the heart of Orff's Carmina Burana. His imagination was sparked by a collection of medieval poetry that had been discovered in a Bavarian monastery a century earlier. The verses celebrate the desires of the flesh, which Orff captured in music that is at times raucous and at others transcendent.
González-Granados, the resident conductor of the LA Opera, is no stranger to audiences here as she was a Conducting Fellow of the Philadelphia Orchestra. She counts Yannick Nézet-Séguin, whose contract with the orchestra has just been extended through 2030, as one of her mentors. In both Credo and Carmina Burana, González-Granados crafted performances that were as fulfilling emotionally as they were musically.
Brandie Sutton's luscious lyric soprano spun Orff's melodies with astonishing ease. Her high notes, whether ringing out at full volume or floating effortlessly like a cloud, were ravishing. The sensuous vocalise in 'Dulcissime' was topped by a glorious high B.
Orff's music for the baritone is equally high-flying, and Ethan Vincent met it head on. His vivid stage presence lent as much drama to the music as did his voice. Sparks flew when he sang of the villainous Abbot of Cockaigne, and hearts melted when he sang of romance.
Many a tenor's goose has been cooked in Orff's 'Olim lacus colueram', but Tancredi soared skyward with his wings unsinged. His nonchalant pose mirrored the ease with which he negotiated the aria's high tessitura. (Of course, the fowl of which he sang is a roast swan lying on a platter.)
The Philadelphia Girls & Boys Choirs, standing in boxes on either side of the stage, looked almost angelic with voices just as pure. Orff was not one to stint on piling one sonic thrill on top of another.
On stage, rather than submerged in the pit, the Philadelphia Opera Orchestra was center stage. Under González-Granados's baton, they played with lightness, transparency and nuance. None of the excitement was missing, but this was a subtle reading of Orff's score.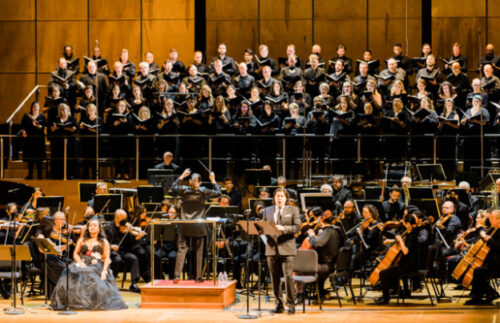 The Opera Chorus, however, was the star of this show. They sang with a menacing force in the opening chorus, 'O Fortuna', extolling a cruel goddess who brings pleasure and suffering in equal measure. The men's diction was exemplary in both 'In taberna quando sumus' and 'Si puer cum puellula'. When divided into double choirs, there was no diminishment of volume or depth of tone.
Carmina Burana climaxes with a radiant outpouring of praise to Venus, the goddess of love and beauty, that rang out gloriously. In a heartbeat, the chorus again sang of the malevolent wheel of fate that dashes the hopes of all, ending the performance with a sonic punch to the gut. Just as it should.
Rick Perdian