United Kingdom Mozart, Don Giovanni (concert performance): Soloists, Chorus and Orchestra of Saffron Opera Group / Michael Thorne (conductor). Saffron Hall, 19.2.2023. (KB)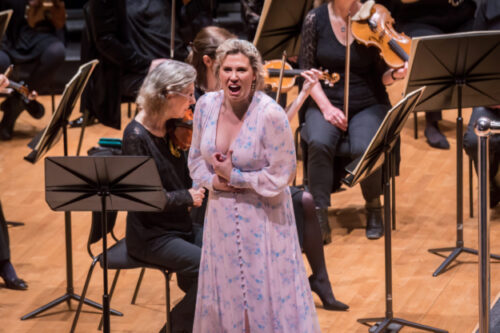 Charles Rice – Don Giovanni
Charlie Drummond – Donna Anna
William Morgan – Don Ottavio
Alexandra Lowe – Donna Elvira
Nicholas Crawley – Leporello
Natalie Montakhab – Zerlina
Frederick Long – Masetto
Julian Close – Commendatore
The Saffron Opera Group, currently celebrating its tenth anniversary, began marking the occasion with this concert performance of Don Giovanni at Saffron Hall, a venue whose bright, resonant acoustic is as grateful to singing voices as it is to instrumentalists.
In an era where it is becoming standard practice to adopt brisk, 'period instrument' speeds for Mozart, it was a rarity to hear maestro Michael Thorne and the Saffron Opera Group Orchestra take the overture at such a stately, measured pace. I welcomed it: it may be heresy to say so, but I feel that a maestoso brings out the sheer blood-curdling horror of the music in a way that a brisker, 'early music' rendition does not. I was less happy that the slow, measured approach extended to some other areas of the score where it would be better to push on, but the Act I finale fairly crackled. While it was not possible to separate out the players for the three dances, the scene worked its usual magic, and in Act II the Commendatore and his three trombones resided on the balcony above the stage, where they sounded wonderfully eerie.
In common with the Saffron Opera Group's previous presentations, this was an 'on book' concert, but with plenty of interaction and character-building. The fact that the conductor was not easily visible to the singers, most of whom were performing their roles for the first time, may have accounted for a few brief disconnects between the singers and players.
The leading duo worked up a great partnership. Charles Rice's wily, smiling, irresponsibly sexy charmer of a Don Giovanni sang with beautifully assured, golden tone, exuded sexual magnetism and reflected acutely all Giovanni's reactions to those around him. Nicholas Crawley's febrile, notebook-wielding Leporello was a ball of angry energy who radiated rage and delight in equal measure (for all his grumbling, Leporello would never have stayed with Giovanni for so long if he didn't enjoy what they got up to). Both are baritones, but their voices are sufficiently different in timbre to be easily distinguishable. That made their Act II scenes in disguise especially delicious, as they impersonated one another's distinctive voices and visual tics with wicked accuracy.
The three ladies were beautifully contrasted. Alexandra Lowe has won golden opinions for her work with the Royal Opera, and her singing and acting as Donna Elvira demonstrated that she is already in charge of the role. Mi Tradi was magnificent and fairly stopped the show. In a lovely floral gown, she resembled a rejected bride, except when disguised as a masquerader, when she was dressed to kill in a black sequined gown revealing her leg (Look, Don Giovanni, this is what you're missing!). She brought out the facets of Elvira's complex personality, raging at her betrayer, trying to hide her hurt behind scornful laughter during Madamina until she had to turn away to hide her pain, impatient with Donna Anna's fears, ready to kill Leporello with her bare hands on learning of her having been deceived in Act II. She carried a score, but rarely needed to use it. A star turn. Charlie Drummond, who has done much excellent work with Scottish Opera, showed an admirable command of Donna Anna's difficult music, sailing through the tricky passages at the end of Non mi dir which has caught out many a more experienced soprano, and emphasised both the character's vulnerability and her emotional isolation.
Natalie Montakhab was a sweet, fresh-voiced, roguish Zerlina who never left the audience in any doubt that her primary allegiance was to Frederick Long's likeable, honest Masetto – the little glances they exchanged were quite adorable, speaking of the deep affection between the two which Don Giovanni disturbed but ultimately could not break. William Morgan was a grandstanding Don Ottavio who proclaimed his arias as though he were Cavaradossi. A little restraint might have been welcome: Mozart is not Puccini. Julian Close, an experienced Fafner and soon to sing Hagen for Longborough Festival Opera, was in a class of his own as the Commendatore. His voice is so resonant that he sounds as though he is wearing a microphone when he isn't. He thundered forth the statue's pronouncements with apocalyptic power and owned the platform whenever he was on it.
The Saffron Opera Group's chorus had a dual personality: on the platform in Act I they were genial wedding guests, but in Act II they retreated to the rear of the auditorium, where their voices echoed spookily over the heads of the startled audience as Don Giovanni was dragged to Hell.
For this September's presentation, Saffron Opera Group will take a break from their usual Wagner to perform Der Rosenkavalier. A mouthwatering prospect.
Katie Barnes