Hungary Bach, St Matthew Passion, BWV 244: János Szerekován (tenor, Evangelist), other soloists, children's choir, Lutherania Chorus, Lutherania Orchestra, Budapest Strings Chamber Orchestra / Dr Salamon Kamp (conductor). Deák Square Lutheran church, Budapest, 2.4.2023. (AK)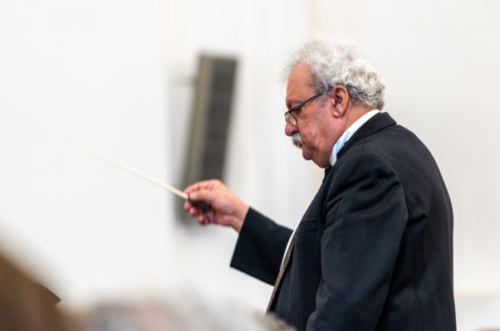 First performed within a Good Friday church service on 11th April 1727 at the Leipzig Thomaskirche, Bach's St Matthew Passion has entered the concert repertoire a hundred years later after Mendelssohn's discovery and revival of the composition.
Not only does the text (by Christian Friedrich Henrici, known at the time as Picander) tell the story of Jesus's death, but it is written in mind with the crucial event in the Lutheran calendar. Thus, the Passion assumes a sermon in the middle, delivered between Parts One and Two of Bach's monumental oratorio.
Attending the performance of the St Matthew Passion in the Deák Square Lutheran church, Budapest, on Psalm Sunday (2nd April 2023) felt like being transferred back to Bach and his forces three hundred years earlier. Attendance was free, there was no applause at the request of the priest, and instead of a break between Part One and Two we had a moving sermon. Despite not being Lutheran (or of any other religion), I felt fully integrated in the drama which unfolded with clarity, logic, and integrity. I do not know if the Lord's Prayer ('Our Father, Who Art in Heaven …') was part of the performances which Bach presided over. But I do know that, on this Psalm Sunday, standing and reciting the Lord's Prayer with the priest and the audience immediately after the Evangelist announced Jesus's death, facilitated integration into the drama and history. No concert performance can offer opportunities for such sublimation.
Conductor Salamon Kamp has spent a lifetime studying Bach. Judging by other of his performances which I was privileged to witness, Kamp reveres Bach with utmost dedication. He directs his Lutheran choral group (as well as orchestra and soloists) more as an inspired advisor than a conductor. He does, of course, conduct the performances but he seems to be more interested in delivering Bach's music to as near to perfection as possible, rather than presenting himself as the maestro of a performance. Elsewhere people discuss X's and Y's Bach; here Bach is in the forefront, Kamp does not seek the limelight.
Kamp is very economical with his conducting gestures, often directs only with his right hand. Nevertheless – or perhaps because of it – he achieves rock solid rhythm which serves as the basis for the multi-layered musical expression throughout the performance.
Kamp's chorus is an amateur group, they all sing because of their love for Bach and their respect for Kamp. Their dedication is paired with utmost professionalism, setting a shining example of how to cope with long performances. The St Matthew Passion without any break and with a sermon in the middle is an over three-hour event requiring discipline: Kamp's forces had it.
The space in the Deák Square church is limited but we did have the double choir (including a mixed children's choir for the opening and closing choruses in Part One), double orchestra and all soloists as required by Bach. The size of the orchestras might have been smaller (or larger) than in some performances led by Bach who often changed instrumentation according to available facilities. However, the musical material in surviving autographs (1736, with some revision in 1740s) was presented – via the Bärenreiter Urtext edition – with credibility and full emotional impact.
Kamp's tempi are dignified, evidently taking into consideration not only the musical and textual material but also the acoustics of the venue. Dynamics are applied with full attention to detail as well as to the overarching tension of the drama. The hushed pianissimo throughout the second verse of the choral 'O Haupt voll Blut und Wunden' (63 BWV / 54 NBA) drew attention to detail of the drama which otherwise might have gone unnoticed. The unusual but beautiful slow tempo of the choral 'Wenn ich einmal soll scheiden' (72 BWV / 62 NBA), immediately after we all recited the Lord's Prayer on Jesus's death, was a deeply moving tribute to Jesus and Johann Sebastian Bach.
Kamp's soloists follow the ethics which govern Kamp's engagement with Bach's music. Mezzo-soprano Kornélia Bakos is an experienced opera singer blessed with a big voice; here she controlled the operatic instinct to over-project and delivered her alto arias without unnecessary vibrato and with utmost beauty. Tenor János Szerekován recited the Evangelist's narrative with an astonishing range of dynamics and tonal colours, crystal clear diction and with full understanding of the function of the narrator: he was telling the story without becoming part of it: this was a masterclass to all Evangelists, world-famous or not.
Instrumental soloists also provided excellent contributions. In her violin solo to the alto aria 'Erbarme dich' (47 BWV / 39 NBA), Gabriella Nagy Takácsné delivered baroque bowing style with her modern bow on her modern violin and created heartfelt beauty. Utmost musicality was the essence of Veronika Oross's flute solo in the soprano aria 'Aus Liebe' (58 BWV / 49 NBA), while mention also must be made of excellent contributions by Andrea Fenyvesi (violin soloist in the bass aria 'Gebt mir meinen Jesum wieder!', 51 BWV / 42 NBA) and Júlia Regős (viola da gamba soloist: 'Geduld' 41 BWV / 35 NBA and 'Komm, süsses Kreuz' 66 BWV / 57 NBA). Cellist Bálint Maróth provided the important continuo line with excellence.
Kamp and his forces performed St Matthew Passion, again in the Deák Square Lutheran church, six days after the performance described above. The solo singers and concert master were not identical – although tenor János Szerekován was the Evangelist in both performances – but there is an opportunity to hear this later 8th April 2023 performance (without the sermon in the middle and without the Lord's Prayer recited by all present in the church) click here. Enjoy.
Agnes Kory