Chelsea Opera Group present Mozart's La clemenza di Tito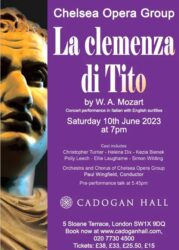 One of Mozart's last works, reputedly written in 18 days to mark the crowning in Prague in 1791 of Leopold II as King of Bohemia. The action is set in Rome in the time of the emperor Titus who ruled from AD 79-81. The story is one of intrigue, jealousy and violence and celebrates the emperor's capacity to show forgiveness and mercy to those who wish to kill him.
Critics have not always been kind to this opera, finding its opera seria form constricting, but it has recently returned to favour and has a place in the schedules of the world's major opera houses.
Coming a few weeks after the coronation of HM King Charles III in London, Chelsea Opera Group's performance offers an opportunity to hear Mozart's genius at work in celebration of a coronation over 200 years ago.
A concert performance in Italian with English subtitles.
Pre performance talk at 5.45pm for ticket holders.
Saturday 10th June at 7pm at the Cadogan Hall, London.
For how to book tickets and for more information on COG click here.
Cast:
Tito Vespasian – Christopher Turner
Vitellia – Helena Dix
Kezia Bienek – Sesto
Ellie Laugharne – Servilia
Publio – Simon Wilding
Chelsea Opera Orchestra
Chelsea Opera Chorus
Conductor – Paul Wingfield