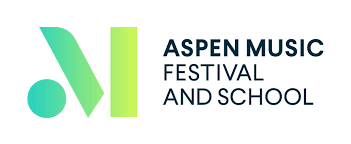 United States Aspen Music Festival 2023 [3]: Harris Hall and Wheeler Opera House, Aspen, Colorado. (HS)
Conductor Nicholas McGegan has been programming evenings of Baroque music for years at the Aspen Music Festival, usually with the idea of juxtaposing various composers from the era. This year's effort, focused on J. S. Bach, culminated in a truly satisfying Magnificat that employed a student orchestra and a raft of singers from the festival's vocal arts program.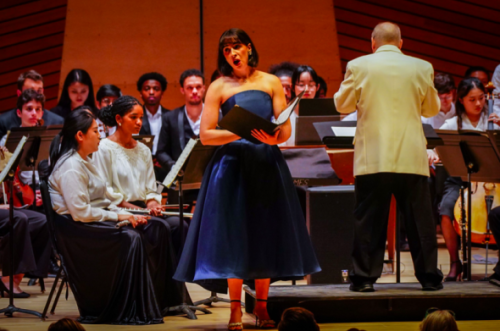 The joyful, 30-minute cantata benefited from McGegan's vivid leadership, drawing lively playing from the orchestra (especially a tangy trio of trumpets up-top sonically), and golden-voiced singing from five personality-rich soloists. The women's trio of soprano Kresley Figueroa and mezzos Adja Thomas and Hannah Shea created a moment of lyrical bliss in the penultimate aria.
Bass Griffen Tracy and tenor Michael McDermott handled their assigned arias with panache, and the chorus of singers (on the cusp of their careers as soloists) forged a sense of unanimity in the ad-hoc ensemble, well-trained by the opera conductor Patrick Summers (who co-helms the voice program here).
Along the way, pianist Awadagin Pratt (a Naumberg competition winner in the 1990s) introduced some very different musical language that struck me as at-odds with Bach. First came Jessie Montgomery's twenty-first-century Rounds, a rondo-form work that spun whirligigs of sound into a startling fifteen minutes but made an uncomfortable fit with the rest of the program.
Some of that flavor, louder and more raucous than what we usually hear in Baroque music, also found its way into Pratt's interpretation of Bach's Keyboard Concerto in A major. Though Pratt can blaze his way through the rapid rhythms with formidable technique, he seemed unconcerned about channeling the music's refinement, often pounding away. I wonder what Bach might have thought.
Just as exuberant, but more elegant, was violinist Bing Wang's effort as the soloist in Bach's Sinfonia in D. The six-minute piece, long lost and only recently given an ending at McGegan's behest, made for an invigorating opener.
After his stellar performance in Ravel's Piano Concerto in G last Sunday, Inon Barnatan returned for a recital on Wednesday to play his own transcription of the piece that concluded Sunday's program, Rachmaninoff's Symphonic Dances. While a piano cannot match the vivid orchestral panorama, it can produce colors of its own, and does so in this transcription.
As Liszt did effectively in his creative transcriptions of music from Wagner's operas in the nineteenth century, Barnatan gives us his insights into what matters. Both composers can choose to highlight different melodic building blocks than we hear in the concert hall, and added piano flourishes can accentuate other elements.
Barnatan based his transcription on a low-fi recording of Sergei's own run-through for Eugene Ormandy before the premiere in 1940, to show the conductor how the composer wanted it to go. He also checked in on Rachmaninoff's own transcription of the Symphonic Dances for two pianos, first performed with Vladimir Horowitz at a party in Beverly Hills two years after the premiere, and closely followed voicings and details of the symphonic score.
The new single-piano version may not be as broad-beamed in the climaxes as the two-piano version, but it was exciting to hear, and Barnatan played it well. Even better was the encore, Schubert's Impromptu in G-flat. Not so good was Schubert's Sonata in A major, which began the evening, too rough around the edges to execute the pianist's clearly deep understanding of the score.
The annual joint venture between the music festival and Theatre Aspen mounted two performances of Terrence McNally's Master Class in the Wheeler Opera House. The play centers on Maria Callas, the opera diva of the twentieth century, taking out her pent-up emotional issues on three vocal students. Most effective was the singing by members of the opera and voice program. Soprano Marissa Moultrie rose to the occasion to deliver thrilling Verdi moments in Lady Macbeth's entrance aria, and Joseph Tancredi unleashed some serious tenor bravado in 'Recondita armonia' from Puccini's Tosca.
As a piece of voice work, Phylicia Rashad did well in portraying this outsized character, but she acted virtually the entire role with book in hand and eyes too often on the script. This kept us once removed from feeling that we might be eavesdropping on a real master class.
Harvey Steiman
9.7.2023: Terrence McNally, Master Class. Wheeler Opera House
Director – Joanna Gleason
Maria Callas – Phylicia Rashad
Singers – Anna Thompson, Marissa Moultrie (sopranos), Joseph Tancredi (tenor)
Pianist – Rhys Burgess
12.7.2023: Recital: Inon Barnatan (piano). Harris Hall
Schubert – Piano Sonata in A major
Rachmaninoff/Barnatan – Symphonic Dances
13.7.2023: A Baroque Evening: Awadagin Pratt (piano), Bing Wang (violin), Kresley Figueroa (soprano), Adja Thomas, Hannah Shea (mezzo-sopranos), Michael McDermott (tenor), Griffen Tracy (bass), Aspen Symphonic Ensemble / Nicholas McGegan (conductor), Aspen Opera Theatre and Vocal Arts chorus / Patrick Summers (director). Harris Hall
J. S. Bach – Sinfonia in D major, BWV 1045, Bing Wang (violin); Keyboard Concerto in A major, BWV 1055, Awadagin Pratt (piano); Magnificat in D major, BWV 243
Jessie Montgomery – Rounds for piano and string orchestra, Pratt