United Kingdom Prom 20 – Hermann, Korngold, Prokofiev: Vadim Gluzman (violin), BBC Symphony Orchestra / Gustavo Gimeno (conductor). Royal Albert Hall, London, 30.7.2023. (JC)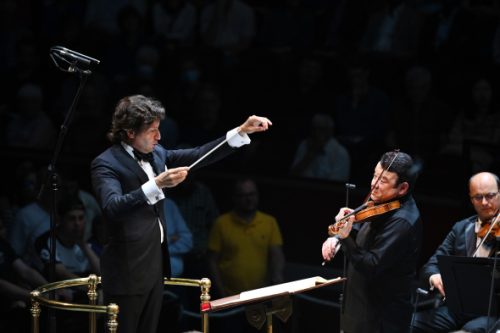 Bernard Hermann – Vertigo – suite
Korngold – Violin Concerto in D major
Prokofiev – Symphony No.3 in C minor
Prom 20 was a dazzling showcase of larger-than-life brushes of romanticism, racy virtuosity and brusque rhythmic rigour that kept us on the edge of our seats the whole time.
The towering Gustavo Gimeno was making his Proms debut with the BBC Symphony Orchestra and showed clearly from the very beginning that he was in full command of the orchestra with his broad yet exact strokes. Under his direction the orchestra produced a big sound in the suite arranged by composer Bernard Herrmann from Vertigo (directed by Alfred Hitchcock and released in 1958), heralding a night which would allow for no meditative silence, only emotions and power of the grandest kind. Quite frankly, the richness and substantiality of the Hermann suite is dwarfed by the pieces which followed in the programme, but the theme of Hollywood it introduces allowed for a pleasant segue into the Korngold Violin Concerto, a beautiful piece ringing with over-the-top romanticism and — you will pardon me — slightly corny and ringarde sentiment.
Yet Vadim Gluzman made the listening experience thoroughly enjoyable by never being overly indulgent. What he had was a beautiful and rich sound that projected through the orchestra like a beam of light, and that alone was mesmerising enough. He took us on a journey by giving a clear direction of where the long lines of melody were headed towards. Nor did he neglect the entertainer/showman quality in the performer that the finale of the concerto demands; his playing was quirky and fun-loving while remaining perfectly balanced and flawless. People were bobbing their heads and following along with great joy. At times it seemed that Gluzman – who it seemed knows the concerto like the back of his violin-playing hand – was leading the orchestra himself, giving the violins a wink, daring them to go a little bit faster and match his speed. It was only a shame that the orchestra at times struggled with keeping up, or else there would have been a much more spectacular bang at the very end of the performance.
For me the highlight of the night was Prokofiev's Third Symphony after the interval. The performance revealed Gustavo's absolute command of the orchestra. From start to finish there was not a dull moment, and thirty-four action-packed minutes flew by. Gustavo's energetic beating instilled great rhythmic vitality into the orchestra, and he demonstrated his thorough knowledge of the score by bringing out clearly all the musical elements and ideas which combine to make the dark, tumultuous maelstrom that is so characteristic of Prokofiev's music composed in 1928 at the height of his Parisian fame. Credit must also be given to the BBC SO's percussion and brass section for wreaking such havoc in the great Royal Albert Hall.
Jeremy Chan