United Kingdom Edinburgh International Festival 2023 [3] – Handel: Iestyn Davies (countertenor), Jupiter Ensemble / Thomas Dunford (director/lute). Queen's Hall, Edinburgh, 7.8.2023. (SRT)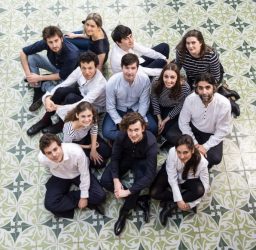 Arias and instrumental movements from Theodora, The Choice of Hercules, Saul, The Triumph of Time and Truth, Belshazzar, Terpsichore, Semele
It is the announcement that no manager wants to give and that no audience member wants to hear. As the lights went down at the start of this Queen's Hall recital, the Edinburgh International Festival's Head of Music, Andrew Moore, stepped out on stage with microphone in hand to give the news that Iestyn Davies, the concert's star countertenor, had awoken that morning with 'very little voice'. He had warmed up and would persevere, however, so the audience's disappointed groans turned to encouraging cheers as Davies and the musicians of the Jupiter Ensemble trooped onstage to perform music that mostly featured in their recent album Eternal Heaven.
In truth, Davies still sounded fantastic. The illness warning was no doubt true, but most singers would kill to still sound so good when sick. There might have been a tiny touch of dryness in his lower register, and perhaps some aspects of his coloratura were a little fuzzy, but I doubt I would have noticed if I hadn't been pre-warned. The upper part of his voice sounded as though it was still in excellent shape, and the ringing, ethereal cleanness that is his trademark was still shining brightly.
There was a little judicious rearrangement of the programme to accommodate Davies taking some extra breaks but, as it happened, the repertoire was mostly pretty well set up to demonstrate both the relaxed and vigorous components of his voice by turn. The opening of Eternal Source of Light Divine unfolded slowly and beautifully, as did Hercules's 'Yet can I hear that dulcet lay'. Elsewhere, however, there was vigour and excitement in Semele's 'Despair no more shall wound me' and Theodora's 'Kind Heaven.'
He was ably partnered by the seven musicians of the Jupiter Ensemble, who often seemed to be buoying him up with sheer good will. The choice of programme gave them plenty of opportunities to shine, too, most excitingly in a series of dance movements from Terpsichore, but also in their terrifically agile accompaniment to Theodora's 'The Raptur'd Soul' or in the soft purling that accompanied two movements from The Triumph of Time and Truth. They also played a beautiful reworking of the Sarabande made famous in many a movie and tv soundtrack, here full of filigree delicacy and airy lightness, with no excess weight whatsoever.
I wasn't convinced by their playful encore, which seemed to be more for them than for us, and why on earth was Davies singing one anyway if he wasn't well?! Before that, however, the official programme ended with both ensemble and singer giving a beautiful rendition of Saul's 'O Lord, whose mercies numberless', a Davies speciality that still sounded sensational. His performance as David in the full oratorio was one of the highlights of last year's festival. Even when he is unwell, his singing of it here was a forceful reminder of why.
Simon Thompson
The Edinburgh International Festival runs at venues across the city until Sunday 27th August click here for details.