United States Various, 'Songs & Spirituals': Joseph Parrish (bass-baritone), Francesco Barfoed (piano). Death of Classical, Church of the Intercession, New York, 3.10.2023. (RP)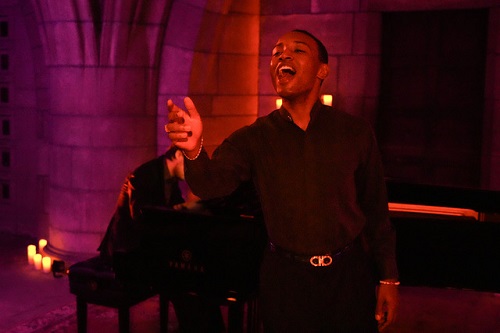 Bob Telson – 'Calling You'
H. T. Burleigh – 'Elysium'; 'Her Eyes Twin Pools'; 'You asked me if I love you'; 'The Glory of the Day was in Her Face'
Liszt – 'Es muss ein Wunderbares sein'
Brahms – 'Unbewegte laue Luft'
Charles Brown – 'A Song without Words'
Moses Hogan – 'My Good Lord's Done Been Here'; 'Deep River'
Hal Johnson – 'City Called Heaven'
Mahler – 'Urlicht'; 'Ich bin der Welt abhanden gekommen'
Death of Classical is a catchy name for the concert series curated by Andrew Ousley, but it is a misnomer. He isn't focused on burying classical music, but rather on the rebirth, regeneration and reinvention of the way classical music is presented. It does, however, fit to a tee his penchant for presenting concerts and operas in catacombs, crypts and cemeteries.
Intriguing locations are not the only hook to draw an audience, however: there are also some light snacks, a glass of wine and even cookies to ease one into the experience. It is not so different from how classical music was enjoyed by aristocrats and people in their homes in bygone days, before solemn, ritual-laden events in grand venues became the norm.
For this concert, bass-baritone Joseph Parrish and pianist Francesco Barfoed performed in the candle-lit crypt of the Church of the Intercession in Upper Manhattan. The church was designed in the Neo-Gothic style by Bertram Goodhue and built in the early twentieth century. Goodhue considered the church to be his finest achievement and requested that be buried here. He rests above ground in the church, however, not in the its resonant crypt.
Ambience is important, but Death of Classical's real focus is on the music, and it struck gold with Parrish and Barfoed. I first heard both artists in Renée Fleming's SongStudio at Carnegie Hall in 2022, although they were not performing as a team then. You just knew that these two exciting musicians, both students at The Juilliard School, were the real thing. Since then, they have both gone on to win the prestigious Young Concert Artists International Auditions, among other honors.
Parrish is one of this new, exciting generation of singers who ignore the distinction between pop and classical. He is a connoisseur of song who can spin vocal gold from Bob Telson's 'Calling You' from the film Bagdad Cafe, as readily as Liszt's 'Es muss ein Wunderbares sein', and the same is true for Barfoed at the piano. The artists are real entertainers with very different personal styles, whose charisma and love of song are ever present.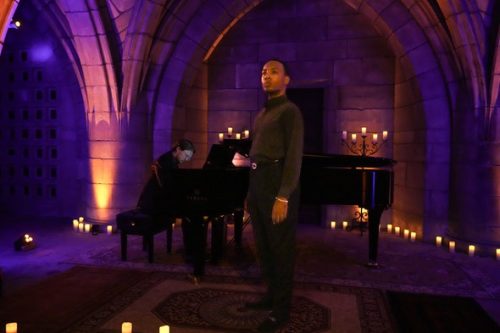 They performed songs which deal with the big themes of life, namely love, faith and death. It was a journey that began with Parrish accompanying himself at the piano in 'Calling You' and ended with a sublime performance by singer and pianist of Mahler's 'Ich bin der Welt abhanden gekommen'. In between, there were some forgotten treasures to enjoy.
A hundred or so years ago, songs by Henry T. Burleigh, America's first prominent Black composer, were enormously popular. World-famous singers such as tenor John McCormick regularly programed them. Burleigh, a singer as well as a composer, performed before King Edward VII in London in 1908, and later coached other African-American singers who went on to international fame, such as Roland Hayes, Marian Anderson and Paul Robeson.
Burleigh's songs, like those of so many early-twentieth-century American composers, fell out of style. Parrish's stylish singing in Burleigh's setting of poems by James Weldon Johnson, a key figure of the Harlem Renaissance, demonstrated why they were once so popular. The lush, melody-laden love songs were easy on the ear, especially when performed with the singular smoothness and style that Parrish brings to it.
Brahms's 'Unbewegte laue Luft' and Charles Samuel Brown's 'A Song Without Words' came in the middle of the recital. The two works were composed roughly a century apart, but Parrish and Barfoed showed that they were cut from the same musical cloth. What Brahms expressed in languid chromaticism, Brown did in a bluesier style. Parrish simply stitched them together with his seamless legato phrasing and gorgeous sound.
That same approach led to a grouping of songs as different as Mahler's 'Urlicht' and Hal Johnson's 'City Called Heaven'. The musical language may differ, but the words and music point in the same direction. It is a connection that comes easily to Parrish, who told the audience that he was the son of a preacher.
Again accompanying himself on the piano, Parrish sang two encores, the hymn 'Great is Thy faithfulness' and Leon Russel's 'A Song for You'. He explained that he favored Donny Hathaway's version of the latter with its emphasis on melody and meaning. Maybe so, but Parrish made it his own.
Rick Perdian