United Kingdom Gilbert & Sullivan: The Pirates of Penzance: Gilbert & Sullivan Touring Company, The Plaza Theatre, Stockport, 9.7.2014. (RJW)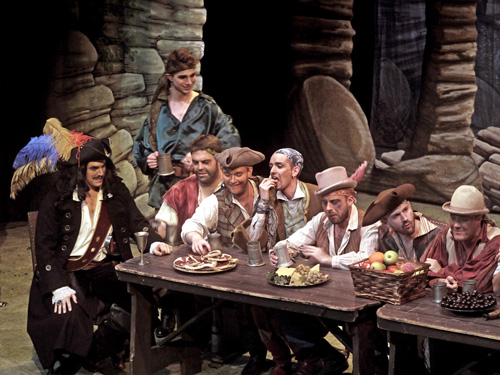 Cast
Major-General Stanley: Richard Gauntlett
The Pirate King: John Savournin
Samuel: Matthew Kellett
Frederic: Nick Allen
Sergeant of Police: Bruce Graham
Mabel: Elinor Moran
Ruth:  Sylvia Clarke
Edith:  Cáitlin Burke
Kate: Nichula Jolley
Isabel: Ruth Betteridge
Production
Choreographer: Damian Czarnecki
Conductors: David Stedman
Director: John Savournin
This week an opportunity was given to those who have attended the Buxton Gilbert & Sullivan Festival to see their locally supported professional company without going over to Harrogate where the Festival is based this year.
The magnificently restored Plaza Theatre, built in the heyday of cinema 'palaces' (1933) has a wide auditorium with similarities to London's Coliseum but with little room for a 20 piece orchestra.
The wide acoustic helped the magnificently played overture with an adapted opening. The Festival Orchestra, leader Sally Robinson, has built up a formidable reputation over the years for its quality musicians and accurate playing: here they don't disappoint. John Savournin's production, seen for the first time last year at Buxton, outshines last year's Scottish Opera/D'Oyly Carte production. Its choreography and slick timing in this polished performance is as fresh as ever.
Principals are reliably strong and Mabel delighted with her soaring top notes in Poor Wand'ring One and both finales. Major General Stanley's balletic moves to Sighing Softly were made more comic by their subtlety. The chorus, given individual identities (as Gilbert had always intended), made for interesting watching. The exaggerated clumsy actions of the girls, however, were too slapstick for my liking, yet the exaggerated gasps and sarcastic retorts of the men (echoing Monty Python perhaps) worked well and added a comic touch. The Cornish accents of Samuel and the Sergeant added extra colour and an air of authenticity to the setting.
Clearly, the constraints of travel demanded a simplified set for Act I, but this might have been added to by some varied lighting changes other than the effect used for a quick 'mood' change. One of the nice touches was the appearance of a Debretts from which Stanley was able to match the Pirate King to his entry in the tome. Good stage business takes place whenever the Pirate King and Stanley meet, one saluting while the other proffers a handshake. The scene between the Pirate King, Frederic and Ruth was meaningful and convincingly acted.
I continue to be amazed by the many interpretations that can be provided from Gilbert's libretto in the productions of The Pirates that span so many generations of theatre-goers.
Raymond J Walker