United States Mostly Mozart (3): Haydn, Mozart: Emerson String Quartet, Martin Fröst (clarinet), Alice Tully Hall, Lincoln Center, New York , 14.8.2014 (SSM)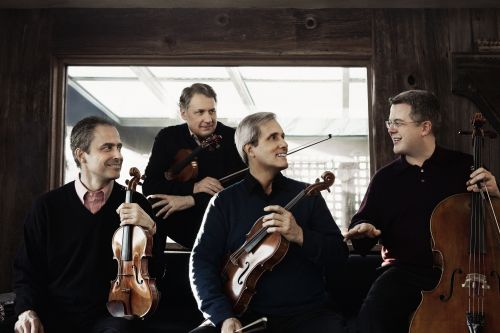 Emerson String Quartet
Eugene Drucker (violin)
Philip Setzer (violin)
Lawrence Dutton (viola)
Paul Watkins (cello)

Haydn: String Quartet in G minor, Op. 20, No. 3 (1772)
Mozart: String Quartet in E-flat major, K.428 (1783)
Clarinet Quintet in A major, K.581 (1789)
Both the Emerson and the Juilliard are great string quartets and popular with New York concertgoers. The Juilliard, of course, has the home-town advantage by carrying the Juilliard School's name. It also has considerable seniority with a history that goes back 30 years further than the Emerson's. But David Finckel, the former cellist for the Emerson, has been a New York fixture since he and his wife, pianist Wu Han, took over artistic responsibility for the Chamber Music Society of Lincoln Center in 2004. His involvement in the New York and New Jersey music scene during this period has been substantial.
Last year saw Finckel's departure from the Emerson and the arrival of Paul Watkins as the quartet's cellist. It has been almost a year since Watkins first appeared with the group at the 2013 Mostly Mozart Festival. At that time, I praised his quick assimilation into the Emerson, no easy task for a newcomer filling the chair of Finckel whose departure was the first change ever to the group's makeup since its inception in 1976. Watkins certainly appeared at ease here, relishing the few times his instrument was scored to carry the prominent musical line.
As shining an example of great chamber music as the Emerson's first half of the concert was, it didn't come close to the second half, dedicated to Mozart's meltingly beautiful Clarinet Quintet. Like much music from Mozart's last years, this is one of his great transcendent works. Very little music can stand next to it and not come out seeming smaller. I grew up on a Benny Goodman recording done live from the 1956 Berkshire Festival, and I felt for many years that there was no  reason to listen to any other recording, so perfect did it seem. I was so enamored of this music that for years I took an unusually dissonant series of chords in the first Trio of the Minuet as having been written by Mozart. In point of fact, it was simply a defect in the recording. I realize now, of course, that although the music itself may be perfect, the performances (or recordings) may not be.
This particular interpretation by the Emerson and clarinetist Martin Fröst supersedes any other I can remember hearing over the years. I'm not sure how often Fröst has appeared with the Emerson, but they all seemed exceptionally at ease, playing with a fluid consonance and an empathic accord. Normally I'm fussy about the freedom performers take with a composer's tempo designation, but here their laid-back first movement tempo was nothing if not limpid, the musicians opting for clarity of line above all. There was no issue with contrasts between the playing of a noticeably slower first movement and a second movement which, unusually for Mozart, is designated Larghetto rather than Andante or Adagio. So poignant was the playing that I was little bothered by the continuous tête-à-tête going on in the row in front of me; I shut my eyes and focused intensely on the music, only snapping back at the end of the final movement to take in the most spontaneous and generous applause I have heard in quite some time. If it weren't for the fact that Fröst had to get to his next performance in the adjacent building, I'm sure that an encore would have been appreciated to quell the audience's fervor.
The two works that opened the recital were not in any way played less insightfully. The opus 20, No. 3 of Haydn was one of the composer's first quartets that could not easily take the label "Divertimento," a title given to some earlier quartets. This is music of substance meant to be listened to, not heard just as background music to a  royal dinner. It may not have the seriousness and darkness that animate Mozart's works in G minor such as the 40th symphony, the earlier 25th or the piano and string quintets; but it abounds in modulations, long rests, fermatas and soft endings, elements that would, in Haydn's later quartets and symphonies, add the idiosyncratic surprises that are his signature.
Mozart's E-Flat major, K. 428 is not an easy work to appreciate. As with the other string quartets in this group of six dedicated to Haydn, one hears a struggle going on, unusual for Mozart who, for the most part, had little difficulty composing. These works lack Mozart's easeful forward motion, their confident flow seemingly laden with additional weight. Although Haydn's appreciation of the quartets was effusive  ̶  he stated in a letter to Leopold Mozart that his son was the greatest composer he had ever met or had even heard of  ̶  Mozart, with his reworking of the pieces, may have felt he could do better. Whether this was simply a need Mozart had to be the best in whatever he did or some repressed paternal issues, I'd best leave to the experts.
Needless to say, the Emerson put all their prowess into every note, giving nothing that was not perfectly executed and much that will be remembered.
Stan Metzger