Italy Rossini Opera Festival (3):  L'Inganno Felice: Orchestra Sinfonica G Rossini, Conductor, Denis Vlasenko.  Stage Director, Graham Vick (his 1994 staging) with sets and costumes of Richard Hudson and Projections of Matthew Richardson.  Teatro Rossini, Pesaro 15.8.2015 (JB)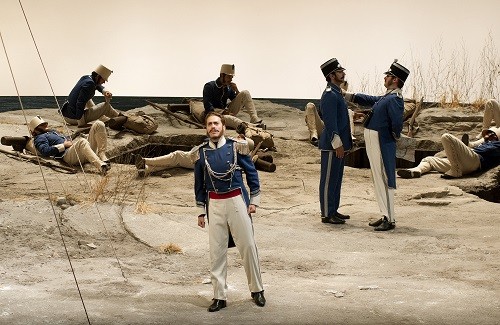 Cast:
Isabella: Mariangela Sicilia
Bertrando: Vassilis Kawawas
Ormondo: Giulio Mastrototaro
Tarabotto: Carlo Leppore
Batone: Davide Luciano
L'Inganno Felice (The Happy Deception) was called by Rossini una farsa in un atto (a one-act farce). Farsa  raises more questions than it solves.  And the questions tend to confuse rather than clarify the problems.  This is what happened at Graham Vick's 1994 ROF staging, herewith offered again.  You might, of course, argue that farce is all about confusion.  That is all very well up to a point.  But it is very easy to overstep that point.  What then happens is that all the fun  is taken out of the opera.  The evening becomes as heavy as lead.  And that, pretty well, is what has happened here.  Rossini without the fun?  Heaven preserve us.
Rossini scored an instant success with Inganno at the Venice San Moisè theatre in 1812.  He immediately received commissions to write three more operas for that theatre.  It's worth asking why he enjoyed this unqualified success.  Easy.  The music is nothing more and nothing less than a string of remarkably good arias with a couple of good ensembles thrown in.  But if you let the absurdities of the plot take over, the magnificence of the music escapes through an emergency exit you have unwittingly created.  Much as I normally admire Graham Vick, I also understand that he is not the right chap to follow this logic where the score is crying out to be treated as Music Hall with apt jokes woven into the ride.
I've read musicologists who claim that farsa  is a misconception here because of the librettist's semi-serious elements. How wrong-headed can you be?  The hour and a half of Inganno felt like six hours of Götterdammerung: never so much as a smile, never mind a laugh.
The young Russian conductor, Denis Vlasenko, sounded Wagnerian.  That may be farce in its own way but it is not Rossiniana.  I had better add that Vlasenko's tempi were mostly well chosen and many of the corners were neatly turned.
Carlo Lepore came closest to introducing aomw lightness into the show.  His Neapolitan spirit was perfect for Tarabotto, the boss of the miners.  The audience's appreciation of this comic relief was only too audible in Lepore's final curtain-call.
The Calabrian mezzo-soprano, Mariangela Sicilia, was woefully miscast as Isabella –as dull and flat as a pint of ale that got left out in the rain all night.
Varsilis Kawawas, the handsome young Greek tenor, well dressed in Richard Hudson's costume, had an impressive ringing voice in his cavatina, Qual tenero diletto.  He looked and sounded the role of the Duke Bertrando.  It was only the comedy that was missing in tonight's show.
Jack Buckley