United Kingdom Sir David Willcocks, CBE, MC. 30 December 1919 – 17 September 2015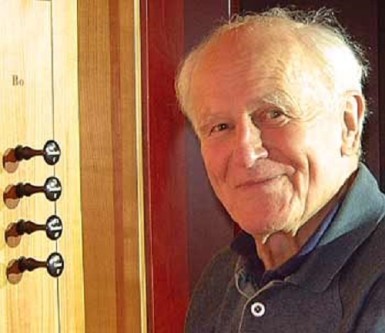 Sir David Willcocks, who has died at the age of 95, occupied a pre-eminent place in post-war British musical life, not least through his work with the choir of King's College, Cambridge.
The youngest of three sons, he was born in Newquay, Cornwall.  He soon showed a precocious musical talent and on the recommendation of Sir Walford Davies he became a chorister at Westminster Abbey (1929-1933). His education was completed at Clifton College, Bristol after which he studied at the Royal College of Music in London before becoming Organ Scholar at King's College, Cambridge in 1939.
His time in Cambridge was short lived, however; his studies there were soon interrupted by the outbreak of the Second World War though not before he had played the organ for the broadcast of the Festival of Nine Lessons and Carols on Christmas Eve, 1939.
Willcocks joined the army and was commissioned into the Duke of Cornwall's Light Infantry. He saw action, not least in the campaign that followed the D Day landings in June 1944. During the fighting in 1944 he was awarded the Military Cross, one of Britain's highest awards for bravery.
When his military service came to an end he returned to Cambridge to complete his degree. In 1947 he was appointed Organist and Master of the Choristers at Salisbury Cathedral to succeed Sir Walter Alcock. Though the cathedral choir was not, perhaps, in the best of shape in the aftermath of the war Salisbury Cathedral was and is a prominent English cathedral and this was a very significant appointment for a young musician with no previous experience of running the music at a cathedral or a similar institution.
It was not long before an even more prestigious job came his way. In 1950 he was appointed Organist and Director of Music at Worcester Cathedral in succession to Sir Ivor Atkins who had presided over Worcester Cathedral's music since 1897. With the appointment at Worcester came another important opening: involvement in the Three Choirs Festival. The Festival rotates annually between the cathedral cities of Gloucester, Hereford and Worcester and by long tradition the Director of Music at the host cathedral is Artistic Director.  Willcocks directed three Festivals – in 1951, 1954 and 1957 – and one of the landmarks was the commissioning of Vaughan Williams' Hodie for the 1954 Festival. Missa Sabrinensis by Howells was unveiled at the same festival. In 1982 Sir David conducted it in London to mark the composer's 90th birthday; I wonder if the BBC recording of that concert still exists. During his Worcester days Willcocks was also conductor of the City of Birmingham Choir and the Bradford Festival Chorus. He maintained the Bradford connection long after leaving Worcester (1956-1974) but relinquished the Birmingham post – to Meredith Davies – on leaving Worcester. His period with the Birmingham choir involved some typically adventurous programming including Tippett's A Child of our Time and, in 1952, the British première of Duruflé's Requiem. This was only five years after the composition of the work and the composer himself travelled to Birmingham and played the organ part in the performance.
In 1957 Willcocks moved from Worcester back to his alma mater, where the Organist and Director of Music at King's College, Cambridge, Boris Ord was in failing health. Willcocks soon succeeded Ord and he remained at King's until 1974. Though further important jobs were later to come his way it was his tenure at King's which sealed his reputation. The choir was already well-known through the annual broadcast of the Festival of Nine Lessons and Carols but Willcocks raised its standards and its profile immeasurably. Under his leadership the choir made a significant number of highly regarded recordings and also gave frequent concerts, both in the UK and abroad. Willcocks' successors, Sir Philip Ledger and Stephen Cleobury have done great work with the choir but there can be no doubt that Sir David was the architect of its international reputation.
While at King's Willcocks became Director of the Bach Choir, a position he held from 1960 to 1998. In 1974 he left King's and succeeded Sir Keith Falkner as Director of the Royal College of Music. He retired from the College in 1984 after a very successful tenure and he continued to lead a very full and active life as a conductor and composer for many years thereafter. Much in demand with choirs in the UK and abroad, he strongly encouraged amateur singers, not least through his involvement for many years with the Really Big Chorus events at the Royal Albert Hall.
As recently as 2010 he returned to King's to record with the College Choir a Priory disc of music by himself and others, including his composer son, Jonathan Willcocks. This project, organised by Stephen Cleobury, was undertaken to celebrate Willcocks' 90th birthday. The year before he had made the first recording of Vaughan Williams' Folk Songs of the Four Seasons.
Sir David has left an important legacy of recordings, both with the King's College choir and also with the Bach Choir. His 1967 recording of the Fauré Requiem has been a fixture in the catalogue for nearly five decades; one noteworthy feature is that the Pie Jesu solo is sung not by a soprano but by one of the King's trebles, Robert Chilcott, who is nowadays even better known as the composer, Bob Chilcott. Willcocks also made the first recordings of Howells' Hymnus Paradisi and Vaughan Williams' Hodie; neither recording has ever been surpassed. One recording that has given me particular pleasure over the years is the first – and so far only – recording of Parry's Ode on the Nativity. The choirs which he trained were much in demand for other recording projects, even if Sir David himself was not on the podium. Two notable examples of this both involved Benjamin Britten. The Bach Choir sang in the legendary first recording of War Requiem in 1963 while for Britten's 1971 recording of Elgar's The Dream of Gerontius the King's College choir made a significant impact as the semi-chorus. The King's choir also sang in some of the earliest recordings in the Leonhardt/Harnoncourt cycle of the Bach Cantatas.
But arguably the way in which Sir David's name is best known, and is likely to remain so, is through the work that he did to translate the fame of the Festival of Nine Lessons and Carols into everyday use through the celebrated series of books, Carols for Choirs. Willcocks edited the first volume – known to singers throughout the world as The Green Book – in 1961, a project on which he worked with Reginald Jacques. Its popularity led to Carols for Choirs 2 (1970) and Carols for Choirs 3 (1978). For both of these volumes Sir David's co-editor and –arranger was a certain John Rutter. It was typical of the way that Willcocks promoted young musicians throughout his life that his active encouragement led to the publication in 1967 of Nativity Carol, written while Rutter was still a Cambridge undergraduate. The rest, as they say, is history.
The Carols for Choirs series was so successful because it brought to amateur choirs to a then- unprecedented degree interesting and highly enjoyable arrangements of familiar carols as well as new material, all conveniently gathered together in single volumes. Sir David's own contributions have stood the test of time remarkably. One thinks of his skilful arrangements of such carols as Away in a manger, The First Nowell, God rest you merry, Gentlemen and the Sussex Carol. These are all memorable and just sound 'right'. But even more memorable are the descants to such Christmas hymns as O come, all ye faithful and Hark the herald angels sing; many choir members will know these arrangements by heart. And how many singers have heard or sung descants by others and have said to themselves, as I have: "Willcocks is still the best". It seems to me that these descants stand the test of time because they speak so directly to singers and listeners, decorating the hymn in a celebratory way but never overpowering the tune in a showy or florid way. The Willcocks era must have been a particularly thrilling time to be part of the King's choir. Bob Chilcott has recalled, for example his first encounter with Sir David's arrangement of Tomorrow shall be my dancing day:  "I can remember the manuscript on old photocopies and it was so exciting."
The wide respect and affection in which Sir David Willcocks was held was confirmed with the publication of A Life in Music. Conversations with Sir David Willcocks and Friends (2008), edited by William Owen. Many recollections in that volume by friends and fellow musicians not only attest to the very high musical standards which Willcocks espoused throughout his career but also speak of his unfailing kindness and generosity to others. Roy Massey, who was later the distinguished Director of Music at Hereford Cathedral, recalls receiving organ lessons from Willcocks when he was a young impecunious student. When he broached the subject of payment Sir David's response was: "Let's not bother about that. When I'm on the parish in my old age you can support me." Another example of his generosity is not included in that book but I relate it here with the permission of John Dickson, Director of Choral Studies and Barineau Professor of Choral Music at Louisiana State University.
In 1991 Sir David carried out a guest conducting engagement with John Dickson's Seminary Choir at the annual Church Music Institute at Southern Seminary in Louisville, Kentucky.  Over dinner Dickson happened to mention that he was planning a sabbatical in London, to which Willcocks replied, "Oh no, you want to live in Cambridge and commute to London!"  Willcocks offered his help but he left for home the next day and Prof. Dickson assumed that was the end of that. Not so. A couple of months later he received a telephone call from Sir David. Not only had he instigated the award to Dickson of a Visiting Fellowship at Wolfson College, Cambridge but he and Lady Willcocks were taking active steps to help him find accommodation in Cambridge and school places for his sons. As Prof Dickson puts it: "All of this from a man I had only known for two days! He taught me a lot about taking time to encourage and help others – no matter how busy, or important you may be." Unsurprisingly, a lifelong friendship resulted.
Sir David Willcocks' achievements were recognized with the award of a CBE in 1971 followed by his knighthood in 1977. He is survived by Lady Rachel Willcocks, who he married in 1947, and by three of their four children.
It's appropriate to conclude with the judgement of Stephen Cleobury, the present Director of Music at King's College. In the William Owen book, previously cited, he describes Sir David as "a consummate musician and a genuine and warm-hearted person."