United Kingdom Verdi, The Force of Destiny: Soloists, Chorus and Orchestra of English National Opera / Mark Wigglesworth (conductor). London Coliseum, London. 9.11.2015. (JPr)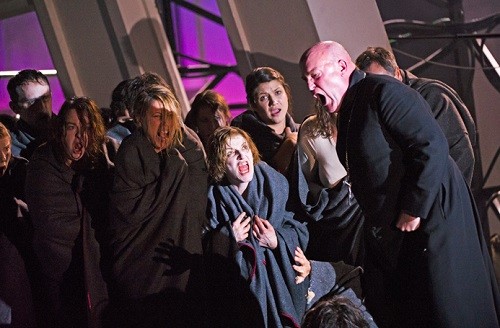 Production:
Conductor: Mark Wigglesworth
Director: Calixto Bieito
Set Designer: Rebecca Ringst
Costume Designer: Ingo Krügler
Lighting Designer: Tim Mitchell
Video Designer: Sarah Derendinger
Translator: Jeremy Sams
Cast includes: 
Don Alvaro: Gwyn Hughes Jones
Donna Leonora di Vargas: Tamara Wilson
Don Carlo di Vargas: Anthony Michaels-Moore
Padre Guardiano: James Creswell
Fra Melitone: Andrew Shore
Preziosilla: Rinat Shaham
Marquis of Calatrava: Robert Winslade-Anderson
Curra: Clare Presland
Trabuco: Adrian Dwyer
Alcade: Nicholas Folwell
You have to admire English National Opera for bringing their autumn season to a close (a return of their legendary The Mikado notwithstanding) with another dour work following Lady Macbeth of Mtsensk which highlighted domestic abuse and La bohème that featured onstage drug taking. In The Force of Destiny violence begets violence until all three leading characters are dead or dying, with the heroine, Donna Leonora, garrotting herself with the barbed wire 'crown of thorns' she has been wearing in her self-imposed exile. Not all of this is in Verdi's story as she should die at the hands of her brother, Don Carlo.
This dramatically-inept The Force of Destiny begins with an elopement that goes seriously wrong, a hard-hearted father accidentally shot dead and a brother seeking to expunge the stain on the family honour, thirsting for revenge because of misconstrued virtue. This blood feud plotline has to complete with others involving rampant misogyny, a war-loving populace and some less-than-pious Christian monks. In the end with vengeance achieved – in the 1869 revision of the original 1832 denouement – souls are saved. There are also a number of ludicrous issues of disguised identity – for instance the 'hero' Don Alvaro also appears as a student Pereda and Father Raphael! Throw into the mix the non-PC racist attitudes to Don Alvaro who is called 'half-breed' and 'mulatto' amongst other things and the problem is clearly with the composer and his librettists, begging the question whether this homage to Meyerbeer (who Verdi admired) is really worth staging. To be honest – and I wish more musicologists were – it isn't really a very good opera, even though it is frequently performed. (Pavarotti never sang Don Alvaro because he agreed with many old Italian singers that the opera was 'cursed' for various reasons. He thought that any mention of its name needed him hold on to his crotch for 'protection', as his compatriot Franco Corelli was rumoured to during some of his performances in the opera.)
Throughout The Force of Destiny form wrestles with content and ends up losing the contest. There is some logic to the story-telling to beginning with and the first scene moves quickly and economical but soon it becomes apparent there is too much music, too many characters and ideas, and the opera begins to sprawl and lose all sense of tight proportion. Peter Konwitschny has filleted La traviata and this was recently seen at the London Coliseum; The Force of Destiny (fours acts and eight scenes) is clearly a candidate for this approach and really needs the 'fat' in the bloated story ruthlessly trimmed.
It cannot be an easy opera to direct or design: locations shift between Spain and Italy and most of the scenes play out at night, in gloomy interiors or in the midst of battlefield haze. Calixto Bieito returns to English National Opera for this opera, with sets by Rebecca Ringst and costumes by Ingo Krügler. Bieito is labelled as 'controversial' and 'the Quentin Tarantino of opera' but clearly he is happy to pocket the fee for this co-production with New York's Metropolitan Opera and be uncontroversial. There is little to shock here despite the updating from the eighteenth century to the Spanish Civil War of the 1930s. It is not far removed from his Carmen for ENO (review) and the uninspired visuals could have serviced any number of Verdi operas and only needed a bed to make it a passable setting for Otello. There is an artificial monumentality to what we see and the sets are often moving or shown tilted when characters have to appear through, or clamber over, them. The colour palette is distinctly monochrome and occasionally everything is so dark it is difficult to see who is actually singing. There is much use of video (by Sarah Derendinger) including jackbooted soldiers in Act II and later a horse's head which I suspect connects Bieito's concept with Picasso's Guernica. I wonder if his interpretation of Preziosilla (spiritedly sung by Rinat Shaham) may be changed by the time the production appears before its more sensitive New York audience in the 2017-18 season. For Verdi she is a young gypsy and a rabble-rousing warmonger, but I doubt he conceived her as someone who – as here – physically abuses a pregnant girl and executes 10 prisoners of (civil) war during her Act III 'Rataplan'.
Throughout, the scenic approach leant towards the photographic, appearing less than real and both 'interiors' and 'exteriors' were lifeless. Characters rarely interacted in the way they should and whilst this Force discovered some energy in the crowd scenes – powered by ENO's stupendous enhanced chorus of 80 – even these were relatively static. So once again The Force of Destiny is not the crowd-pleaser which ENO needs in its current parlous state. The nondescript production was redeemed somewhat by musical values that were of a very high standard. As Leonora, Tamara Wilson – a typical American import – made an auspicious ENO and London debut. She is not a very credible actress at the moment and her character's emotional life seemed beyond her but this did not seem to matter that much as it is a sadly underwritten role. She currently sings a lot of Verdi but I suspect Wagner will play a significant part in her career in the future. Tamara Wilson began very tentatively but by Act I Scene 3, her voice seemed to settle, and from then on remained opulent and powerful. Her penultimate 'Pace, pace, mio Dio!' was all that could be hoped for – though the start of it was diminished by the conclusion of a very clumsy scene change.
Gwyn Hughes Jones is a reliably forthright and fervent Verdi tenor but needed more direction than he appears to have been given here. Anthony Michaels-Moore's Don Carlo vividly portrayed how his character's quest for revenge had brought him to the brink of insanity but his voice now lacks the requisite smoothness and unbroken lines of the best Verdi baritones. I felt sorry for him as his big Act II aria had an undercurrent of everyone around him tearing up books though he just about had enough heft to still dominate this scene. For me the very smallest roles were the best sung and I admired James Creswell's gravitas and deep sonorous bass as Padre Guardiano and Andrew Shore was an absolutely wonderful Friar Melitone, the most mean-spirited of Christian monks. He gave a masterclass of how to make the very best of a small part and be an integral member of an ensemble without imbalancing it. Mark Wigglesworth conducted a refined account of the opera's original Prelude (much abbreviated compared to 1869) with some wonderfully lit detail and this promised delights that the rest of the evening did not manage to fulfil, despite the faultless playing of the ENO Orchestra. The energised crowd scenes notwithstanding everything seemed too respectful – and because the music of The Force of Destiny is not in the same class as, for instance, Verdi's later Otello – it needed less respect and more can belto!
Jeremy Sams provided a very rhyming and prosaic translation and it is almost heresy to write how – though I was at an ENO performance – I began to ponder whether it all might have been much better if sung in the original Italian!
Jim Pritchard
For information about future English National Opera performances visit www.eno.org.